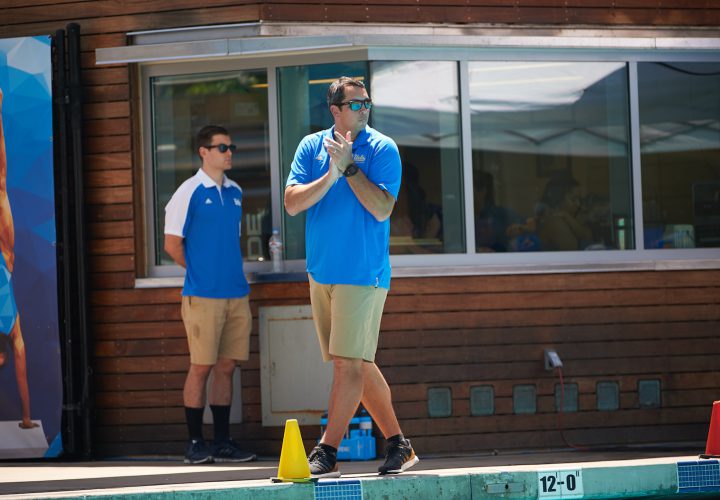 UCLA's Brandon Brooks. Photo Courtesy: Don Liebig/UCLA Athletics
By Michael Randazzo, Swimming World Contributor
LOS ANGELES, CA. Arguably the sport's most successful program, the UCLA women's water polo team—currently the nation's top team—are built to win now. Featuring Olympians Rachel Fattal and Maddie Musselman as well as four fifth-year seniors—Fattal, Alys Williams, Kodi Hill and Alexa Tielman—UCLA (21-1, 6-0 MPSF) has dropped a single match this season in their run to the Mountain Pacific Sports Federation's (MPSF) Championship match.
Yet it's possible that the Bruins are more impacted by their most recent failures—two crushing loses to Stanford in the 2014 and 2015 NCAA Women's Tournament title games and a February loss to arch rival USC—then their glorious past, including an NCAA record seven championships. Which is why UCLA head coach Brandon Brooks is emphatic that his players experience a season's full cycle to best prepare for the pitfalls that inevitably besiege even the most talented squads.
Brooks, now in his eighth season in Westwood, is the best man for one of the most demanding jobs in U.S. women's polo. An assistant for then-head coach Adam Krikorian from 2007-2009, at the end of UCLA's run of five consecutive NCAA titles, he is acutely aware of the program's championship drought since he came on board in 2010. To win NCAAs this year, Brooks' squad will have to fend off challenges by #2 Stanford and #3 University of Southern California in one of most talented years for American women's varsity polo.
During the MPSF Women's Tournament Swimming World spoke with Coach Brooks at UCLA's Spieker Aquatics Center about his team's development over a long season, the impact of Olympians—including Fattal and Musselman—on MPSF play in a post-Olympic year, and the challenge of working in an environment where national championships are expected every year.
When the women's season opened last February attention was paid to USC's impressive win streak and the return of Maggie Steffens to then-#1 Stanford. Is it possible that the Bruins were an afterthought in the NCAA title picture?
It's always interesting [to hear] the perspective of people outside of your program. Our outlook from the very beginning was we always thought we were neck and neck. We also returned two Olympians. We returned three other girls who were on the Olympic training squads. We have two girls that were also players—I'm gonna say "14 and 15"—for the U.S. team and they only take 13. Kodi Hill and Alys Williams aren't technically Olympians but they went through all the training. They were good enough to be right there.
Bronte Halligan is a freshman who was the last person cut for the Australian Olympic Team.
Stanford definitely has talent and SC is a good team but internally I always thought that we were right there.
We started off the season with a ton of enthusiasm and the results were really good. We looked good, we looked fast, we were talented. Going into the [Barbara Kalbus Invitational]—a non-conference tournament—the top 16 teams in the country duke it out early and see who's left standing.
Up to that point we hadn't really been tested. We came out against a really talented SC team that hit us in the mouth We were definitely on our heels from the very beginning. We ended up losing the game and it definitely let us know that we're not invincible. There are other teams out there that work really hard and also have talent.
At the end of the day what separates the national championship team from second and third place is very small details.
That sent us on a path for almost the next month that was… interesting. We came out the next day after losing to USC and didn't play that well against a good Cal-Berkeley team. We squeaked out a win by one—a win that we needed to get.  In the end it left us humbled and hungry and a little bit pissed off.
A big thing that we learned is that no matter how talented you are you have to go through the process. Just because it's a cliché doesn't mean it's not true. We had to embrace showing up each day and trying to get better—and not glance over things if we're not good at them.
Even though we're number one and only have one loss I don't know that we're really ahead of any other teams. We came out on top on that given day [UCLA beat USC on April 22] but they're really good and essentially what happened to us six weeks ago is perhaps] the position that they're in. I'm willing to bet that Stanford and SC are now pissed off.
You did add two gold medal winning Olympians to your roster—Rachel Fattal, who's returning to Westwood as a fifth year senior and freshman sensation Maddie Musselman. How have these two in particular impacted your team's play this season.
Maddie has been fantastic. She's got a great arm! She gets a great jump on the counterattack… she's a very, very talented player. There's a reason she's an Olympic gold medalist.
For Rachel, coming off the Olympics and coming back to UCLA every day you can see that she doesn't have a national championship. And the girls at Stanford do. And the girls at SC do. She's been driven all year to put us in position. Her intensity, passion, energy—it's been a real driving force for us.
I have four fifth-year seniors, which is strange. Rachel and Kodi are 23 years old. It puts a bigger distance between them and the freshmen.
With the returning Olympians, they've had challenges themselves. You come back and you're part of this really special experience—a gold-medal winning team—13 of the best players in the world. And you come back to a college environment. I didn't see them let up because this is not the Olympics. But I do think that no matter how good that team was on an international level, there's no way to get through the process.
Their roles are different than they were with the U.S. team; they're more vocal leaders and more relied upon to be the driving force as opposed to what their role was with [Team USA]. Maddie's one of the youngest on the team so she's doing what other people tell her to do or taking advantage of openings that other people create. And she's great at that.
But now she's got to be a little more demanding, a little bit more aggressive, which has taken some time to adapt to.
Are Rachel Fattal and your other seniors the potential "X factor" that separates the Bruins from other national title contenders?
It's actually been huge. It allows me to place more trust in them and more freedom and I think that makes things a little bit more enjoyable for them. Teams are so much stronger when they're making the choices themselves. Are you buying in as opposed to just under the coach's thumb? That's what really makes a great team. And Rachel is right at the center of all of that.
She's pulling people aside—there's days when she might even do more coaching than I do. She's talking to people in groups, she is a great communicator in the water. She's got great vision, she matches up on the other team's best attacker. There's Maggie Steffens at Stanford who's arguably the best player in the world, and someone's got to guard her. We have some people that—I'm not going to say they shut her down, but they make life difficult [for her].
Rachel's been fantastic, and I can appreciate the growth in her maturity since she came here. I've seen her since she's 16 and now she's 23.
There are a slew of Olympians playing in the U.S. this year—and seven are at UCLA this weekend for the MPSF tournament. How has that impacted conference play this season?
I was listening to a rebroadcast the other day of Adam Krikorian—he was the color guy for our game against SC. Before me he was the coach here, and he's been involved in the game since 1995, and now he's the national team coach. So he's seen all the international teams.
He said that it's very possible that this is the most talented year in the college game that he's seen since he's been a part [of women's polo].
Arguably the U.S. women's college game is the best in the world. We recruit the two or three best girls from every one's national team and put them on teams together. And you do get the fun of the college rivalry aspect of things.
What people appreciate about the college game in general is that people play so passionately. They're playing for school pride, and to get that to all come together is really cool.
Have the Olympics affected this year's [college] game? Yes, you get a lot of people who are a year older at this point after taking off a year to train, so they're at the top of their game. That's where you see the level of play improve altogether because it's not just that those players who are great, but how do those players train to be good?
The games that you guys see on Saturday and Sunday are excellent but they are the end result of a lot of practice.
And there's Ashleigh Johnson on the East Coast who's creating a whole other impact to the sport.
I'm sure there are players on teams competing against her that spent a whole lot of time [practicing] shooting this year. They're trying to beat Ashleigh Johnson. Her presence is pushing other people harder.
I have 28 girls this year—that's the biggest team I've ever had—and players 13-25 are getting better being around these Olympians.
This is UCLA, which has more NCAA championships than any other athletics program in America. The Bruins are expected to win. Does your team have a window to win now? How much do you feel that pressure to succeed?
I do believe that this is a team meant to win it now. But I feel that every year. On the other hand that's part of the lesson that we learned back in February: you've just got to go through the process.
I've talked about it with my team: enjoy the work with the understanding that if you put in as much work to be the best that you can, the chips will fall where they may.
I felt that early in the year we were really focused on just winning the championship, putting in the work to have a chance for that. Obviously I hope that we do win. We're going to put everything we can into having that chance.
Until then we're going to show up each day and enjoy each other and the process.