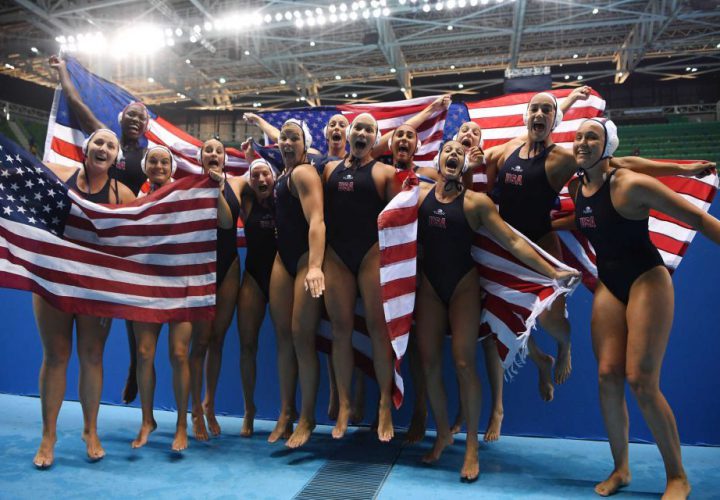 Team USA at the 2016 Rio Olympics. Photo Courtesy: Tom Pennington
By Michael Randazzo, Swimming World Contributor
LOS ANGELES, CA. After knocking off longtime rivals Stanford and USC in successive games the last two weekends, UCLA has risen to the top of women's water polo this season. Driving this success has been four fifth-year seniors—headlined by Rachel Fattal—and a dynamic freshman named Maddie Musselman.
Musselman burst on to the public scene last summer as an 18 year-old at the Rio Olympic Games. Along with another precocious newcomer—Makenzie Fischer—Musselman was a key contributor to the U.S. Women's National Team's gold-winning effort, notching 12 goals. Despite a transition to college life, she has continued her offensive onslaught, with 55 goals this season to lead the Bruins.  Musselman has captured a record seven Mountain Pacific Sports Federation (MPSF) Newcomer of the Week awards, including an unprecedented twin billing: Newcomer and Player of the Week awards for her performance last Saturday in an 11-7 win over USC, notching five goals as the Bruin clinched first place in the MPSF regular season.
If Musselman has been a freshman phenom, Fattal has be a dependable but dynamic contributor over her four years at UCLA. Like Musselman she was a member of the U.S. team that struck gold at Rio. Considered one of the world's top players, Fattal is now UCLA's all-time leader in steals, number three all-time in goals scored (210), and an acknowledged leader of the team that is the odds-on choice to win the 2017 NCAA Women's Water Polo Tournament.
Prior to the Bruin's MPSF semi-final game Saturday against Cal at UCLA's Spieker Aquatics Center, Swimming World spoke with Musselman and Fattal about their shared Olympic experiences, the challenge of playing against Olympic teammates Fischer and Maddie Steffens, now with Stanford, and their drive to bring a national championship to Westwood.
How has your Olympic experience inform this season at UCLA?
Rachel Fattal: The Olympic experience was amazing—we can both attest to that. It's unreal to represent our country and do something bigger than ourselves. Being able to come back [to UCLA] and play here again was awesome.
We have amazing players on our team. it's been great to come back to UCLA and fit right back in.
Bringing what we learned over years of training on the national team here to the girls on this team, being able to teach them, that's been one of the biggest things that Maddie and I tried to bring this year.
Maddie Musselman: Definitely eye-opening, especially coming from high school. Going to the Olympic team was a big jump. To experience so many different challenges and adversity—it was amazing.
At the Olympics you play against the best players in the world. To have the skills you develop [from that experience] and to bring them back to college and your new teammates and the team you get to be a part of—that's super fun.
You are now a fifth-year senior and part of a group of four other seniors who have never won an NCAA championship, Talk about your expectations for this year.
Fattal: Our goal is always to win a national championship—no matter what year, what team. It's about putting together our best team and our best games during the season. That's the goal this year and that's the goal every year I've been here.
We've definitely had some heart-breaking losses, but as a fifth-year senior, and someone who has experienced those losses, we carry them with us and bring them into practice.
If that's what's going to push us to be our best, thinking that we have gotten really close and almost made it to the national championship and then lost in the last few seconds [to Stanford in 2015].
We bring that with us and hope that's going to be able to push our team. Maybe Maddie wasn't there but I bet you if I said: "Hey Mads, this is what happened," [she'd say]: "We're not going to let that happen again."
I know that every other person on our team feels the same way. Just because people have experienced being there and losing doesn't mean they don't feel the same desire to win.
As a freshman you bring a fresh—and perhaps vital—perspective to Bruins water polo.
Musselman: It fuels the fire, definitely. Learning from my teammates' experiences here at UCLA makes me want to win for them.
Coming to UCLA as a freshmen, everyone has a desire to win four national championships. Not a lot of people have gotten an opportunity to do that.
It's amazing to hear the experience people have—winning or losing. That's why I wanted to come here, obviously was to win all four years. If it doesn't come down to that it's Bruin pride and who we get to play for.
You'll be playing this weekend against Stanford's Maggie Steffens and Makenzie Fischer—who you played with for Team USA in the 2016 Olympics. Is there a bond that continues to exists because of that experience?
Musselman: Away from the pool we have this relationship—we spent a year training for one of the hardest experiences ever, the Olympics—that brought us together.
Going our separate ways and representing a different team in the water, it's super competitive. At the same time that's what makes it so great. You get to compete against your former teammates; that's the best competition out there.
Fattal: The second we hit the water it's game time for us and for them. It doesn't matter that we played together; it's: "I'm going to beat you." That's the mentality that you have to have coming into these games.
Outside the water, we'll say "Hi" and I'm sure we'll mess around a bit. But when you get on deck, the second it's game time and you're playing them, it's do or die. You are with your team, not them.
What is it about these college rivalries? It's almost more intense than representing your country!
Musselman: SC vs. UCLA is one of the biggest rivalries in all of sports. That's always a big game to go into, the known rivalries of the schools. Us against Stanford—we lost the national championship to them two years in a row (2014, 2015).
Rivalries are big but when it comes down to it we're just focusing on ourselves. That's what we need to do to be successful and that's what we've done the past two weekends and we've come out with some pretty big wins.
If we can do that again this weekend we're going to be fine.
How have your roles on the 2017 UCLA differed from what you were responsible for on Team USA?
Fattal: I not a major leader on the national team [but] I enjoyed my role there as I enjoy my role here. It's a good growing experience when you have to step up to the plate more [here].
I might not be the captain of the national team and we don't have captains here but being more of a vocal leader goes back to being able to share the knowledge of the game that I've accumulated over the past few years—which is the biggest thing I can bring to my team.
Musselman: Definitely a big change for me. On the national team I obviously wasn't very vocal. I didn't step up in big moments and scream and bring the whole group together! I was leading in the water.
Everyone on that team had a role and doing your role is how you led. Coming to this team was different. Rachel's helped me a lot leading and not being afraid to step up and say something when I have to.
You were a break-out star at the 2016 Rio games and now you're a leader on the nation's top women's water polo team. How has your life been changed by all of this?
Musselman: I didn't do this on my own and obviously my support system allowed me to achieve the things I did. The advice I gained from my family and friends helped me stay within the system of the national team and not want to quit or give up and that's a testament to the way I've persevered through a lot of things.
Obviously the hard work and dedication shows in the Olympics and my time here at UCLA, but it isn't just because of me personally but the people I'm surrounded with.
One thing great about UCLA is that in every single game we've played no one's shining over anyone else. Everyone contributes, scoring or making a big block. That's what makes it so great and fun to be a part of.
You scored half of your team's goal in a win last week over USC. Is it fair to say that your finding your way at UCLA at the right moment?
Musselman: I'm just playing my role, and it's my role to be aggressive on offense and defense. I put away the shots I had to put away—because I got great passes from my teammates. It wasn't all me.
When I had to finish, I did.