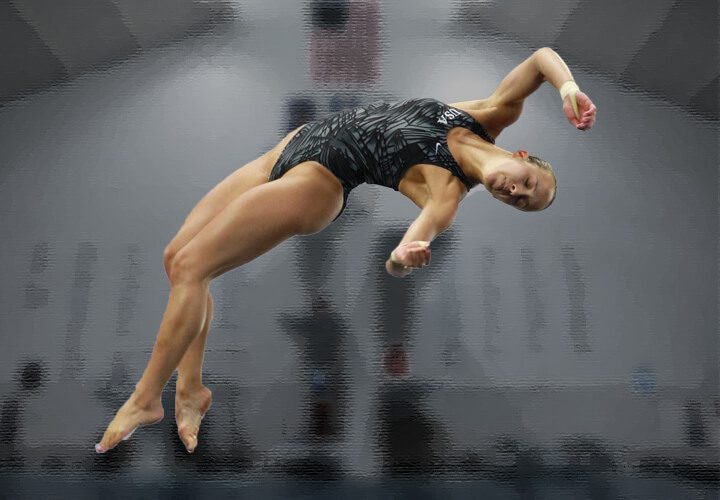 Photo Courtesy: Swimming World
NCAA DI editorial coverage is proudly sponsored by Adidas. Visit adidasswimming.com for more information on our sponsor. For all the latest coverage, check out our event coverage page.
CLICK FOR FULL RESULTS
By Matthew Barnard, Swimming World College Intern.
Diving at the 2017 women's NCAA Championships looks to be defined by Olympians, risk-takers and foreign student-athletes.
For most divers, this year looks to be an individual game with the majority of high-scoring swimming teams lacking depth in the diving well. However, the heavily-favored Stanford Cardinal will get some points on the boards, particularly with two time All-American Kassidy Cook returning from an Olympic red-shirt year in which she finished 13th on 3-meter in Rio.
Cook's freshman teammate Haley Farnsworth could also be major contributor, but 2016 NCAA platform champion Gracia Leydon-Mahoney is notably absent from Stanford's roster due to an injury.
Along with Stanford, Purdue, Minnesota, Indiana, Texas, UCLA, South Carolina and Miami will all receive major points from diving.
1-Meter
In an event which consistency is key, divers have become comfortable for a number of years by relying on uniform and arguably simple dive lists. 2017 could be the year that this changes.
A number of divers will be competing dives not often seen in women's competitions. Missouri's Lauren Ready has turned heads for a number of years due to her high degree of difficulty and this year she is not disappointing competing two dives that few girls would attempt. Meghan O'Brien (Texas), Julia Vincent (South Carolina) and Olivia Rosendahl (Northwestern) also competed dives with high degree of difficulties at their respective NCAA zone qualification meets. If these three can get high scores on these dives, they will be serious challengers for the national title.
2016 national champion Sharae Zheng (Nevada) returns to the 1-meter having won every diving event at the 2017 Mountain West Conference Championships, and she will be joined by fellow Chinese born divers Yu Zhou (Minnesota) and Pei Lin (Miami-Ohio). All three of these girls will likely perform cleanly and consistently which could potentially keep Americans like Cook outside of the top three.
Others who could be considered contenders for medals include Sarah Bacon (Minnesota), Maria Polyakova (UCLA), Marcela Maric (Miami), Jessica Parratto (Indiana) and Anna Filipcic (Nebraska)
Predictions:
Sharae Zheng, Nevada
Yu Zhou, Minnesota
Lauren Ready, Missouri
3-Meter
3 meter this year is nothing short of star studded with a number of highly-accomplished athletes who are all shooting to stand atop the podium. Cook and Jessica Parratto come off successful Olympic campaign for the U.S. and are joined by Olympians Elizabeth Cui (LSU, New Zealand) and Julia Vincent (South Carolina, South Africa).
Both 2016 champions Zheng and 2015 champion Zhou will be returning to make their push for their second 3-meter national title., and Junior World Championships runner up Polyakova is not to be underestimated this year having claimed the Pac-12 championship over Cook. Finally, Lin has been a consistent performer over the last three years, having not lost a 3-meter competition during her collegiate career outside of the NCAA championships.
With such a high number of world class competitors in 3-meter this year, the national champion will most likely beat out the runner-up by a very small margin, so back and reverse dives—which can often be inconsistent for many competitors because of they involve blind entries—will be crucial for all these women.
Predictions:
Kassidy Cook, Stanford
Pei Lin, Miami-Ohio
Maria Polyakova, UCLA
Platform
This year, the platform event is all about one athlete: Parratto. She who won the event in 2015 and now returns after an Olympic redshirt year as the one-to-beat in Indianapolis. Not only does Parratto come into the event with a wealth of experience and results to her name, she also should be comfortable in the IUPUI Natatorium, where she spent a number of years training with the USA Diving's National Training Center.
The Australian duo of Emily Meaney (Purdue) and Lara Tarvit (Ohio State) have both had strong showings in the past and if they can maintain their composure throughout their lists can find themselves in the medals. Along with Tarvit, Meaney and Parratto, the B1G Conference will be well represented with a number of strong tower specialists in Lexi Tenenbaum (Minnesota), Calli Head (Iowa), Abigail Knapton (Nebraska) and Olivia Rosendahl (Northwestern).
Rachel Rubadue (Tennessee), Eloise Belanger (UCLA), Alais Kalonji (Texas A&M), Molly Carlson (FSU) and Mara Aiacoboae (ASU) are all divers to look out for on platform.
Predictions:
Jessica Parratto (Indiana)
Olivia Rosendahl (Northwestern)
Emily Meaney (Purdue)
Special thanks to Swimming World intern Matthew Barnard for sharing his thoughts on NCAA diving.  All commentaries are the opinion of the author and do not necessarily reflect the views of Swimming World Magazine nor its staff.