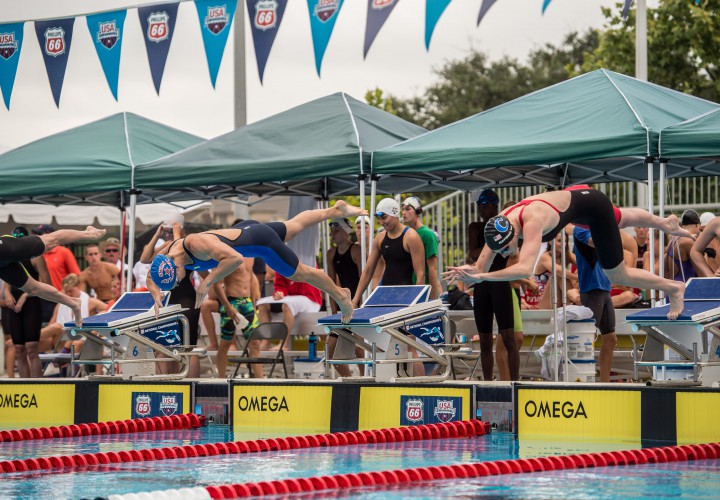 By David Rieder
The final day of competition at U.S. Nationals in San Antonio will lead things off with the women's 100 free, one of a seemingly-growing list of events in which the United States team seems to have some major holes just a year out from the Olympics. The female American 100 freestylers at World Championships combined to finish a distant third in the 400 free relay, while Simone Manuel and Missy Franklin had disappointing individual finishes.
The top American in the world this year in the 100 free, Franklin, ranks just ninth at 53.68, while Manuel's top time of 53.81 − nowhere close to the 53.25 she clocked in 2014 − has her tied for tenth. Then there's Natalie Coughlin at 53.85, and while the 32 year old Coughlin brings great veteran presence to relays, she can't be counted on to suddenly start dropping best times at this stage of her career.
The situation of the event at U.S. Nationals? Less promising than in the men's event, where a on Sunday, teenager (Caeleb Dressel) won the event in 48.78, and 20 year old Jack Conger took second. 29 year old American record-holder Amanda Weir has the top seed in the event, and Weir has swum a strong meet, placing second in the 50 on Saturday in a near-best time of 24.85. She might be primed for a return to the 53-second range.
Allison Schmitt has rebounded from a disappointing past two years, as she swam under 1:57 to win the 200 free on Friday, and she has some strong 100 free credentials as well; Schmitt anchored the American 400 medley relay to Olympic gold in London three years ago. Madison Kennedy has been more of a 50 specialist, but she did have a strong swim in that event this week, winning the National title in 24.71, so her 100 merits watching.
But the swimmer with the most promise in the event may be soon-to-be Cal Bear Amy Bilquist, who has already watched her Carmel teammate Claire Adams win two titles this week in San Antonio. Bilquist enters with a seed time of 54.85 after she finished sixth in the 50 free on Saturday in 25.26. Not to be outdone, fellow 17 year olds Katie Drabot and Stanzi Moseley each have entry times just above 55.
Of course, teenager Abbey Weitzeil actually swam on the World Championships team after finishing fourth at Nationals last summer in the 100 free in 54.38. In Kazan, she had a top split of 53.49 anchoring the mixed 400 free relay in prelims on Saturday. Weitzeil will actually defer her Cal enrollment this year to train for Olympic Trials in hopes of dropping down even further.
But compared to the United States, Australia has a massive leg up in the 100 free. While Manuel and Franklin trailed the pack in the World Champs final this year, a pair of Australian sisters, Cate and Bronte Campbell have won the last two World titles in the event. Australia's depth, too, far surpasses the United States, with the likes of Emily Seebohm, Madison Wilson, Melanie Wright, and Emma McKeon all capable of 53-second flat start swims. The result: Australia beat the Americans by almost three seconds in the 400 free relay at Worlds.
The Netherlands also dusted the U.S. in the 400 free relay in Kazan as they employed two superstar-caliber 100 freestylers, Ranomi Kromowidjojo and Femke Heemskerk. The U.S. desperately needs answers if they hope to move up the rankings in either the 400 free or 400 medley relay, where Manuel trotted home in 53.39 at Worlds as the Americans dropped to a very disappointing fourth-place finish. Right now, no one yet knows where those answers will come from.