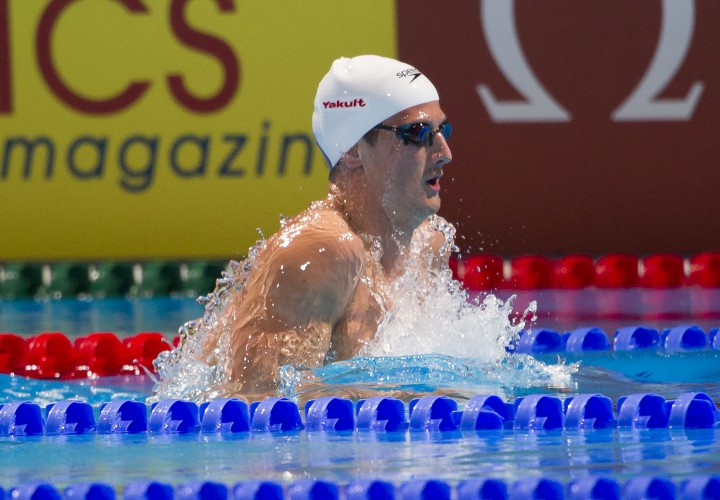 Photo Courtesy: Joao Marc Bosch
By David Rieder
While most everyone has their eyes glued halfway around the world to the FINA World Championships in Kazan, a little meet gets underway in San Antonio, Texas, that calls itself the United States National Championships. With most of the best swimmers in the country busy overseas, U.S. Nationals will not be the nerve-racking qualifying meet that was last summer's showcase in Irvine. Still, plenty of fast swimmers will be in the house this week at the Northside Swim Center.
The entry list includes many Americans who previously starred at the World University Games or the Pan American Games − Pan Am gold medalists Kelsi Worrell and Caitlin Leverenz lead the way in their signature events today − and others who won titles earlier this year at the NCAA Championships, such as Texas stars Will Licon and Clark Smith. And then there will be plenty of competitors that are not American at all.
Roland Schoeman, he of the four Olympic appearances for South Africa and one medal of each color in 2004, will be in attendance to swim the 50 free, while Arkady Vyatchanin, not yet allowed to swim internationally for Serbia, will be competing in the same backstroke events in which he won Olympic medals in 2008. Today, it will be the British Invasion all over again as a pair of breaststrokers take aim at the American National title in the men's 100 breast.
Why would Craig Benson and Michael Jamieson be in San Antonio and not at World Championships, you might ask? Well, Great Britain is pretty good in those events. Adam Peaty has won both the 50 and 100 breast already in Kazan, and Ross Murdoch got the bronze in the 100. Peaty and Andrew Willis, the two British entrants for the 200 at Worlds, both entered with top-eight seed times that fall in the 2:08-range. (Willis qualified for the semifinal, while Peaty faltered and placed 26th in prelims.)
Locked off their own World Championship team, Nationals serves as the consolation meet for these Brits just like it does for the Americans. Benson has the top seed in the 100 breast with a 1:00.16. Jamieson, meanwhile, is more of a 200 breaststroker − the event in which he won the Olympic silver medal in London − and he holds the top seed in that event on Monday with a 2:08.40, a time that would have qualified first in today's semi-finals in Kazan.
Benson, Jamieson, Schoeman, Vyatchanin, Bobby Hurley, Tanja Kylliainen, Georgia Davies, Belinda Hocking, Junya Koga, and the many more international athletes competing − the psych sheet says there are 270 total international entries in the meet − can all win U.S. National titles just like anyone else this week. So even though this is not the World Championships and allegedly an American meet, expect some international flavor on deck in San Antonio this week.
*Speaking of what else you should expect in San Antonio this week, HOT! Check out the weather forecast. Expect high temperatures of 102 degrees Fahrenheit every day this week. If you see me on deck, I'll probably be sweating profusely, and my nose should turn a darker shade of red with each passing day.