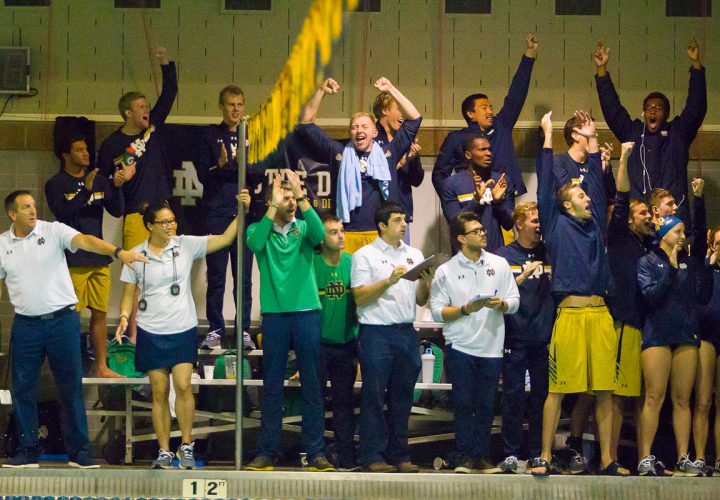 Photo Courtesy: Mike Miller/Notre Dame
University of Notre Dame swimming and diving head coach Mike Litzinger has officially named Mitch Dansky as the newest assistant coach on the Irish swimming and diving staff. A six-year collegiate coaching veteran who has spent the past five years at Southern Methodist University (SMU) in Dallas, Dansky arrives at Notre Dame following the departure of assistant coach and meet director Joe Spahn, who assumed the head coaching role at Pepperdine in April.
"I am thrilled to welcome Mitch and his wife, Mary, to our Notre Dame swimming and diving family," Litzinger said. "Mitch is an accomplished coach with a great deck presence. Not only will he mesh well with our outstanding staff, but I am looking forward to the energy he will bring as we continue to pursue excellence in the ACC and at the NCAA level."

"I would like to thank Mike Litzinger, his incredible staff, Juli Schreiber, Jack Swarbrick, Father (John) Jenkins and his office for this amazing opportunity," Dansky said. "It was important to me that the place I coached offered athletics and academics at the highest levels. Notre Dame is one of the few universities in the country that can offer both. Notre Dame has a rich history of success, and I cannot wait to help these athletes reach their goals in the sport and in life. Mike's vision for this program is amazing, and I am looking forward to helping the program reach the top of the ACC and the NCAA."
Dansky began his coaching tenure at SMU in August of 2013, and worked as a men's swimming assistant coach and recruiting coordinator for the Mustangs over the last five seasons. Dansky mentored distance, middle distance and sprint competitors in the water, along with serving as the program's academic liaison with the Athlete Learning Enhancement Center (ALEC) in addition to his recruiting duties. Athletes who competed under Dansky's tutelage at SMU earned 30 American Athletic Conference (AAC) Championship event victories, established seven conference records, claimed four combined conference Most Valuable Swimmer honors, notched five school records and made one swimming appearance at the NCAA Division I Swimming and Diving Championships.
Outside of collegiate competition, Dansky represented SMU as an assistant coach at the 2017 USA Swimming Southern Zone Diversity Select Camp. During his time in Dallas, he also served as the director of the Mustang Swim Camp program from 2013-18.
Prior to arriving at SMU, Dansky spent the 2012-13 season as an assistant coach and recruiting coordinator for the men's swimming team at the University of Connecticut. He specialized in the development of the Huskies sprint swimmers, and was responsible for organizing all dryland training for the team in addition to his recruiting coordinator duties. UConn racked up 18 school records during the 2012-13 campaign with Dansky on staff. Dansky spent time as an assistant coach for the UConn university aquatic club during his initial collegiate coaching stop in Storrs.
Dansky was a four-year distance swimmer at UConn from 2008-12, specializing in the 500 and 1650 freestyle events. He was named team captain as a senior during the 2011-12 season, and was a finalist at the BIG EAST Championship in each of his four seasons swimming the 1650 free. Dansky graduated with top-10 times in the UConn record book in the 500 free, 1650 free and 400 IM events, and was a member of the UConn Student-Athlete Advisory Committee (SAAC).
Dansky graduated from UConn in May of 2012 with a Bachelor of Science degree in psychology, with a minor in political science. He earned a Master of Liberal Studies degree from SMU in May of 2017, with a concentration in organizational dynamics. Dansky is officially certified by USA Swimming.
The above press release was posted by Swimming World in conjunction with Notre Dame Swimming and Diving. For press releases and advertising inquiries please contact Advertising@SwimmingWorld.com.