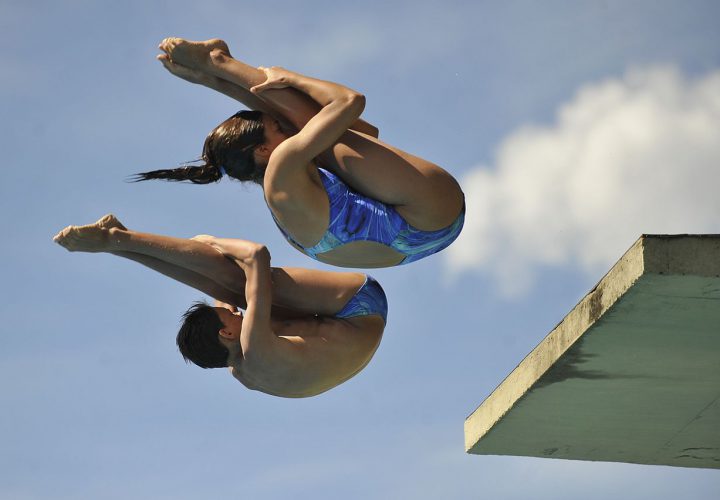 Calling all Talented Springboard and Platform Divers —
Interested in diving, honing your athletic abilities AND GETTING PAID to perform in front of theme park audiences in the warmth of the Summer sunshine?
Mirage Entertainment is looking for you.
We operate two diving Shows in America: Holiday World in Indiana and Dutch Wonderland in Pennsylvania.
Mirage is the leading producer of Live Action Shows throughout the world; including China, India, Indonesia, Europe and Dubai. Divers — just like you — have delighted audiences at Holiday World and Dutch Wonderland for decades and several of those divers have gone on to learn watercraft riding skills, stunt fighting, the art of visual comedy, stunt driving and other performance arts while earning money around the world.
"Divers often make excellent stuntmen because of they are trained to know where their body is in the air," says David Draves, President of Live Shows and Attractions. David should know. His father, Coach Lyle Draves, had an Olympic diver on the podium in every Games from 1948 to 1972 and his mother, Vicky Draves was the very first woman to win two gold medals in the 1948 London Games. David, a competitive diver in his own right, used his athleticism and performance talent in a stunt career and appeared in several feature films and TV series.
We are looking for serious, disciplined athletes interested in improving with every performance.
Indiana Show Commitment: May-Sept 2018
Pennsylvania Show Commitment: April-Early October 2018
Showcase your skills, learn new tricks, and get the experience of a lifetime… all while getting paid to do what you love.
If you or anyone you know is interested, please email a demo reel, headshot and resume to: Bradley Irish; bradi@mirageent.com.
Press release courtesy of Mirage Entertainment.