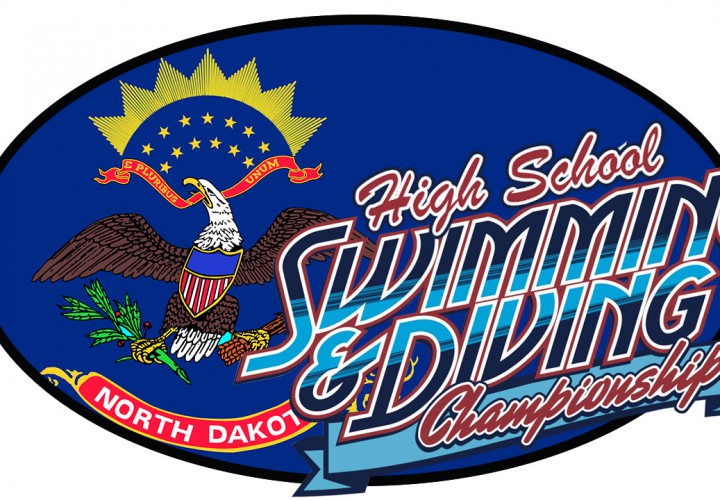 Photo Courtesy: Swimming World
Agon is the proud sponsor of all high school coverage (recruiting, results, state championships, etc.) on SwimmingWorld.com. For more information about Agon, visit their website?AgonSwim.com.?National Records for High School Are Pending Application Verification.? Click Here to Learn More
In a meet that came down to the final events, Minot won the 2018 North Dakota Boys High School swimming and diving state championships with 344 points. Century scored 333 points to finish in second. Mandan was third with 227.
Century's Charles Koebele, Jayden Porter, Trysten Ruhland, and Will Dohrmann won the 200 medley relay in 1:37.37, four seconds faster than second place.
The team took two events in a row as Chris Birnbaum won the 200 freestyle in 1:43.70. The sophomore led by a second and a half at the 100 and never looked back. Wahpeton's Eric Anderson touched second (1:46.70).
In the third event of the day, the 200 IM, Century settled for silver as Porter finished in 1:59.85, the second swimmer under two minutes. The first was Matheum Pimenta, a junior from Mandan. He stopped the clock in 1:57.22.
Century's Adam Nodland won the 50 freestyle with a 21.18, just .02 quicker than Fargo South's Luke Bergstrom in 21.20. Mandan's Joey Clark rounded out the podium with his 21.88.
Century earned another state title in the 100 butterfly. Senior Ruhland raced to a 53.42. WF Sheyenne's Zachary Bueling clocked a 53.72 for second place. Nolad (54.01) was third. Bueling won the 100 backstroke in 52.99, nearly two seconds faster than Koebele (54.78).
After a runner up finish in the 200 freestyle, Anderson won the 100 freestyle with a 47.34. Fargo North's Payton Gabel placed second (47.60). The 200 freestyle champion Birnbaum added another gold in the 500 freestyle, where he stopped the clock in 4:43.85. Pimenta, the 200 IM champion, settled for silver (4:47.21).
Mandan's TJ Reinhardt, Clark, David Hoffman, and Pimenta edged Century's Nodland, Ruhland, Birnbaum, and Dohrmann 1:27.82 to 1:27.94 for the 200 freestyle relay title.
Century's Porter was the lone swimmer under a minute in the 100 breaststroke (59.11). Mandan's Johnny Mindt won one meter diving with a score of 483.70.
The final relay was another close one. Pimenta, Clark, Reinhardt, and Hoffman won the 400 freestyle relay for Mandan with a 3:14.62, just .08 faster than Fargo South's Bergstrom, Massimo Sassi, Jack Mehus, and Anthony Hollingsworth in 3:14.70.