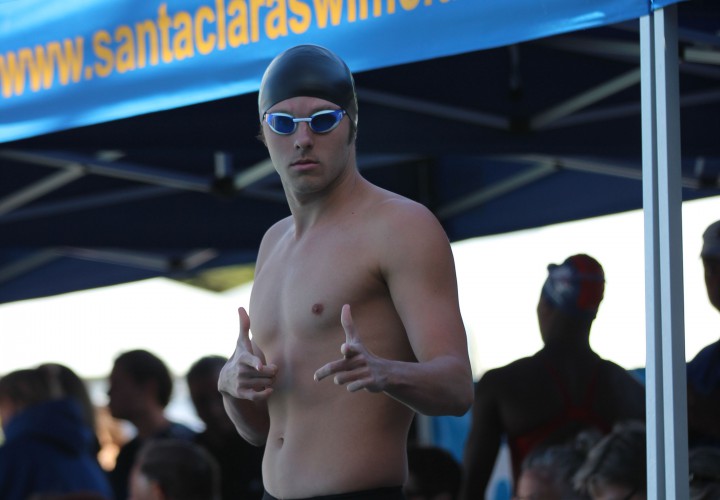 Photo Courtesy: David Farr
While the 2015-16 season doesn't kick off until this fall, Minnesota swimmers and divers are staying busy this summer in and out of the pool.
This past weekend, several former and current Minnesota Gophers competed at the final stop on the Arena Pro Swim Series in Santa Clara, California.
Gopher Michael Nunan went viral in the swimming world at his club home pool when he went head-to-head on the blocks with Michael Phelps during the prelims for the 200-meter freestyle. Which Michael did it better?
Nunan's fellow Santa Clara Swim Club freestyle swimmer and incoming Gopher teammate Michael Messner also competed at the Arena Pro Series. Messner's top finish was in the 800-meter freestyle with a time of 8:22.94 for 22nd place.
Brooke Zeiger broke the University of Minnesota's long course meters record in the 200 IM with a time of 2:16.80 for eleventh place in the event. The previous record was 2:17.04, set by Jenny Shaughnessy in 2008. Zeiger also holds the short course yards record in the 400 IM (4:03.28) for the Gophers. Zeiger will enter her sophomore season holding the top times in the 500 free, 200 back and 400 IM from the 2014-15 season for Minnesota.
Gopher graduate Kiera Janzen finished 7th in the 800-meter freestyle (8:42.28) and 8th in the 400-meter freestyle (4:13.02) in Santa Clara. Janzen used the meet to prep for the upcoming Pan American Games where she will represent Team USA.
2008 Minnesota alum David Plummer took home the bronze in both the 50-meter (25.33) and 100-meter (54.55) backstroke events in Santa Clara. While former 200 breaststroke National Champion for the Gophers Haley Spencer finished ninth in the 100-meter breaststroke (1:09.11) and fifth in the 200-meter breaststroke (2:28.39).
Head assistant coach Ryan Purdy was spotted with two-time U.S. National Champion and former All-American for the Gophers Christine Jennings at the FINA Open Water World Cup in Hungary.
Both the Minnesota swim and dive camps have taken over the Jean K. Freeman Aquatic Center, make sure to join us next year.
Stay tuned for more updates of Gophers at big upcoming meets including the World University Games, Pan-American Games, World Championships and more!
Full results from the Arena Pro Swim Series at Santa Clara.
The above article is a press release submitted to Swimming World. To reach our audience, contact us at newsmaster@swimmingworld.com.