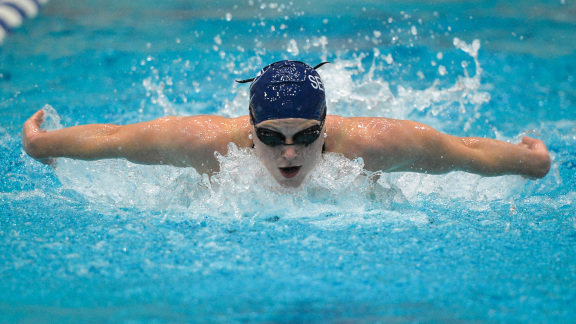 MINNEAPOLIS, Minnesota, February 21. THE Minnesota Golden Gophers are well on their way to another Big Ten Women's Championship title as the squad has proven to be fast at the top end as well as strong in terms of overall team depth, the key to winning a conference meet.
Minnesota ended the night with 526 points against Indiana's 397. Penn State stood third with 314 points, while Michigan (272) and Ohio State (261) rounded out the top five. Purdue (253), Wisconsin (230), Iowa (142), Nebraska (110), Michigan State (70), Northwestern (68) and Illinois (57) comprised the rest of scoring.
Indiana opened the night with a sterling time in the women's 400-yard medley relay, but that would be its top highlight of the night as Minnesota continued to pile up points. IU's Brooklyn Snodgrass (51.66), Bronwyn Pasloski (59.18), Gia Dalesandro (51.43) and Kait Flederbach (48.03) crushed the field in the relay with a 3:30.30. That swim beat Indiana's 2009 meet and conference record of 3:31.26, and clearly downed the NCAA A cut.
Penn State, which is seeing a resurgence after being a regular team title victor a decade ago, started its strong night with a second-place NCAA A cut of 3:33.27 from Alyson Ackman, Melissa Rodriguez, Mackenzie Powers and Carolyn Fittin. Minnesota's Tess Behrens, Kierra Smith, Rebecca Weiland and Erin Caflisch picked up third in an A cut 3:34.00.
Michigan pounced all over the women's 400-yard IM with Courtney Beidler setting a school record with a 4:07.42 to win the distance medley, while teammate Marni Oldershaw touched second in 4:08.50. Indiana's Dorina Szekeres, who had led qualifying with a 4:09.81, took third overall in 4:08.68.
Penn State had another strong outing in the 100-yard fly with Mackenzie Powers powering her way to victory with a 51.56. That swim clipped the meet and conference record of 51.61 set by Minnesota's Rebecca Weiland a year ago. Indiana freshman, who led qualifying with a 51.76 this morning, took second in 51.75 as the top two swimmers both beat the NCAA A cut. Weiland, meanwhile, rounded out the podium with a third-place 52.11.
The Nittany Lions kept rolling with Alyson Ackman winning the 200-yard free in 1:44.11. Minnesota's Jessica Plant touched a distant second in 1:45.22, while Indiana's Lindsay Vrooman, a distance specialist, still managed to check in with a third-place 1:45.29.
Minnesota's Kierra Smith kept the Golden Gopher dominance in breaststroke going with a 59.80 to win the 100-yard breast. Indiana's Bronwyn Pasloski, another Hoosier who led prelims with a 59.53, took second in 59.90. Michigan's Angela Chokran posted a third-place 1:00.22.
Indiana finally broke through individually after what had seemed like a promising night with a handful of conference titles, as Brooklyn Snodgrass clocked a 51.65 to win the 100-yard back. Powers took her second top-three of the night with a 52.19, while Michigan's Zoe Mattingly wound up third in 52.83.
Minnesota closed out a monster day with Maggie Keefer winning the three-meter diving competition with 386.75 points. Purdue's Casey Matthews (353.50) and Mary Dunnichay (345.75) placed second and third. And, in a surprise for the usually loaded Hoosier diving program, Indiana scored no diving points today.