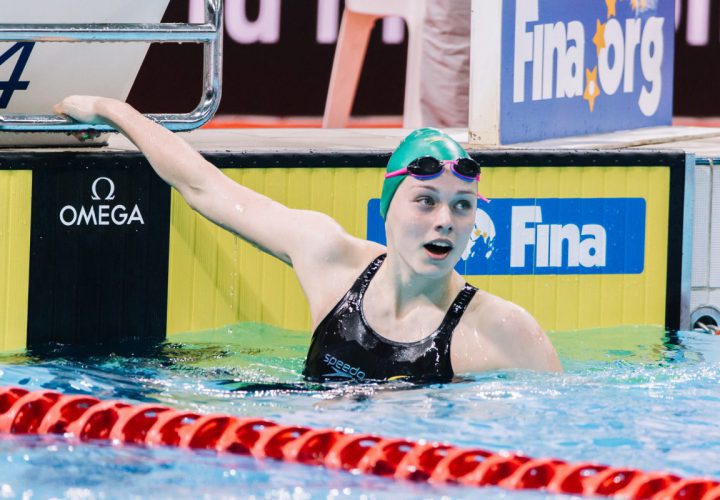 Photo Courtesy: Singapore Swimming Federation
Australia's Minna Atherton kept on rolling with another victory, this time with a meet-record effort in the women's 200-meter backstroke at the 2015 FINA World Junior Championships.
Atherton, who already tied the World Junior record in the 100-meter back yesterday, won the women's 200-meter backstroke in a time of 2:09.11.
Atherton just managed to beat a strong top three with China's Liu Yaxin (2:09.44) and Canada's Taylor Ruck (2:09.49) also clearing the previous meet record of 2:09.74 set by Kylie Stewart back in 2013.
Those three swims put the top three among the top five 18-and-under swimmers in the world this year.
The swims pale in comparison to Daria K. Ustinova's World Junior record of 2:07.29 from the Russian Nationals in Moscow, but are still fast compared to the rest of the world.
18&Under World Rankings According to USA Swimming Stats
[table "" not found /]
Canada's Meryn McCann finished fourth in 2:10.34, while USA's Claire Adams could not replicate her time from Nationals with a fifth-place 2:10.50.
Russia's Irina Prikhodko (2:10.64), Great Britain's Rosie Rudin (2:12.23) and Japan's Natsumi Sakai (2:12.51) also competed in the finale.
SCHEDULED EVENTS
Women's 50 fly semis
Men's 50 free semis
Women's 200 back finals
Men's 100 fly finals
Women's 100 breast semis
Men's 50 back semis
Women's 100 free finals
Men's 800 free finals
Mixed 400 free relay finals