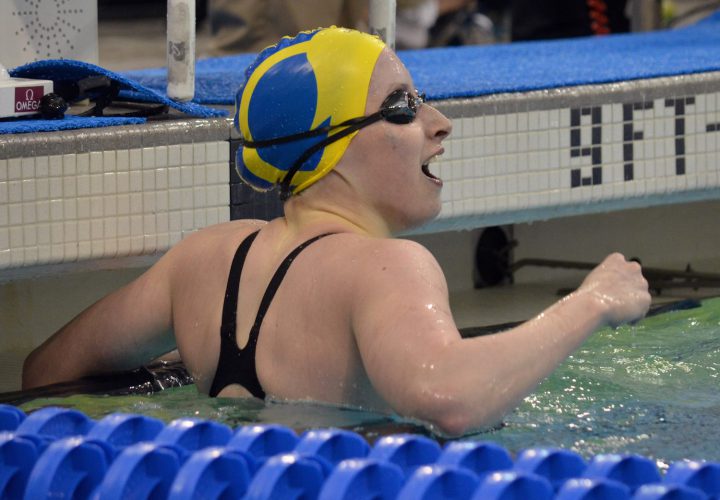 Miranda Tucker.
Photo Courtesy: Dan D'Addona
Editorial content for the 2018 NCAA DI Championship coverage is sponsored by TritonWear. Visit TritonWear.com for more information on our sponsor. For full Swimming World coverage, check event coverage page.
By Dan D'Addona.
When Siobhan Haughey surged into second place behind Mallory Comerford in the 200 free, it was huge for the Wolverines — and stunning.
Not because it was out of the realm of possibilities, but because of what Haughey had do deal with this season, missing much of the year with a foot and ankle injury.
But this performance was waiting to explode out of a healthy Haughey, who finished fourth last year behind the Comerford-Katie Ledecky tie and Simone Manuel. This year, with Ledecky swimming other events, Haughey held off Manuel by nearly a second to finish runner-up at 1:40.69.
"I did have doubts but I know I have tried my best and I had good trainers and massage therapists back home who have tried everything and we were making progress," she said. "I prepared myself for the best that I could, and all I wanted to do was swim as fast as I could and score as many points for Michigan as possible — and that's what I did."
It left Haughey with a huge smile on her face, something that usually isn't so apparent from the quiet leader of the Wolverines.
"The 200 free is my favorite event. To be able to improve every year and do a best time at NCAAs every year is such an amazing feeling," she said. "I know I am not always a person that shows a lot of emotion after my races, but knowing what I have been through throughout the whole year — and to still be able to do a best time — I am still just really thrilled and really happy about that. Coming second at the event really shows that I kind of belong. There is still more work to do — I am still looking forward to what I can do in the future."
The Wolverines started the momentum when Gabby DeLoof, who barely missed the 200 free final, won the consolation final convincingly, swimming two lanes away from her sister Catie DeLoof, also scoring Michigan.
"I am really happy with it. It is a best time for me," Haughey said. "We always know Michigan has a really strong 200 freestyle, so seeing Gabby and Catie in the previous heat do really well really pumps everyone up. It is great we are all performing well."
It was a best time for Haughey, who broke into the elite of NCAA swimmers last year with her fourth-place finish behind Comerford, Ledecky and Manuel, getting a best time of 1:41.
But when sophomore Miranda Tucker finished second in the 100 breast, that was another shocker for the Wolverines.
"It was completely unexpected," Tucker said. "I put in the work and everything, but like a lot of athletes, people get nervous. You just have to give it your all. Having the team here for you just made all the difference. Looking over and seeing the thumbs-up from the coaches and the team clapping — in that moment, I just felt really calm. All the nerves just washed away. I was just ecstatic."
It shouldn't have been. She had the third seed in the event going into the meet at 57.93 and was even a third-place finisher two years ago, to go along with a runner-up in the 200 breast.
But that was two years ago when she was a freshman at Indiana and Lilly King was her teammate, not her opponent.
"It feels really incredible. I kind of had that expectation of myself, but you just have to do your best. I love competing," Tucker said. "I feel more comfortable and more experienced."
Tucker also took the fifth seed out of prelims with a 59.25, two seconds slower than her best time of the season. But she dropped nearly two seconds, finishing in 57.98, only trailing King, who set an American record with a 56.25.
"I just look up to (Siobhan and Gabby) so much. They are the veterans of the team and really have an influence on the rest of us," Tucker said. "The hard work is there and it is amplified by the team — the team, the team. We are all there for each other and lift each other up for the team. That makes the work so much more beneficial for us. All we can do is the best we can do."
Both runner-up performances have the Wolverines within reach of their goal of fourth place. They sit sixth with 150 points heading into the final day.
"Coming into the meet we just wanted to score as many points as possible and swim great times," Haughey said. "Going into Day 4 we are in a good position. We have had great swims. We are heading in the right direction and are very excited for the final day."