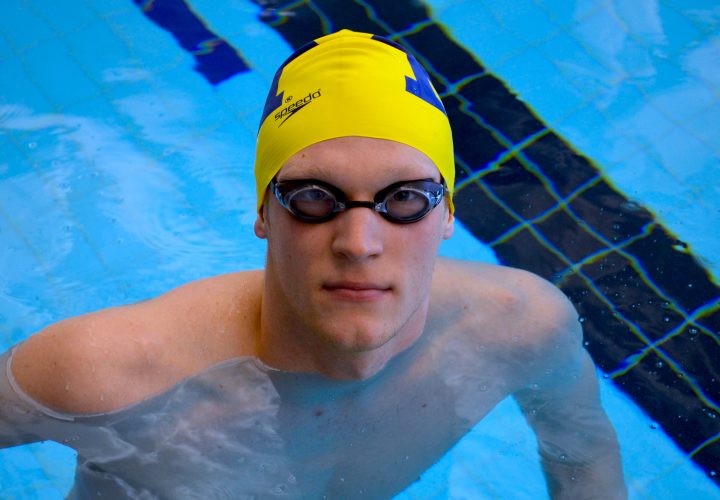 Michigan's Felix Aubock.
Photo Courtesy: Dan D'Addona
By Dan D'Addona.
Felix Aubock had just competed in his first Olympics. It was an eye-opening experience, but the Austrian didn't have any time to bask in his Olympic glory back home. It was time to keep moving.
Aubock left directly from Rio after the 2016 Olympics and headed right to Michigan where he was to begin college in a matter of weeks.
"It was kind of awkward because I came right from Rio to here. I didn't go back home. I had to pack all of my stuff for a year when I went to the Olympics so I had all these suitcases," Aubock said. "The transition was hard at first, but it got a lot easier when we started with meets."
But then he left for the Short Course World Championships before returning to train for Big Tens, switching from long course meters to short course meters to short course yards with a handful of months.
"I didn't swim a midseason meet because I swam at Short Course Worlds, so when I was swimming the mile at Big Tens, it was my first race in the mile in short course yards. I think that was really good for me because I was excited for it," he said.
Aubock won the event and was named the Big Ten Freshman of the Year as well as the Big Ten Swimmer of the Year after winning the 500 and the 1,650 freestyle events.
"I swam so well at Big Tens that it became much easier to do well at NCAAs. I was confident and motivated and ready to race," he said.
Aubock finished runner-up in the 1,650 (14:22.88), third in the 500 (4:08.95) and 10th in the 200 Freestyle (1:33.21) at the NCAA championships.
The 1,650 was the race of the meet as four competitors bettered the previous NCAA record and the race was decided in the final yards.
"The mile started hurting after 6-700. You have 5-6 guys next to you going the same speed but you are already so tired. It came down to the last 50. I was really happy when that race was over because I couldn't have done another 50," he said. "I have had a couple races that were close like that but were 1-on-1 not a whole group like that."
It was a welcome spotlight on the distance events, which being longer events are tougher to keep the audience's focus. But the NCAA final had everyone glued to the edge of their seats.
"Normally the mile, it is the first event so people might watch it. I have watched it a couple times and it is the best mile I have ever seen. It was so interesting to watch how everyone had different strategies. Some guys were fast at the beginning, some at the end, PJ (Ransford) was fast in the middle. The interest was a good thing for people to see how good the mile can be," Aubock said.
Training with fellow All-American Ransford and freshman upstart Ricardo Vargas has kept Aubock focused on his improvements.
"It has been really tough training with PJ and Ricardo. Every day is different. There is never a day you are sure you can beat them in practice. That is a reason I got so much faster last year," he said. "The Michigan distance group, there is always someone I can race with. That is why it was the right place it was for me."
It was a tough road to get to Ann Arbor, though.
"It was really difficult because most of the coaches wanted a decision from me before I visited any school here. I had to choose much of it just looking at websites," he said.
Plus he was going to a country where swimming was a much bigger deal.
"In Austria, the swim world is really small. Everyone knows everyone," he said. "There are only three Olympic size pools, so there is a lot of fighting for lane space and practice times."
So what got him into swimming?
"My mom was a swimmer. She went to Wisconsin. Coming to the states was always an idea for my mom. My mom understands exactly what I am going through. My parents were so supportive, driving me to practice at 5 a.m.," he said.
It led Aubock to the Olympics, where he finished 18th in the 200 free, 25th in the 400 free and 42nd in the 1,500 free.
"Rio was a great meet. The emotions are unlike any I have ever experienced at a meet. It is a feeling you will never have anywhere else, representing your country at the Olympics. At Worlds, most of Austria isn't watching, but they all watched the Olympics," he said.
But it was at worlds this past summer where Aubock transformed himself from one of the best NCAA swimmers to one of the elite swimmers in the world.
"I came to the meet and my only goal was to make an afternoon swim. I was thinking making the semifinals of the 200 free would be the most realistic," he said. "Going into the 400 freestyle, I was feeling really good. I was right there with Sun Yang. I was just trying to catch him. That changed a lot in the meet. I was just trying to make a semifinal and I was seeded first going into the final. It was a good experience. When you are first going into the final, you start thinking about a medal, which I had never done before. I got fifth, but learning from that was the most important thing. Next time I am in that situation, I know what to do and I won't get fifth again."
The NCAA mile was a similar experience and he is focused on the finish.
"I don't want to do worse than I did last year, but there are five other guys who want to win the mile and the 500," he said. "What I missed last year was the last push when Clark Smith was going the last 200 fast. When that push is happening, I have to go with those guys and have a great 50 again at the end."
The final 50 could mean the difference between winning the NCAA title and finishing sixth. The distance excitement is building and Aubock is leading the charge.