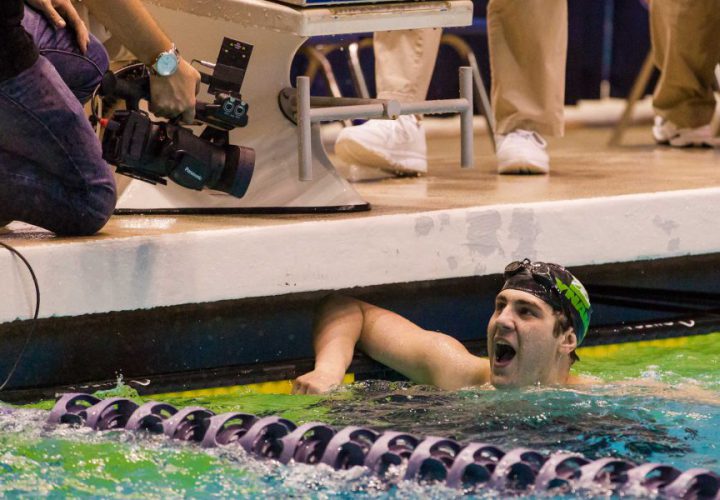 Photo Courtesy: Melissa Lundie
Agon is the proud sponsor of all high school coverage (recruiting, results, state championships, etc.) on SwimmingWorld.com. For more information about Agon, visit their website?AgonSwim.com.?National Records for High School Are Pending Application Verification.? Click Here to Learn More
Agon is the proud sponsor of all high school coverage (recruiting, results, state championships, etc.) on SwimmingWorld.com. For more information about Agon, visit their website AgonSwim.com.
High school state championship action started up again with prelims of the Georgia state championships.
GHSA 6&7A Class
Schools in Classes 6 and 7A of the Georgia High School Association competed in the preliminaries of their state championship on Friday, February 3rd at the McAuley Aquatic Center of Georgia Tech.
The meet started off with the boys 200 medley relay, in which the relay team of Brady Fields, Tory Bartlett, Cullen Fields, and Jake Gleeson from Hillgrove dropped 6 seconds from their seed time to move up 15 places and touch first in a time of 1:34.56. On the girls' side, Lambert High School put together a winning relay of Caroline Aikins, Joonyoung Lee, Jane Johnson, and Lilia Smith, finishing in a time of 1:45.46, about a second and a half in front of second-place Pope.
Senior University of Florida commit and Olympic Trials finalist Michael Taylor of Johns Creek blew away the field in the boys 200 free, claiming the top spot by a decisive 5 seconds and breaking the state record of 1:36.15 set in 2012 with a time of 1:35.40. There will also be a swim-off for 10th place, the last place in the A final, between Parker Ciaramella of Lassiter and Austin Daniel of Cambridge, who both posted times of 1:43.56. The girls 200 freestyle was a closer race, with Caitlyn McHugh of Allatoona taking first place in a 1:50.51, just two tenths ahead of second-place Emma Layton of Chattahoochee.
In the boys 200 IM, Raunak Khosla from Milton was the only swimmer under 1:50, dropping a 1:49.95 for first place, while Devan Sweeney of Brookwood leads the way on the girls' side with a 2:02.98.
Mihalis Deliyiannis from Roswell posted a 20.43 for a victory over Fields in the boys 50 free, while junior Tatum Smith of Johns Creek moves up to the top from an 8th place seed with a time of 23.75.
The IMers proved their versatility in the 100 butterfly, as both Khosla and Sweeney notched another first-place finish with times of 49.02 and 55.11, respectively.
Ananda Lim from Sprayberry will head into finals as the top seed in the boys 100 freestyle, finishing first today with a time of 45.56. Senior Maddy Cohen of Brookwood topped the event for the girls with a 50.97.
Bradley Dunham from Dacula beat out freshman powerhouse Jake Magahey of Mill Creek to touch first with a time of 4:31.30 to Magahey's 4:34.87. Finals in this event will be an exciting race, with many watching Magahey to see if he will best his seed time of 4:26.62, which could blow away the field. On the girls side, 200 winner McHugh put herself into first place for finals with a 4:52.72. Nine out of the top 10 in the first heat of girls going into finals are under the 5-minute mark.
North Forsyth came out on top of Lambert in the boys 200 freestyle relay, their team of Hunter Galbraith, Skylar Kadetz, Daniel Brisuda, and Jack DalMolin putting together a 1:26.41 over Lambert's 1:26.52. This should shape up to be a close race at finals, with Hillgrove's winning 200 medley relay team of Bartlett, Fields, Fields, and Gleeson sitting at 3rd place with a 1:26.92. Walton's relay team consisting of Jasmin Hoffman, Melissa Cox, Gabbie Gauntt, and Evan Arsenault took first place in the girls even with a 1:35.59.
Taylor, the #5 commit in the recruiting class of 2017, dropped another decisive 4-and-a-half-second victory in the boys 100 backstroke to cap off a stellar prelims, touching the wall in a blistering 45.75, breaking his own state record of 47.17 set last year. Sarah Sorensen of Pope held on to first place on the girls side with a time of 56.44.
DalMolin swam a 55.04 in the 100 breaststroke to put himself in first place almost a full second over Jonathan Yang of Peachtree Ridge going into finals. Freshman Adeline Farrington is first heading into Saturday with a 2-second drop and a time of 1:02.59.
Lastly, Brookwood came out on top by 0.01 over Alpharetta in the boys 400 free relay, with Brookwood's team of Aidan Stoffle, Dylan Scott, Conor Gamble, and Andrew Huenniger touching first in 3:09.62. Walton's relay featured three of the four from the winning 200 freestyle relay, with Arsenault, Gauntt, Cox, and senior Emma Cole coming in at 3:31.89 to win it. It should be a close race between Walton, Brookwood, Lambert, and Lassiter at finals.
GSHA 1-5A Class
The schools in Classes 1-5A of the Georgia High School Association competed in their preliminaries at 6pm on February 3rd.
The boys 200 medley relay began with a top time from St. Pius X of 1:34.04. The relay team of Ian Grum, Jeffrey Durmer, Blake Reynolds, and Nate Grum shaved three seconds off their seed time and sit ahead of the rest of the field by 2 seconds heading into finals. The relay team of Teresa Maloney, Julia Von Biberstein, Jade Foelske, and Brynn Lautenbacher from Chamblee won decisively for the girls, with a time of 1:47.12.
Durmer turned right around to finish first in the next event, the 200 free, with a 1:41.57. Elizabeth Bailey from Marist dropped five seconds from her seed time to touch the wall in 1:51.93, 0.10 ahead of second-place Samantha Eason from St. Vincent's AC.
Brennan Pastorek from Savannah Country was the top finisher in the 200 IM on the boys side with a time of 1:50.53, while Danielle Della Torre from Oconee County looks to be the favorite on the girls side heading into finals, coming in a full three seconds ahead of second place with a time of 2:01.08.
The boys 50 free was a close race, but Marty Stange from McIntosh took first with a 20.88 over David Gray's (Mt. Paran Christ) 20.90. Donna Blaum of Starr's Mill topped the girls evenr with a 23.33.
Cade Anderson of Holy Innocents' was the only boy to get under 50.0 in the 100 fly, touching first in 49.84. Blaum had a quick turn-around, but managed to finish first for the girls in the event with a time of 54.23.
Gray dropped five seconds from his seed time to finish ahead of Stange and Pastorek with a time of 45.57. Della Torre posted a quick 50.74 to put herself in first place heading into finals.
Ian Grum won the boys 500 with a time of 4:34.15. Savannah Mitchell of Providence was the only girl under five minutes, as she swam a 4:59.40 for first place, six seconds ahead of second-place Abby Cohen from St. Pius X.
Westminster's freshman-heavy relay team of Connor Hinkes, Sterling Ralph, Cole Hinkes, and Chris Staley finished first in the 200 free relay with a 1:27.98. Blaum led her team of Kylee Bogumill, Allyson Phinney, and Hope Christensen to a 1:38.72 victory, posting the fastest split with 23.67.
Senior Owen Downs of Westminster beat out Anderson by a slight margin of 0.03 in the 100 backstroke, finishing in 51.33. This should be a close race, as the top three heading into finals are all under 52.0. Raleigh Bentz of Providence won on the girls side with a 55.35.
Liam Bell of Chamblee is the top seed for the boys heading into finals in the 100 breaststroke in 56.54. Von Biberstein took first for the girls in a time of 1:05.78.
Calhoun put together a winning team of Bo Dyar, John Carroll, Caleb Black, and Cal Parker in the boys 400 free relay, earning the top seed in 3:13.30. Finally, for the girls, Blessed Trinity's freshman-dominated relay consisting of Catherine Allsteadt, Rachel Saxon, Grace Findlay, and Maggie Pokorny took first in 3:38.53. Blaum, part of Starr's Mill's second-place relay, posted the fastest split of the event with a 52.70.
Swimmers will dive back into the pool at Georgia Tech today for finals.