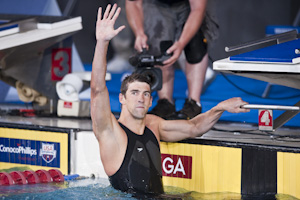 ANNAPOLIS, Maryland, March 5. THE Superfish was back in action at the Maryland State Championships, held in short course yard format.
Michael Phelps, backed by a heavy North Baltimore contingent at the meet, put on a show in the men's 400 IM. He clocked a time of 3:39.01 in the finale after posting a 3:43.86 in prelims. The 3:39.01 is the 12th-fastest in the event all time, but still nearly three seconds back of Phelps' top time of 3:36.26.
"I wasn't as prepared as I should have been. I was so looking forward to this race, but there it is: 3:39. I have to put this behind me. I have three more chances [here] to do better than I did today," Phelps told the Associated Press.
With the few times Phelps has competed in the yard version of the 400 IM, it is likely that his personal edict that he was done with the event at the 2008 Beijing Olympics could be done.
A few of the other notable swims from the evening were NBAC's Elizabeth Pelton beating teammate Felicia Lee, 1:45.14 to 1:46.22 in the women's 200 free. NBAC's Todd Patrick claimed the men's 200 free in 1:35.64. Check out the rest of the results for all the fast swims from the night.