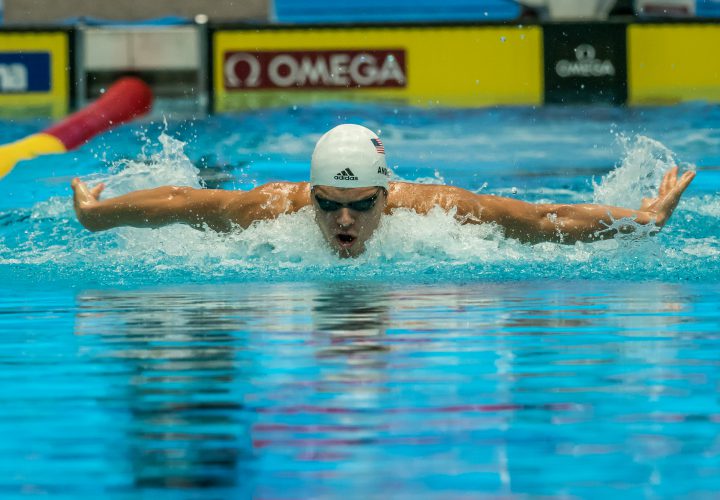 Photo Courtesy: Peter H. Bick
Editorial content for the 2018 TYR Pro Swim Series Mesa is sponsored by SwimOutlet.com. Visit SwimOutlet.com for more information on our sponsor. For full Swimming World coverage, check out our event coverage page.
Kyle Robrock, Giles Smith, Marcus Schlesinger, Michael Andrew, Tim Phillips, Meiron Cheruti, Pace Clark and Runar Borgen started things off in tonight's 50 Fly Quarterfinals.
In this round, Andrew reclaimed his top seed in 23.46. He was followed by Phillips (23.77), Schlesinger (24.08) and Cheruti (24.21). The swim ranks Andrew seventh in the world so far this year. Phillips now sits nineteenth.
Smith (24.26), Clark (24.49), Robrock (24.52) and Borgen (24.63) placed fifth through eighth.
Minutes later, Andrew powered his way to a Semifinals win in 23.40, lowering his time even further. Phillips went his same exact time from the previous round to warn the last spot in the finals. Schlesinger was third in 24.28 while Cheruti was fourth in 24.77.
Once again, Andrew blasted a world top-ten time in this event, winning the race in 23.38. He took the lead right from the start to get the win over Phillips.