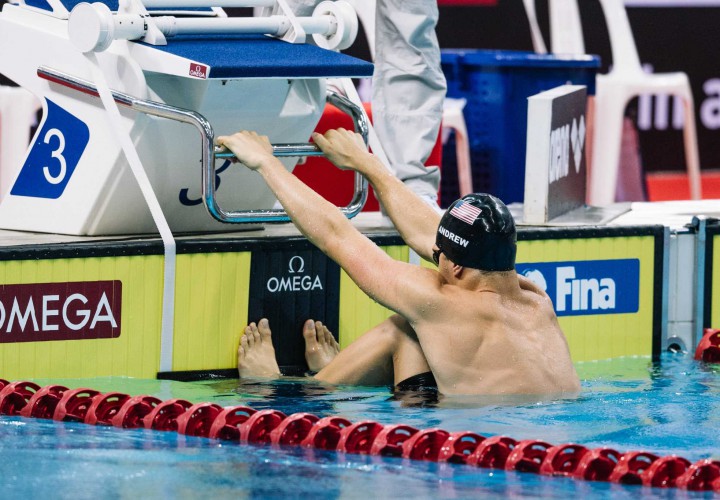 Photo Courtesy: Singapore Swimming Federation
USA's Michael Andrew paced semis of the men's 50-meter back at the 2015 FINA World Junior Championships.
Andrew, who smashed the meet record with a sizzling 25.14 earlier today in prelims, put up an easy speed 25.56 to make his way into finals tonight.
Andrew's time this morning nearly eclipsed the World Junior record of 25.09 set by Evgeny Rylov at the 2014 Youth Olympic Games.
Egypt's Mohamed Samy qualified second into finals with a 25.61, while Canada's Javier Acevedo put up a third-seeded 25.63.
Venezuela's Robinson Molina (25.74), Egypt's Youssef Abdalla (25.75), Greece's Nikalaos Sofianidis (25.78), Spain's Hugo Gonzalez (25.84) and Russia's Roman Larin (25.92) will also vie for the championship title in finals.
SCHEDULED EVENTS
Women's 50 fly semis
Men's 50 free semis
Women's 200 back finals
Men's 100 fly finals
Women's 100 breast semis
Men's 50 back semis
Women's 100 free finals
Men's 800 free finals
Mixed 400 free relay finals