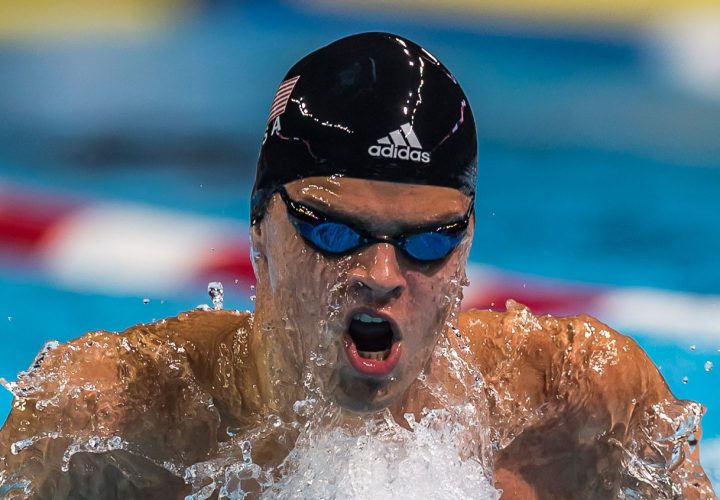 Photo Courtesy: Peter H. Bick
Editorial content for the 2017 Arena Pro Swim Series Indy is sponsored by Arena. Visit ArenaUSA.com for more information on our sponsor. For full Swimming World coverage, check out our event coverage page.
Race Pace Club's Michael Andrew set a new Junior World Record in his last race of the arena Pro Swim Series meet in Indianapolis. He posted a time of 1:59.12 to break Gunnar Bentz's mark of 1:59.44 from 2013. His butterfly split (24.83) was faster than Ryan Lochte's butterfly split  (24.89) in Ryan's World Record setting race.
The time was good for third in the world rankings, and he ended up finishing second in the race after a late surge by Josh Prenot.
After the race, Andrew explained his reaction to the swim, particularly going out under world record-pace at the 50-meter mark, and described how his training has changed in the last eight months. He also discussed his relationship with Prenot.
While Andrew now holds the official Junior World Record, his time is actually well short of the fastest time in history by an 18-and-under swimmer. When he was 18 years old, Michael Phelps broke the world record in the 200 IM three times, eventually recording a time of 1:55.94 at U.S. Nationals in College Park.