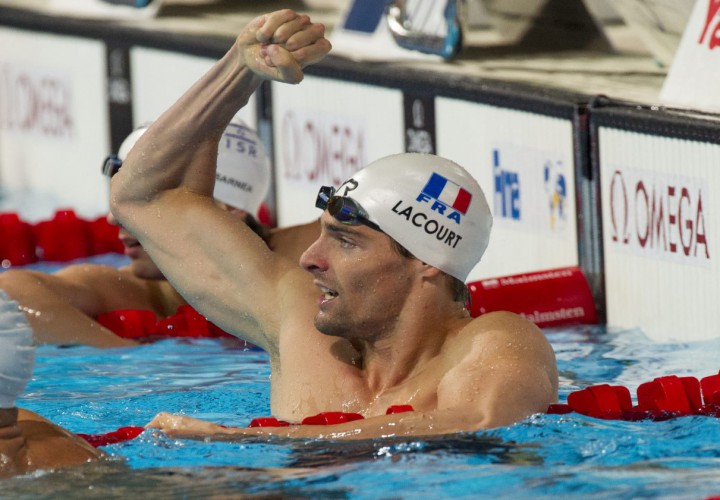 Photo Courtesy: Joao Marc Bosch
French swimming veterans Mehdy Metella, Camille Lacourt as well as Charlotte Bonnet posted fast times on night five of the 2017 French Swimming Championships. Bonnet just missed the French Record in the 100 free while Lacourt and Mehtella posted times ranked in the top eight in the world for 2017 in their respective events.
Just a few days after Joseph Schooling announced his intent to take down Michael Phelps' world record in the 100 fly, Frenchman Mehdy Metella put his name in the mix for the 100 fly world title. Mehtella swam a very fast 51.36 on Saturday night at the French Swimming Championships to put him third in the world rankings for 2017. Metella also just missed his French Record that was a 51.24 from the 2015 World Championships. Mehtella now sits behind South Africa's Chad Le Clos (51.29) and China' Li Zhuhao (51.34) in the world rankings for the event. Mehtella finished ahead of Paul Lemaire (53.28) and Nans Roch (53.52). Mehtella has had a pretty good meet so far after he had another world ranked 100 free last night.
Camille Lacourt also posted a world ranked time in the 50 back as he went stroke for stroke with fellow veteran Jeremy Stravius. Lacourt won the final with a 24.60 ahead of Stravius' 24.73. Benjamin Stasiulis was third at 25.42. Lacourt is now ranked fourth in the world in the event behind China's Xu Jiayu (24.42), Russia's Evgeny Rylov (24.52) and Japan's Junya Koga (24.53). Stravius now sits sixth in the world behind Brazil's Guilherme Guido (24.72). Lacourt has announced this will be his final World Championships as he is planning to retire after the meet in Budapest.
Charlotte Bonnet posted another good swim in the 100 free with a 53.65 to just miss Malia Metella's French record of 53.49 from 2009. Malia is the older sister of the aforementioned Mehdy Metella. Bonnet finished ahead of Beryl Gastaldello (54.55), Marie Wattel (55.13) and Margaux Fabre (55.24). Bonnet's time puts her ninth in the world rankings for 2017.
The women's 800 freestyle timed final started off the session with a victory from Aurelie Muller at 8:36.56. Muller used her back half to swim away from second place Anna Egorova (8:40.35) and Fantine Lesaffre (8:42.98).
Fanny Deberghes won the 200 breast final with a 2:28.78. Deberghes used a strong last 50 to swim away from Camille Dauba at 2:29.46. Laura Paquit was third at 2:31.53.