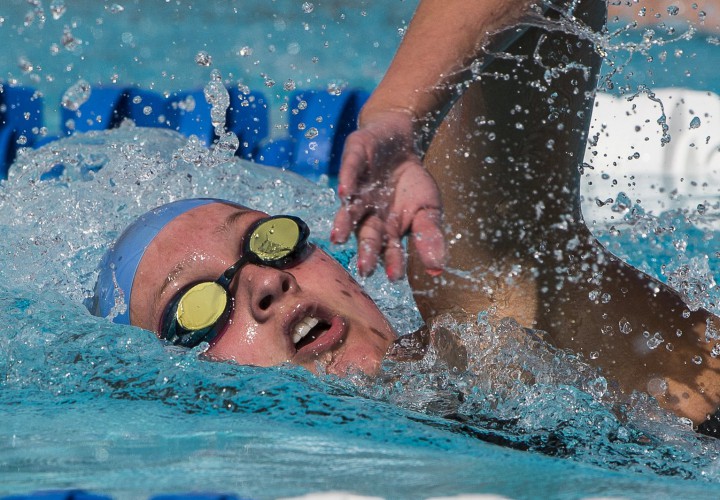 Photo by Peter H. Bick
Swimming World is streaming the 10-and-under and 11-12 time finals sessions and the 13-and-over finals sessions each day at the Tom Dolan Invitational on the event landing page. On-demand race footage will be available after each session there as well.
COLLEGE PARK – Personal bests were lowered by the truckload in Thursday's timed finals session to open the Tom Dolan Invitational on the campus of the University of Maryland. Megan Byrnes, representing host club Nation's Capital Swim Club, led that charge with a big drop in the 1650 freestyle.
Byrnes won the 15 and over division with a 16:01.83, much better than her previous lifetime best of 16:15.29 done at last March's NCSA junior nationals. That time puts the 16-year0old just outside the top 10 of all-time performers in the 15-16 age group. Ashley Evans holds the 10th spot with a 16:01.28, while Katie Ledecky's former American record of 15:15.17 is well ahead of the rest of the pack.
Girls open 1650 freestyle fastest heat race video:

With teammate Ledecky not racing in the event Thursday night, Byrnes was the star of the fastest heat, winning by 38 seconds. Sinead Eksteen, also of Nation's Capital, won the 13-14 division with a 16:39.74, the second-fastest swim of the meet on the girls' side. Finishing second in the 13-14 division was Maggie Wallace of Pleasantville Aquatics with a 16:57.10, while Brooke Travis of Delaware Swim Team took third with a 17.13.08. Danika Katzer of Nation's Capital chopped a full minute off her personal best to take fourth with a 17:13.25.
Placing second behind Byrnes in the 15 and over division was Valentina Gomez of NOVA of Virginia with a 16:55.70, taking 26 seconds off her lifetime best. Amber Glenn of Pleasantville was third with a 16:56.50.
The session started with the 12 and under 500 freestyle, and Chase Travis of Delaware Swim Team broke five minutes for the first time with a 4:57.49 to win. Delaware went 1-2-3 in the event, with Bella Warner notching second with a 5:11.36 and Madison Kolessar taking third with a 5:13.55.
With the 1650s giving Chase Travis plenty of rest, she had enough in the tank to win the 200 back with another lifetime best of 2:03.57. Isabel Gormley of Asphalt Green gave Travis a race throughout, but settled for second with a 2:03.96. Makenzie Higgins of Nation's Capital was a distant third with a 2:08.64.
Nation's Capital won both of the 12-and-under events on the boys' side on Thursday. Leo Goldblatt won the 500 free with a 4:59.09, a four-second drop in his lifetime best. That was well ahead of the 5:09.86 by Delaware Swim Team's Joey Dickson and the 5:26.21 by Matthew Styczen of Blue Eagle Swim Team.
Boys 12 and under 500 freestyle fastest heat race video:

Ryan Catron gave NCAP the win in the 200 back with a 1:56.81, beating out teammate Brett Feyerick and his 2:04.18. Tavis Siebert of Phoenix Aquatic Club was third with a 2:07.68.
Boys 12 and under 200 backstroke fastest heat race video:

In the 15-and-over 1650 free, Jake Johnson of Delaware Swim Team lowered his lifetime best by 30 seconds to win with a 16:24.54. Jordan Ren of Nation's Capital was second with a 16:30.64 and CJ Hinckley of Asphalt Green was third with a 16:51.08.
Boys 15 and over 1650 freestyle fastest heat race video:

Full results available on Meet Mobile.