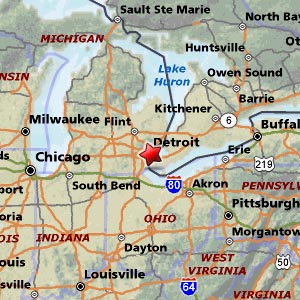 DETROIT, Michigan, February 2. IN a SwimmingWorldMagazine.com Meet of the Week, the No. 4 Wayne State men got their hand to the wall first in every event in a 127-95 conquest of No. 10 Ashland. Overall, Wayne State finished with nine official wins, while Ashland ended up with four technical victories since WSU began exhibitioning with four events to go. The meet features eight B cuts and a tone-setting automatic qualifier by WSU's 200 medley relay in the first event.
Tiago Oliveira led Wayne State with a pair of triumphs in the 200 free and 100 free, while also leading off the 200 free relay with a B-cut time. No other student-athlete in the meet wound up with a pair of event titles.
200 medley relay
Wayne State's foursome of Luiz Pacheco, Christer Tour, Bruno Blanco and Cauli Bedran made an immediate statement by punching their ticket to NCAAs with an A-cut time of 1:32.39 for the event win as WSU took a 13-4 lead. Ashland's team of Oscar Thomasson, Chris Pecnik, Sean McGraw and Omar Fathallah picked up second in 1:36.65.
1000 freestyle
Wayne State took a 27-9 lead with a 1-3 finish when Guilherme Veiga won the distance free in a B-cut time of 9:42.78, while his teammate Matt Leix took third in 10:00.29. Todd Polak split the difference for Ashland in 9:59.05.
200 freestyle
WSU poured it on in the 200 free with a top-four sweep to push its lead to 43-12. Tiago Oliveira won the event with a B-cut time of 1:42.53, while teammates Alex Davidson (1:47.31) and Sebastian Rzepa (1:47.57) placed second and third, respectively. Ashland's best finish came from Arthur Gouvea's fifth-place 1:49.98.
50 freestyle
Wayne State snagged a 56-18 advantage with a 1-2 in the 50 free. Cauli Bedran hit the wall first in 21.89, while teammate Per Bergstrom finished second in 22.02. Ashland's Kevin Rapien rounded out the podium in 23.15.
400 IM
WSU pocketed its third B cut when A.J. Erard won the 400 IM in 4:09.54 as part of a 1-2 sweep ahead of teammate Jared Troyer's 4:12.62. Ashland's Jesper Madsen wound up third in 4:20.12, as his team fell behind 69-24.
One-meter diving
Wayne State took a commanding 85-27 lead with a top-three sweep in the first diving break. Dan Fleming (294.38), Chris Totten (288.10) and Cayce Bolt (280.35) scored the top three tallies, while Ashland's Trent Thomas took fourth with 169.28 points.
200 butterfly
WSU nearly broke the century mark with a 99-32 lead when Bruno Blanco won the 200 fly in 1:56.89. Ashland's Omar Fathallah (1:57.36) nipped WSU's Jared Troyer (1:57.43) for second.
100 freestyle
Wayne State went 1-2 again as Tiago Oliveira doubled up with a B-cut time of 46.71 to win the 100 free. Meanwhile, teammate Per Bergstrom took second in 47.67, while Ashland's Sean McGraw placed third in 48.72. At the end of the event, WSU led 114-36.
200 backstroke
WSU bounced its lead to 127-42 with another top-two sweep. Luiz Pacheco clocked a 1:57.16 for first, while teammate Matt Leix touched second in 1:58.70. Ashland's Oscar Thomasson rounded out the podium in 1:59.37.
500 freestyle
With Wayne State exhibitioning the final four events, Ashland's Todd Polak picked up a technical victory in 4:50.54. Kevin Herlihy placed second in 5:00.76, while Franz Konzcak took third in 5:06.69. Meanwhile, Guilherme gave WSU its fifth B cut of the evening as he exhibitioned to a 4:40.87. Wayne State held a 127-58 lead after the event.
Three-meter diving
Ashland's Trent Thomas earned a technical victory with 142.95 points in the three-meter, while WSU's Cayce Bolt scored the most points with an exhibition tally of 288.60. WSU owned a 127-67 advantage after the second diving break.
200 breaststroke
Ashland closed to within 127-80 with another technical win. Jesper Madsen touched in 2:12.75, while Kevin Rapien finished second in 2:16.72. Meanwhile, WSU's Christer Tour missed an A cut by a slim .01 seconds with an exhibition time of 2:06-flat. WSU led 127-95 after the race.
200 freestyle relay
Ashland's team of Omar Fathallah, Sean McGraw, Ben Monti and Arthur Gouvea garnered Ashland's fourth technical win of the meet with a time of 1:26.87. Fathallah's leadoff 50 free of 21.41 surpassed the B-cut threshold. In other action, WSU's quartet of Tiago Oliveira, Cauli Bedran, Luiz Pacheco and Bruno Blanco touched first in an exhibition time of 1:24.07. Oliveira also dropped below the B-cut time with a 21.48 leadoff leg. The meet ended with Wayne State winning 127-95.