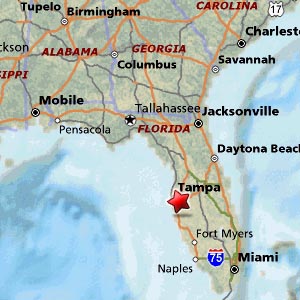 PHOENIX, Arizona, January 9. THIS weekend, SwimmingWorldMagazine.com's Meet of the Week program comes back after hibernating through winter. We will feature a pair of exciting meets with a Division 1 tilt between perennial contenders Auburn and Texas, and an inter-divisional meet between Division 2 Tampa (Collegeswimming.com Rankings: Men: #16, Women: #13) and Division 3 Emory (M: #2, W: #1).
Next week, we will feature:
Jan. 19, 2007, Ohio State at Penn State (Women)
Jan. 20, 2007, Indianapolis at Grand Valley State
Jan. 20, 2007, Hartwick at St. Lawrence
Here is a quick preview of the Emory/Tampa match-up:
Date and Time: Friday, January 12, 2007 – Noon
Location: Tampa, Fla.
Facility: McNiff Fitness Center
Collegeswimming.com Rankings:
Men
Emory: 2
Tampa: 16
Women
Emory: 1
Tampa: 13
Emory's Last Time Out:
Emory picked up a pair of wins in its last outing more than a month ago. The men's and women's teams went into Sewanee, Tenn., and came out triumphant against the University of the South. The men picked up a 151-123 victory, while the women put together a 171-105 conquest.
Sophomore Laure Conter paced the Emory women's team with a trio of individual titles. She won the 100 fly in 59.11, the 200 fly in 2:10.39 and the 200 IM in 2:15.15. Meanwhile, freshman Chelsea Murphy swept the diving events.
For the men, a quartet of swimmers and divers walked away with doubles. Sophomore Bruce Milburn won the 500 free in 4:53.50 and the 1000 free in 9:56.12, while senior Alex Fleet touched first in the 100 back (54.12) and the 200 back (1:57.96). Junior Alex Levinger also won both the 200 IM (2:03.04) and the 200 breast (2:21.57). Additionally, junior Sam Taft took both diving crowns.
Looking forward with Emory's head coach Jon Howell:
We have had this meet with Tampa on our schedule for a number of years. It presents us with a good opportunity to race at this point in the schedule. We are coming off our winter training trip and will head directly to Tampa. We are always a tired team at this point, and Tampa provides us with a competitive meet right now. It has really been a good meet for both of our teams over the years.
Tampa's Last Time Out:
Tampa took second in both the men's and women's portion of the Toledo Relays meet. The men tallied 30 points to finish behind Southern Illinois' 50 and ahead of Valparaiso's 10. Meanwhile, the women posted 30 points to fall to SIU's 48 and beat Bridgeport (8) and Valpo (4).
Tampa picked up one win in the 500 freestyle relay and second-place efforts in 18 of the other 19 relay events.
Looking forward with Tampa's head coach Ed Brennan:
During this part of the season, both teams are training heavily so we aren't expecting too much. That said, the meet has been very competitive in the past, and I expect it will be no different on Friday. This is very much a rebuilding year for us, especially on the men's side. We are a much better championship team than dual meet team because we are deep in some events like the fly and middle distance, but have some weak spots in the back and breast. Our women are a bit more balanced, but like the men, are a young squad. We won five events at the Division 2 Championship last season, but those kids have all graduated. Emory has a much larger percent of their national points returning and Jon always does a great job recruiting. I really don't see any weakness in their lineup.
Top 2006-07 Times Comparison:
Men:
50 Free
EU: 20.93, Andrew Callam
UT: 21.68, Greg Cerrato
100 Free
EU: 46.42, Andrew Callam
UT: 46.95, Greg Cerrato
200 Free
EU: 1:40.12, Tim Newton
UT: 1:43.03, Blane Bess
500 Free
EU: 4:30.39, Tim Newton
UT: 4:36.63, Tyler Furrer
1000 Free
EU: 9:40.10, Nick Lake
UT: 9:47.73, Tyler Furrer
1650 Free
EU: 15:44.19, Tim Newton
UT: N/A
100 Back
EU: 51.74, Thomas Roos
UT: 53.48, Kyle Merritt
200 Back
EU: 1:51.66, Thomas Roos
UT: 1:59.01, Kyle Merritt
100 Breast
EU: 57.80, Scott Bobo
UT: 59.18, Charlie Berge
200 Breast
EU: 2:05.17, Scott Bobo
UT: 2:13.17, Charlie Berge
100 Fly
EU: 51.07, Andrew Callam
UT: 51.37, Roman Dagash
200 Fly
EU: 1:51.88, Harrison Brown
UT: 1:52.56, Roman Dagash
200 IM
EU: 1:52.65, Harrison Brown
UT: 1:58.56, Roman Dagash
400 IM
EU: 4:00.96, Nick Lake
UT: 4:21.58, Corey Allen
200 Free Relay
EU: 1:26.40
UT: N/A
400 Free Relay
EU: 3:07.60
UT: 3:09.10
800 Free Relay
EU: 6:51.45
UT: N/A
200 Medley Relay
EU: 1:34.78
UT: 1:37.16
400 Medley Relay
EU: 3:25.75
UT: N/A
1M Diving
EU: 197.78, Sam Taft
UT: N/A
3M Diving
EU: 219.33, Sam Taft
UT: N/A
Women:
50 Free
EU: 24.31, Ruth Westby
UT: 24.80, Mariesa Hardin
100 Free
EU: 51.80, Ruth Westby
UT: 52.01, Jessie Bardin
200 Free
EU: 1:51.60, Leigh Psaris
UT: 1:51.53, Jessie Bardin
500 Free
EU: 4:59.38, Leigh Psaris
UT: 5:03.71, Jessie Bardin
1000 Free
EU: 10:24.09, Leigh Psaris
UT: 10:58.39, Jessie Bardin
1650 Free
EU: 17:29.07, Leigh Psaris
UT: N/A
100 Back
EU: 58.22, Tess Pasternak
UT: 59.91, Katie Shald
200 Back
EU: 2:05.35, Tess Pasternak
UT: 2:10.22, Jennifer Jenkins
100 Breast
EU: 1:07.50, Ellen Flader
UT: 1:06.77, Melissa Hardin
200 Breast
EU: 2:27.13, Ellen Flader
UT: 2:28.37, Julie Gauvin
100 Fly
EU: 56.00, Leigh Psaris
UT: 59.19, Annie Emery
200 Fly
EU: 2:02.04, Leigh Psaris
UT: 2:09.97, Susanna Ashley
200 IM
EU: 2:10.64, Leigh Psaris
UT: 2:10.08, Annie Emery
400 IM
EU: 4:35.18, Ali Smith
UT: 4:36.20, Jennifer Jenkins
200 Free Relay
EU: 1:36.41
UT: N/A
400 Free Relay
EU: 3:29.91
UT: 3:33.25
800 Free Relay
EU: N/A
UT: N/A
200 Medley Relay
EU: 1:48.51
UT: 1:48.77
400 Medley Relay
EU: 3:55.59
UT: N/A
1M Diving
EU: 288.08, Chelsea Murphy
UT: N/A
3M Diving
EU: 245.50, Jacki Powers
UT: N/A