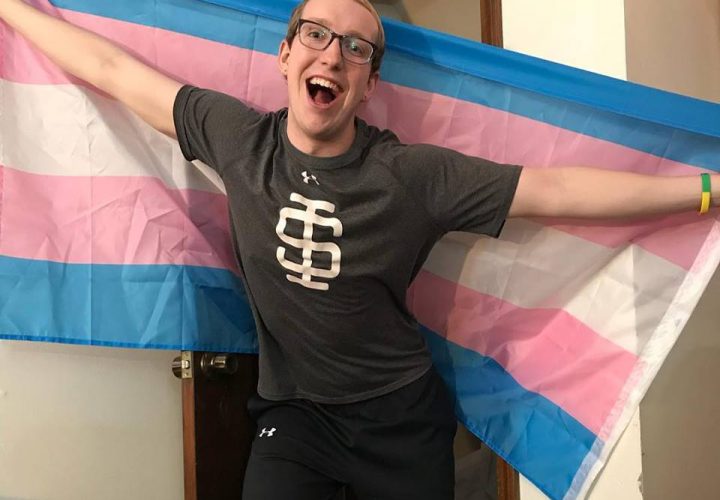 Photo Courtesy: Natalie Fahey
Commentary by Andy Ross, Swiming World staff writer.
At some point in every single person's life, they need to face who they really are. This is simple for some, while it is harder for others.  For Southern Illinois senior swimmer Natalie Fahey, it was a decision that would drastically change her life.
Fahey is transgender.
She was born male and has been on hormones since February 12, 2018 – she later changed her name from Nolan to Natalie.
"[Hormones therapy] is such a long process, it's never really going to end," she said. "Physically, most of the changes from hormones are done around two years."
Trans athletes are still relatively new in college sports. One of the most famous cases in the sport of swimming was Schuyler Bailar, who swims for the Harvard men's team. But Bailar transitioned from female to male, a less controversial transition than the other way around.
Fahey is about to start her senior year at Southern where she was a B-finalist at the Mid-American Conference Championships as a male. As for this upcoming season, she will still be competing with the men's team because that is what she allowed to do in accordance with the NCAA.
But as for taper, Fahey's goal is to compete alongside her female teammates at the Missouri Valley Conference Championships in 2019. Under the current NCAA rules, this will be possible to achieve.
In 2011, the NCAA updated their policy on transgender participants. The update indicates that Fahey would be allowed to compete as a woman after one calendar year of starting hormones, which means she could close her career out as her true self: as a woman. Last year, the MVC Championships started on Feb. 14 and the MAC Championships took place from Feb. 28-March 3.
On the outside looking in, it could seem like a lot to go through for one weekend of racing. But Fahey has the desire to compete as a woman, even if only for a single meet. This is something that she has struggled with, and refuses to wait any longer to deal with.
After doing some research, and discovering Bailar, Fahey ultimately realized that transitioning and then competing could become a reality.
But deciding to undergo hormone therapy whilst still swimming was not an easy decision. She originally wanted to hold off on transitioning until her career was over in March 2019, but then it became a lot more important to her that it was something she needed to do.
"It wasn't something I could put off until later," she said about transitioning. "It became more of an issue with my mental health and how comfortable I was with myself."
Then she was hit with a mild shoulder injury, leaving her virtually chained to a kick board for an entire week.
"I was tempted to quit and I was seriously thinking about it.

Ultimately I decided swimming is essential to who I am as a person as is my gender identity."
Fahey is still rather early in the transition. She only recently came out to her team at Southern Illinois, who welcomed her with open arms. Then she went to Southern Illinois' student-run TV station to talk about her transitioning, where she used this as a way to come out to the rest of her friends on social media.
There are a still a few more hurdles she needs to climb, like legally changing her name in her native state of Wisconsin, getting a new driver's license, and eventually, getting cleared by the NCAA.
But with that could come controversy, something Fahey has feared since coming out as transgender.
"It's an unknown variable, but how are teams and athletes going to react at meets? Because that's going to be the majority of my life this next season."
It's a fear that Fahey has began to overcome, but it does still exist.
"Even though I'm out on social media, I'm not out to the whole world," she said.
But the world is going to know about Fahey soon. She is one of the first open male to female transgender swimmers to compete in the NCAA and she is hoping she can use her experience to help others going through the same issues.
And although the rest of the world doesn't know about her yet, she isn't too worried what they are going to think.
"No matter what new people find out, I have this huge group of people here to support me."
All commentaries are the opinion of the author and do not necessarily reflect the views of Swimming World Magazine nor its staff.