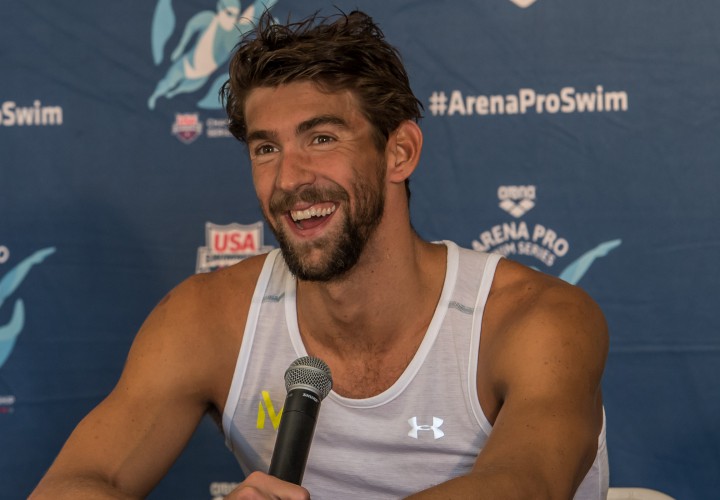 Photo Courtesy: Peter H. Bick
Swimming Media Commentary By Wayne Goldsmith.
Having attended many, many swimming media conferences over the years, I am always fascinated in two things: The questions that get asked by the swimming media and the answers to those questions.
The answers are – in most cases – incredibly predictable – almost scripted.
Do any of these sound familiar?
Question: So – have you been training well for this meet?
Answer: I give all I have to training all the time – I always aim to do my best.
Question: Who do you think is likely to be your toughest competition at this meet?
Answer: Well – everyone's tough. Anyone out there can win.
Question: The Olympics are only a short time away – are you thinking about the 'Games?
Answer: I just focus on each day and each race. I do my best in every race I swim every time I go out. I'm just thinking about today's racing and working hard one day at a time.
Question: So what would you say is your favorite event?
Answer: I love every event and do my best every time I get in the water.
Elite athletes get asked these and many other similar questions by swimming media over and over and over, year after year after year in press conferences all over the world and after a while the simplistic nature of these questions will result in a highly predictable and similarly monotonous response.
In addition, well before the press conference even starts, smart athletes have thought about the "messages" they want to get across during the press conference and will – at times – regardless of the actual question they get asked – ensure their "messages" are heard loud and clear by the journalists present – and the readers and viewers those journalists represent.
It is a matter of mirth for many experienced swimmers and coaches to play a game of actually trying to guess what questions will be asked at the press conference and have predictable answers to all the predictable questions ready to go.
And most of the time – their guesses are right on the money.
Press conferences can be brilliant. They can provide detailed insights into how and why things happen and help the public to feel a real connection with the athletes. They can be opportunities for athletes to express their unique views and ideas on the sport and be an avenue for swimmers to share the more personal aspects of their preparation and performance.
However, too often press conferences evolve into flat, dull, boring and tedious events where swimmers are forced to plod and plow through the interview in the same way they'd complete twenty one hundreds of kick.
And it all comes down to the questions they get asked.
Swimming Media – Why Do You Ask the Questions You Ask?
When considering the dynamics of a press conference it is essential to consider two factors:
What was the question asked by the journalist?
Why did they ask the question?
This second issue – the "why" is critically important.
Journalists are trained to seek interesting, entertaining, stimulating and engaging information for their specific audiences.
But in swimming, there are journalists and there are journalists.
Where a journalist embedded within the swimming industry might want to know about the training and tapering of a world-class swimmer before a big Meet, i.e. because that's what a core swimming audience will find interesting, a journalist from one of the big national media outlets doesn't really want or need to know the answers to these largely technical issues. Their readership – a more general interest readership – needs to be enticed by more sensational, scandalous and shocking stories about drug use, relationships and personal struggles of one kind or another.
In general there are three types of journalists attending swimming press conferences:
1. Local journalists – who will typically ask questions like "so do you like it here in Denver" or "do you enjoy coming and competing in Delaware?"
They ask these locally relevant questions because their readership is likely to respond well to the predictable answers of "we love it here", "we love the weather here" and the old favourite "this is a really fast pool", (BTW – there is no such thing as a "fast pool" – only swimmers and coaches who believe there is).
2. National journalists – who just love digging into the shocks and scandals, e.g. "What drugs do you think the Russian swimmers are taking" and "How do you react to the view that you're too old to be going to the Olympics".
The reason general journalists ask these types of questions is to capture the attention of their more general, i.e. non-swimming, readers.
A reader of the New York times might be interested in which supermodel an Olympian is dating or how much money they made in a real estate deal but the typical Manhattan-ite probably cares very little for how the Olympian has changed their breaststroke kick to gain a few milliseconds in their second 50.
National journalists also have nothing to lose by "going for the jugular!" They have no need to build a long-term trusting relationship with the swimmer so they can and will ask what they want to ask – how they want to ask it.
3. Swimming journalists – journalists with in-depth knowledge of the sport of swimming and who've done their homework about the swimmers, the meet and the sport, e.g. "So, you went out hard this morning – a little faster than your heat swim in Minnesota two weeks ago, was this a planned strategy?"
These guys ask technical questions – to gain a deeper insight into the more technical aspects of the sport typically craved by swimmers, coaches, triathletes, Masters swimmers and readers of swimming magazines.
Swimming Media and a Great Press Conference
In a great press conference, all these versions of the journalistic profession are welcome and can contribute something special to the event, however, here's a few simple principles to ensure every press conference is a best conference:
Do your homework – take time to understand the athlete, their performance background, who their coach is, where they live, how long they've been a swimmer, what their goals and dreams are and so on. All this is readily available on the Net or often through a Meet media guide. Doing your homework also means you can ask more interesting, more relevant and more engaging questions – which will draw more interesting, relevant and engaging answers from swimmers.
Put the swimmer first – whilst every journalist has to write to appease the appetite of their specific audience, swimmers will respond more favorably to people they can trust and who they feel is likely to act in a way where the swimmer, the journalist and the targeted audience all benefit from the experience.
Forget the cheap shots – sure it's easy to make a headline by setting a swimmer up with an impossible to answer question. But tomorrow, you might be off covering a political convention, a cat show or the release of the latest I-phone. The swimmer will still have to get up the next morning at 4 am and work their butts off – giving all they've got – to represent their country – (and you) – at the world championships or Olympic games. Ask challenging questions – insightful questions – even difficult and controversial questions but try to keep them focused on truths and on helping the swimmer perform to their full potential when it really matters.
All commentaries are the opinion of the author and do not necessarily reflect the views of Swimming World Magazine nor its staff.