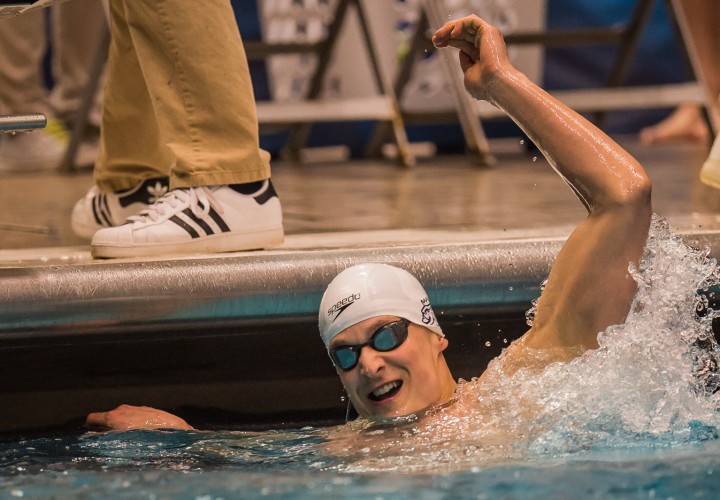 Photo Courtesy: Peter H. Bick
By Seren Jones, Swimming World College Intern
Both the men's and women's teams of Queens University of Charlotte (N.C.) captured their first ever NCAA titles at this year's meet, which was held in Indianapolis, Ind. from March 11-14. The Queens Royals also swept the individual awards at the meet, with Matthew Josa and Patricia Castro-Ortega snatching the Swimmer of the Meet awards and head coach Jeffrey Dugdale earning the Coach of the Meet award on both the men's and the women's side.
At DII NCAAs , Matthew Josa didn't lose a single race.
He broke records in the 200 IM (1:41.94), 100 butterfly (44.89), 200 butterfly (1:42.96), 400 medley relay (3:08.07), 800 freestyle relay (6:26.29), and just missed his own record in the 200 backstroke, having posted a 1:41.45 this year in comparison with his 1:40.74 from last year's championship.
Last year, Josa earned seven All-American awards as a freshman. In 2013, Josa touched third in the 100 butterfly at the Junior World Championships, and became the 18 and under U.S. National Champion in the 50 and 100 butterfly. Due to his constant improvement and record-breaking times, it's safe to say that the native Texan swimmer is increasingly becoming the face of Division II swimming, and the King of Queens.
Aquatic Beginnings
Matthew Austin Josa was born on March 31, 1995. Despite the fact that he started young in the sport, Josa admitted to not taking swimming seriously until he turned 16. Swimming suited Josa perfectly, as he was "super energetic" and needed something to tire him out.
"If I had energy after practice, I'd ask coach for more," Josa said.
The 6'3 sophomore has always been inspired to swim and wasn't the only Josa to take to the water. His elder sisters, Brooke and Brittany, were both competitive swimmers and encouraged their younger brother to take the plunge and compete.
"My inspiration and support is very family based," said Josa. "Brittany influenced me the most, but Brooke and I are closer in age so I'd always try to beat her times."
Why Division II?
Josa and his teammate Castro-Ortego have a slightly different college swimming experience to the Royals. They have the privilege of training alongside the likes of Ryan Lochte, Tyler Clary, Cullen Jones, Kirsty Coventry, and other Olympians at SwimMAC Elite (based in Charlotte, N.C.) under renowned coach, David Marsh. Josa described his day-to-day experiences of training with the athletes as "pretty sweet," claiming that the elite team is a great place to grow as a swimmer.
But when asked why he chose Queens, and Division II the 19-year-old had a number of different answers.
"The location is close to my family," said Josa, who grew up in Fort Mill, which is 10 minutes away from Charlotte. "At Queens, I remain affiliated with SwimMAC Elite. I get the same coach, David Marsh, and I get to train with Elite and represent Queens- an agreement that is only eligible within Division II."
Josa added that his coaches were aware of the rapid growth that was happening in Division II, and thought that he could contribute to the division's development.
Multiple Motivations
As well as helping the division to progress, Josa has other ways of staying motivated in the pool.
"I focus on my goals and on getting better one step at a time. You have to walk a mile before you can run a marathon, so I do one thing at a time."
Queens head coach Jeffrey Dugdale is also aware of Josa's motivation.
"Matthew is very focused in practice," Dugdale said. "When he is not satisfied with an outcome of a set he usually asks to do more until he can get it right. It is important to him to finish each practice on a high note."
Despite Josa not being as experienced as his teammates at SwimMAC, he has a different type of advantage over them.
"The joys of working with Matthew are his youth and his enthusiasm, whereas Ryan, Tyler and Cullen are much more calculated and experienced when it comes to how the tackle each set and each practice," said Dugdale.
Although Josa is enthusiastic in practice, he takes on a different approach when preparing for his races.
"I like to listen to music and relax," said Josa. "I visualize fast kicks, fast turns, my breathing pattern, and I pray."
So why is Matthew Josa so successful? What makes his times that much faster than his fellow Division II opponents?
According to Dugdale it all comes down to his attention to detail, and the fact that he doesn't like to lose.
"He is the same way in the classroom," he stated. "Matthew is very coachable. He recognizes what is right for him and enjoys what he does, which is huge."
Character Growth
Josa's success has also led to his growth as an athlete and as a person. And for that, Josa humbly thanks Dugdale, saying their relationship is awesome.
"He's helped me grow more as a person than as a swimmer," Josa said. "I've learned a lot about my personal traits. I'm a better person and I'm a team player."
Dugdale believes that Matthew's most important growth happened at this year's NCAA championships.
"He experienced a stomach bug that caused him to throw up. In the process he chose to swim in less than perfect conditions after he was on fire for the first two days, and he never gave up even though his body did," Dugdale said. "He did not even warm up prior to the 200 fly. This experience was crucial in his development to prove to himself that he can perform in less than perfect conditions."
With just less than 500 days until the 2016 Olympic Games, Josa has decided that he will postpone his time at Queens next season to focus on qualifying for Rio. And there's no other place he'd rather train than at SwimMAC.
"It's a great place to grow as a swimmer," Josa said. "If you can beat someone in practice, you can definitely beat them at a meet."