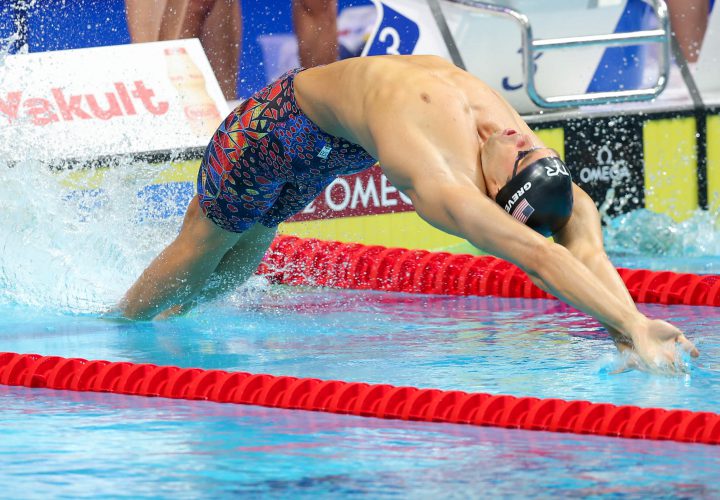 Editorial content for the 2018 TYR Pro Swim Series Mesa is sponsored by SwimOutlet.com. Visit SwimOutlet.com for more information on our sponsor. For full Swimming World coverage, check out our event coverage page.
The first round of the Men's 50 Back Knockout in Mesa was a race between Yeziel Morales, Luke Pechmann, Youssef Said, Mark Nikolaev, Matt Grevers, Kyle Robrock, Jack Anderson and Joshua Ries.
In the opening round, Nikolaev had an easy win in 25.55, a bit off his prelims swim of 25.15 that ranks him ninth in the world for 2018. Veteran Grevers was next in 25.92, followed by Said (25.98) and Robrock (26.55).
Anderson (26.76), Pechmann (26.78), Morales (27.10) and Ries (27.47) rounded out the heat.
Grevers snuck in for the top seed in the finals with a 25.53. The Olympic Gold Medalist took an early lead, let up in the middle to second-place Nikolaev (25.65), but had enough to claim the win. Said was third in 26.03 and Robrock took fourth in 26.82.
Grevers then used his "old man strength" (via his post-race interview) to claim the Mesa 50 Back Knockout title in 25.42. Nikolaev took second-place honors in 26.19.