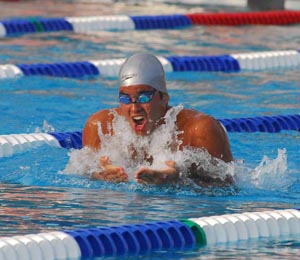 RIO DE JANEIRO, Brazil, May 6. THE first morning of long course finals action at the Maria Lenk Trophy meet featured the South American 200 breast records taking a beating.
Carolina Mussi completed a remarkable progression of the South American record in the women's 200 breast heading into the meet. Argentina's Augustina Giovanni owned the record with a 2:32.93 set back in March 2003. Tatiana Sakemi then dropped it to a 2:29.46 during prelims last night, before Mussi crushed the short-lived standard with a 2:27.42 during finals. Thamy Ventorin finished second in 2:32.70, while Sakemi could not duplicate her prelim effort with a third-place 2:33.21.
Henrique Barbosa followed with a South American record time in the men's 200 breast. Once again, the event featured new progressions during finals last night. Barbosa entered the meet with the record a 2:11.30, which he set during the French Long Course National Championships last week. Tales Cerdeira dipped under the record with a 2:09.31 during prelims, before Barbosa reclaimed the standard with a 2:08.65 in a later heat.
During finals this morning, Barbosa cut the record even further with a 2:08.44 to become the second-fastest swimmer ever in the event. Only Kosuke Kitajima owns a faster time with a 2:07.51 world record set in Tokyo in June 2008. Barbosa's time also made him the fastest swimmer in the Americas, as it cleared the American record of 2:08.50 set by Brendan Hansen.
Cerdeira settled for second with a time of 2:10.28, while Diego Uchoa finished third in 2:16.10.
Tatiana Lemos opened the first morning of finals action with a win in the women's 50 free. She clocked a time of 25.58 for the victory, but came up short of the World Championship cut of 25.10. Paula Daynara Ferreira came in second with a 25.66, while Flavia Delaroli completed the top three in 25.69.
Also, according to our Brazilian friends at Bestswimming.com.br, Gabriella Silva finished fourth in the 50 free with a time of 25.75 – swimming butterfly. According to Bestswimming, the time cannot be considered for the Brazilian record due to being swum in the 50 free event, but it is faster than the 50 fly record of 26.28 set by Silva last year.
In the men's splash-and-dash, Cesar Cielo just missed his South American record of 21.30 set winning the event at the 2008 Beijing Games with a top time of 21.33 in the men's 50 free. Nicholas dos Santos, who qualified first last night, took a distant second in 21.74, while Bruno Fratos placed third in 21.91.
In distance freestyle action, Kristel Kobrich won the women's 800 free in meet-record time of 8:31.22, while Poliana Okimoto took second in 8:47.95. Ana Marcela Cunha rounded out the podium in 8:52.46.
Luiz Rogerio Arapiraca cleared the Brazilian record in the men's 1500 free with a top time of 15:15.94. The effort erased the 1998 record of 15:17.55 set by Luiz Lima in Perth. Matheus Ribeiro finished second in 15:20.80, while Conrad Chedi placed third in 15:25.64.