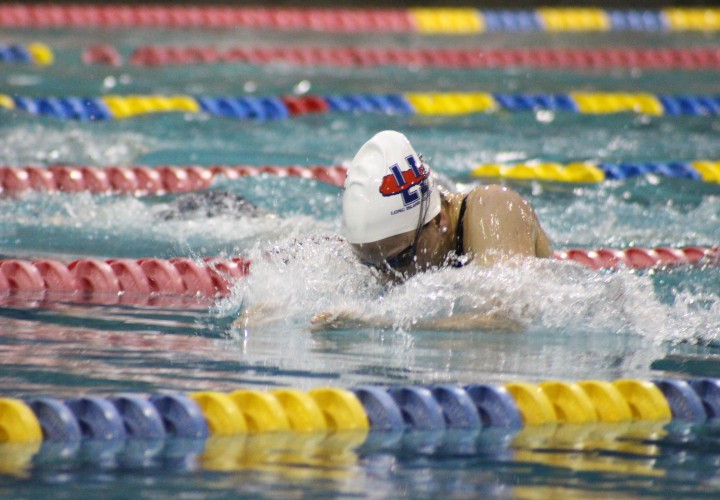 Photo Courtesy: Taylor Brien
Day four of the 2016 NCSA Junior Nationals proved to be a night for showdowns with Margaret Aroesty and Kate Douglass dueling for first in the women's 200 breast, followed by Reece Whitley and Jacob Montague keeping it close in the men's 200 breast.
Aroesty led throughout the race, but a surge from 14-year-old Douglass made it a tight finish. Aroesty's first 100 was a 1:12.16 over Douglass' 1:13.94, but Douglass turned up the heat to split a 1:16.46 in the back half to nearly catch Aroesty. A win of 2:30.25 for Aroesty completed her sweep of the breaststroke events, while Douglass finished second with a 2:30.40. North Bay's Halle Morris rounded out the top three with a time of 2:33.39.
Like Aroesty, Whitley cruised to an early lead in the first 100, splitting a 1:04.25 to lead the heat by almost two seconds, while Montague clocked a 1:06.03. Montague, who finished third after Whitley and Michael Andrew in both the 50 and 100 breaststrokes, cranked up the speed to all but catch Whitley, splitting a 1:09.07 to Whitley's 1:10.72. Whitley finished first overall with a time of 2:14.97 over Montague's 2:15.10.
Dean Farris of Metro Atlanta maintained his spot at the top of the rankings with individual wins in both the men's 100 back and 100 free. Farris finished half a second ahead of the crowd with a time of 56.43. Tyler Sesvold of St. Charles moved from eighth to second with a final time of 56.92, while Dayton's Dylan Curtis rounded out the top three with a time of 57.01.
Not long after claiming his first win of the weekend, Farris delivered a sizzling 50.59 to not only win but be the only athlete under the 51-second mark. Daniel Krueger of the McFarland Spartans finished second overall with a time of 51.12, while Poseidon's Justin Rich was third with a 51.30.
Magnolia's Lucie Nordmann sliced almost two seconds off her best time in the women's 100 back to claim first with a time of 1:01.18. Ozaukee's Autumn Haebig maintained her spot at second with a final time of 1:01.71 and Alexandra Sumner of the Suburban Seahawks grabbed third with a time of 1:03.16.
Paige Madden of City of Mobile clocked a big distance win in the women's 400 free, posting a final time of 4:12.46 and beating the field by nearly four seconds. Joy Field of Magnolia moved up from her eighth place seed to finish second with a time of 4:16.52, while Greater Tampa's Morgan Tankersly was third with a 4:16.52.
NCAP's Kylie Jordan and Jasmine Hellmer posted a 1-2 finish in the women's 100 fly, stopping the clock at 1:00.60 and 1:00.76 respectively. Razorback's Taylor Pike finished third overall with a 1:00.80.
Camden Murphy of Kingfish claimed the title in the men's 100 fly with a final time of 53.95, just off his best time of 53.79. Nicolas Albiero of Cardinal turned in a time of 54.38 to move p to second, while Samuel Pomajevich was third with a 54.87.