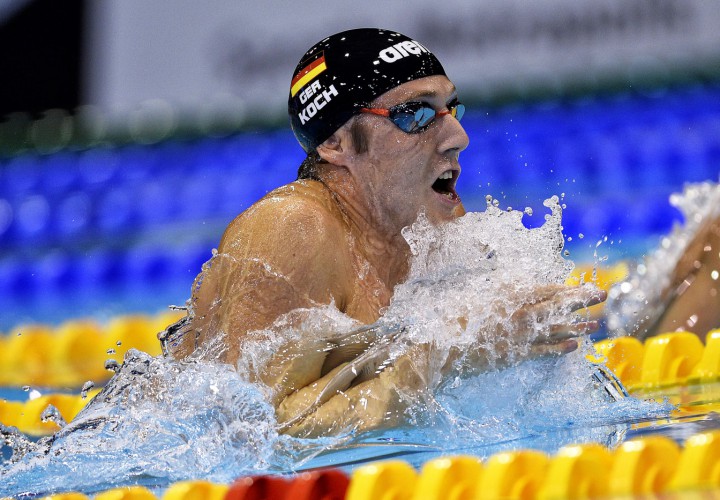 Photo Courtesy: Andrea Staccioli Insidefoto
Coverage of the 2015 FINA World Championships is sponsored by Wylas Timing. Visit our coverage page for more.
Germany's Marco Koch bested the competition in the men's 200 breaststroke turning in a final time of 2:07.76. Koch's win ends Daniel Gyurta's winning streak in the event and neared his meet record of 2:07.23 from 2013. Gyurta slipped to third in the event finishing with a time of 2:08.10.
Kevin Cordes of the USA posted a time of 2:08.05 to claim silver in the event. Cordes improved upon his time of 2:08.69 from earlier in the meet.
Great Britain's Andrew Willis finished fourth overall in the event with a time of 2:08.52, dropping .07 from his time of 2:08.59 from the British Championships.
Yasuhiro Koseki of Japan slipped to fifth overall with a finishing time of 2:09.12.
Dmitriy Balandin (2:09.58), Russia's Anton Chupkov (2:09.96) and China's Feilian Mao (2:10.02) finished sixth, seventh, and eighth respectively.
Scheduled Events
Women's 100 Free (Finals)
Men's 200 Back (Finals)
Women's 200 Back (Semis)
Men's 50 Free (Semis)
Women's 200 Breast (Finals)
Men's 100 Fly (Semis)
Women's 50 Fly (Semis)
Men's 200 Breast (Finals)
Men's 800 Free Relay (Finals)
Men's 50 Free (Swim-Off)
2015 FINA World Championships Finals, Day 6 – Results