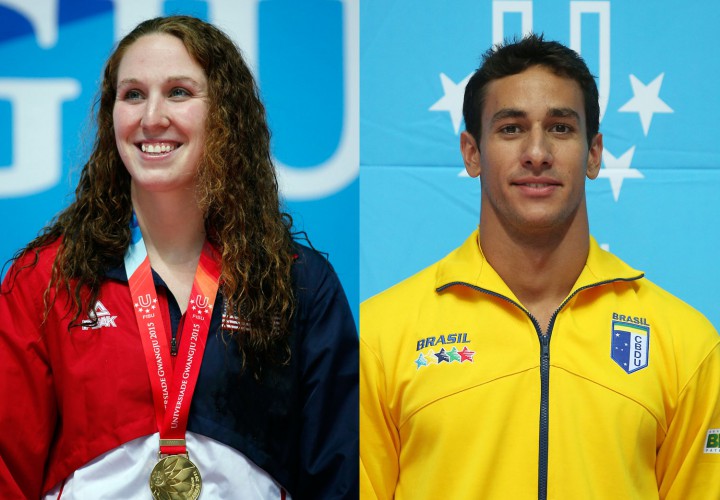 Coverage of the 2015 World University Games is proudly sponsored by adidas;. Visit Swimming World's event coverage page for live results and recaps.
Commentary by Jeff Commings, Swimming World Senior Writer
The swimmers from the World University Games are returning home to cheers after representing their respective countries well. Many brought home a few medals as souvenirs. Everyone comes home with plenty of stories to tell their friends and families.
The meet has historically been a breakthrough competition for many athletes who are now part of their country's elite racing squad. Japan's Ryosuke Irie, China's Lin Li and American Josh Davis were just a few athletes who competed at the World University Games before winning Olympic medals.
Though several athletes impressed with their performances in Gwangju, one female and one male stood out the most to me and got my votes as the meet MVPs.
World University Games Female MVP: Shannon Vreeland (USA)
Since making the Olympic team in the 800 freestyle relay for the United States in 2012, Shannon Vreeland has been a key player for Team USA. But with her performances in South Korea that amounted to four gold medals and one bronze medal, Vreeland gave a big boost the American relays next month at the world championships.
Because she's racing at the world championships in three weeks, Vreeland didn't put in a full taper for the World University Games. But she was still the go-to lady for relays, and won the 100 and 200 freestyles in spectacular fashion. With more rest, it's likely that she'll post some relay splits at worlds that will increase the Americans' odds for gold.
Vreeland wasn't leading at the halfway point in either race in Gwangju. In the 100 free, she was almost a full body length behind teammate Abbey Weitzeil at the turn. All eyes were likely on Weitzeil through the final 15 meters, when Vreeland found an extra burst and got her hand on the wall 14 hundredths of a second ahead of Weitzeil. In the 200, she had a battle through 175 meters with American Leah Smith, who has just as much closing speed as Vreeland. But Vreeland's extra gear was too much for Smith, and Vreeland picked up a second individual gold medal.
Vreeland was one of only two women to pick up more than one individual gold medal, and though she didn't record any lifetime bests, she'll go to the world championships with crucial racing experience that could help her perform beyond expectations.
World University Games Male MVP: Henrique Martins (Brazil)
With Brazil getting ready to host the 2016 Olympics, the nation's swimmers are more serious than ever. In the past three years, a new Brazilian swimmer has come out of the shadows to challenge the old guard for a spot on the elite racing team. This year, that appears to be 23-year-old Henrique Martins.
Though the 100 freestyle is extremely packed with major talent in Brazil, Martins could be a part of the 400 free relay next year. He won the 100 free at the World University Games with a lifetime best 48.98. That time would have placed third at last spring's Maria Lenk Trophy meet, which was Brazil's qualifying meet for this summer's international meets. Martins was eighth in the Maria Lenk final with a 49.95.
But perhaps it was best that Martins swam at WUGs instead of the world championships. He got the opportunity to swim three individual events and make a breakthrough at the right time. He also won the 50 butterfly with a 23.22 and was second in the 50 free with a 22.24. Since the 50 fly is not an Olympic event, Martins will likely put his full focus on sprint freestyle. If Martins were to beat the likes of Cesar Cielo and Bruno Fratus to make the Olympic team in the 50 free, it would be one of the biggest shockers of 2016. But Martins has put himself in serious contention for the 400 free relay and accomplish the ultimate sporting achievement: swimming at the Olympics in your home country.