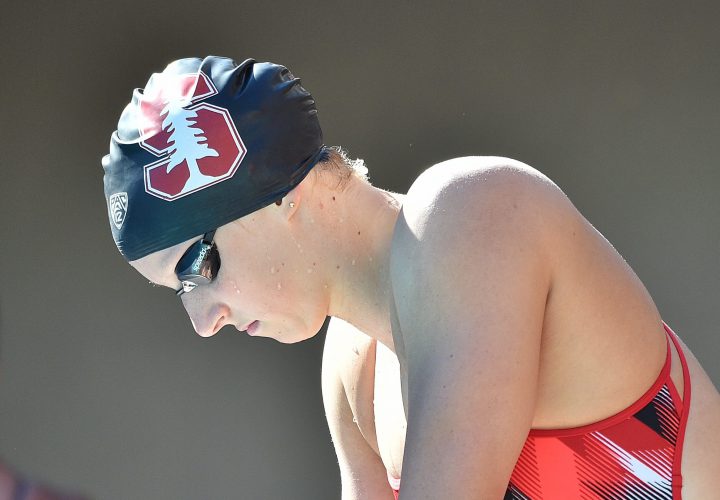 Photo Courtesy: David Bernal Photography
This week saw the much anticipated showdown between the #1 Stanford and the #2 Cal-Berkeley women's teams at Cal's Spieker Aquatics Center. The match-up did not disappoint, with eight pool records falling over the course of the meet, including three by Stanford freshman and Olympic gold medalist Katie Ledecky.
Breaking records seems to happen almost anytime Ledecky touches the water at this point, but how she broke her first two records over this weekend deserves some special recognition. Ledecky's first event was the 1000 free, the second event of the meet and just following a winning Cal medley relay that beat Stanford's "A" relay by more than 2 seconds and broke the pool record. Going out in 4:39.53 at the 500, Ledecky came back in 4:40.88 to win the event and set a new pool record at 9:20.41.
Nobody other than Ledecky has been faster in the 1000 this year, which makes that performance alone notable. But what she did after makes it truly remarkable. Getting out of the 1000 free, Ledecky stepped right back up to the blocks to swim the 200 free and win again in another pool record. Touching in 1:43.09, Ledecky held off teammate and fellow Olympic gold medalist Simone Manuel, blowing her away the last 50 with a 25.76 split that was more than a second faster than anyone else in the field.
To come out of the 1000 and have that level of performance against a fellow gold medalist and short course talent like Manuel is unheard of, and certainly points to Ledecky's potential for more legendary performances as Stanford moves into championship season. Ledecky later won the 500 free in 4:35.89, another pool record, and Stanford went on to win the meet 177-133 to remain undefeated in dual meets for the year.
Congratulations Katie Ledecky on earning Swimming World's Performance of the Week!
Special Thanks to LumaLanes for sponsoring Swimming World's Performance of the Week.
Learn More About LumaLanes