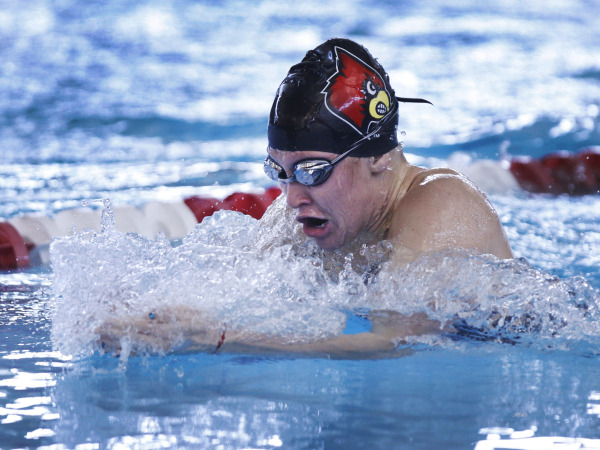 LOUISVILLE, Kentucky, January 18. TANJA Kylliainen, Kelsi Worrell and Abbie Houck each won two events apiece to lead the Louisville women's swimming and diving team to a victory over Notre Dame on Saturday. Notre Dame's Emma Reaney won three events and broke the pool record in the 200 breast with a 2:11.12 to highlight the Fighting Irish's meet.
Louisville Press Release
The No. 14-ranked University of Louisville women's swimming and diving team won ten of 16 events to beat long-time rival and No. 24-ranked Notre Dame 171-129 Saturday afternoon at the Ralph Wright Natatorium.
"The challenge for today was progression, not perfection, but certainly progression. A lot of people improved tremendously," said U of L head coach Arthur Albiero. "This format is a little bit different. Obviously, we are used to our meets being combined with the men, so it challenged our swimmers to balance from event to event with a much shorter window of time and rest period."
With six NCAA-B cuts and two 2013 Division I invited times during the competition, U of L was spearheaded by the efforts of Tanja Kylliainen, who won the 200-free, the 200-fly and was a part of the winning 400-free relay. Kelsi Worrell won the 50-free, the 100-fly and led off the winning 400-free relay. Abigail Houck won the 1000-free and the 500-free to sweep the distance events. Krissie Brandenburg won the 100-back was a part of both winning relays. Breann McDowell won the 100-free along with both relays.
"I think Kelsi Worrell put up some times that were pretty special," said Albiero. "Tanja had a nice double there too and Giselle Kohoyda had a breakthrough in the 200-breaststroke."
In the 200-medley relay, the foursome of Krissie Brandenberg (25.87), Andrea Cottrell (29.06), Kelsi Worrell (23.59) and Breann McDowell (22.81) combined to give Louisville the win at 1:41.32. Notre Dame A-relay was second in 1:42.66. The Louisville B team of Mackenzie Buss, Lucy Kramer, Brittany Robinson, and Andrea Kneppers was third in 1:44.79.
In the grueling 1000-free, Abigail Houck was first in 10.09.00, with Abby Chin and Carly Munchel making it a sweep.
"Abbie Houck swam really well today," said Albiero.
Tanja Kylliainen showed some outside smoke to take the 200-free in 1:50.10. Notre Dame's Kelly Ryan took second in 1:50.11 with Cardinal Breann McDowell touching third in 1:51.13.
In the 100-back stroke, Krissie Brandenburg took the event in 55.40 Mackenzie Buss was second in 55.61. ND's Catherine Mulquin was third in 56.37.
Notre Dame's Emma Reaney went 1:01.01 in the 100-breast to win and make an NCAA B-cut Andrea Cottrell was second in 1:02.98.
Tanja Kylliainen won the 200-fly with an NCAA B-cut in 1:59.17 for her second win of the meet. ND's Bridget Casey was second with another B-cut time of 1:59.36. Louisville's Devon Bibault was third in 2.00.22.
Kelsi Worrell powered to the wall for the win in the 50-free, posting a B-cut time of 22.96. Kelly Ryan was second with a 23.58 for Notre Dame. Johanna Cowley was third in 24.22.
Notre Dame swept the top three diving spots in the 3-meter springboard. Emma Gaboury (327.38), Lindsey Streepey (313.13) and Allison Casareto (307.28) went 1-2-3. Andrea Acquista was fourth with a 270.90 as the top Cardinal.
In the 100-free, Cardinal Breann McDowell went 51.09 to top the field. , teammates Andrea Kneppers was third in 51.85 and Cowley was fourth in 51.97. ND's Catherine Mulquin was second in 51.85.
In the 200-back, Notre Dame's Kelly Ryan cruised to a win in 1:59.80, the only swimmer to go under two minutes. Krissie Brandenburg was second in 2:10.50 and Erica Belcher was third in 2:02.17.
Giselle Kohoyda was just outtouched by Emma Reaney by three-one hundredths of a second in the 200-breast with Reaney touching in 2:11.12 for a pool record and the win. Both times were faster than the NCAA invited times from 2012.
In the 500-free, Abby Houck had a full body lead on the field in the first half of the race and then finished strong in 4:55.33 and Abigail Chin was fourth in 5:01.47 for the Cardinals. Katie Miller was second in 5:00.72 and Bridget Casey was third in 5:01.05 for the Irish.
In the 100-fly, Kelsi Worrell posted a B-cut time of 53.44 for the win. Brittany Robinson was second in 56.52 and ND's Courtney Whyte was third in 56.58.
In the 1-meter diving, ND's Lindsey Streepey (299.62) and Allison Casareto (296.17) were the top two finishers with Andrea Acquista from Louisville taking third with a 269.32.
Notre Dame star Emma Reaney finished almost three seconds ahead of the field for the win in the 200-IM, boarding a 2:02.27 for an NCAA B-cut. Her teammate Katie Miller, took second in 2:05.54. Erica Belcher was the top Cardinal, touching third in 2:05.83.
In the final event of the meet, the 400-free relay team of Kelsi Worrell (49.35), Krissie Brandenburg (51.24), Tanja Kylliainen (51.58) and a Breann McDowell anchor of 50.95 to post a 3:23.12 for the win.
"I think overall we got better today as a team and that's definitely a very positive thing going forward," said Albiero. "I am pleased with the effort, and we continue to make progress and that's ultimately what we are trying to see at this point in the year."
Notre Dame Press Release
The University of Notre Dame women's swimming and diving program had been on a hot streak in duals since early November, reeling off wins in six of its last seven dual meets. However, that streak hit a bump in the road Saturday as the No. 24 Irish fell to the No. 14 University of Louisville Cardinals, 171-129, at Ralph Wright Natatorium despite a sweep in the diving disciplines and three individual wins from junior Emma Reaney. The Cardinals (4-2) won 10 of the 16 events to take down the Irish (6-5).
Reaney, who entered the meet leading the nation in the 200 breast and coming in sixth in the 100 breast and 200 IM, was given her best challenge all season in the 200 breast where she saw a familiar rival – senior Gisselle Kohoyda. At the 2011 BIG EAST Championships, Kohoyda took down Reaney in the 200 breast. Just a year later, the Lawrence, Kan., native returned the favor by topping Kohoyda in the same event. Today, the two went back-and-forth with Reaney ultimately claiming victory with a pool record swim of 2:11.12. Reaney swam the opening leg in 30.39 to take the early lead but Kohoyda came back with splits of 33.20 and 33.43 to pull ahead. However, Reaney wouldn't be denied as she turned in a scorching split of 32.82 to touch the pad just .03 seconds ahead of Kohoyda.
In earlier action, Reaney won the 100 breast in 1:01.01 before finishing off the meet with a victory in the 200 IM (2:02.27).
The Irish also swept both diving events, dominating Louisville in both disciplines. In the 1-meter, sophomore Lindsey Streepey picked up another win with 299.62 points. She wasn't alone at the top, however, as junior Allison Casareto (296.17) took second and sophomore Emma Gaboury (256.27) placed fourth.
In the 3-meter, Gaboury claimed her first individual victory as an Irish student-athlete, crushing the field with 327.38 points. Notre Dame swept the podium as Streepey placed second (313.13) and Casareto placed third (307.28).
Earning the final event win for Notre Dame was senior Kelly Ryan, who put together a solid showing in the 200 back to win going away in 1:59.80. Her next closest competitor finished in 2:01.50.
Despite not winning, junior Bridget Casey put together an inspiring swim in the 200 fly, taking second in an NCAA B cut time of 1:59.36, just .19 off the time of Tanja Kylliainen, who entered the meet ranked fourth in the country in the event.
Other runner-up finishes included Ryan in the 200 free (1:50.11) and 50 free (23.58), freshman Catherine Mulquin in the 100 free (51.85) and fellow freshman Katie Miller in the 200 IM (2:05.54) and 500 free (5:00.72). Ryan just missed out on victory in the 200 free, losing to Kylliainen by .01 seconds before falling to Kelsi Worrell in the 50. Worrell entered the day ranked 16th in the nation in the event.
The Irish also placed second in the meet-opening 200 medley relay as the squad of Mulquin, Reaney, Galletti and Ryan touched the wall in 1:42.66.
Notre Dame returns home in two weeks to hold the annual Shamrock Invitational. Saturday will mark Senior Day for five Irish student-athletes – Sarah Dotzel, Mikelle Masciantonio, Christen McDonough, Kelly Ryan and Lauren Stauder.
For more information on Notre Dame women's swimming and diving follow the Irish on Facebook (/NDwSwimmingDiving) and Twitter (NDwSwimming).