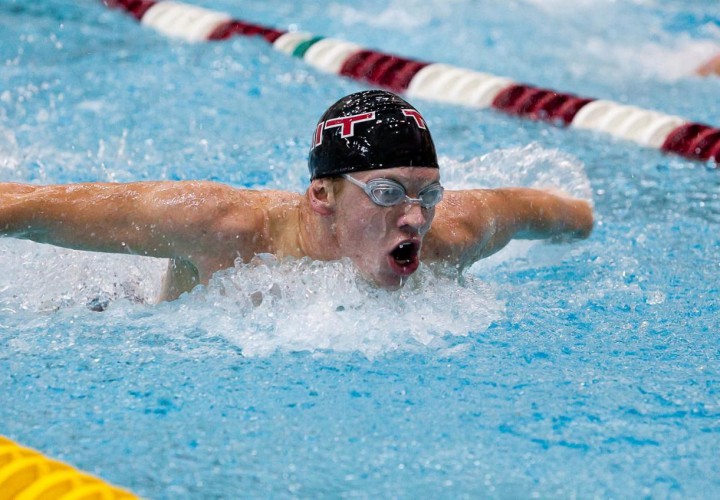 Photo Courtesy: MIT Athletics
By Kelley Baylis, Swimming World College Intern
NORTON – The New England Women's and Men's Athletic Conference recently begun its 2014-15 season.  The NEWMAC swimming conference consists of the following schools: Babson, Clark, Coast Guard, Massachusetts Institute of Technology (MIT), Mount Holyoke, Smith, Springfield, Wellesley, Wheaton, and Worcester Polytechnic Institute (WPI).
The MIT men's and women's teams were both unanimously picked as the top teams to win the NEWMAC conference this coming February. Following the MIT men in the preseason poll were WPI, Coast Guard, Springfield, Wheaton, Babson, finishing with Clark. For the women's teams, following MIT was Springfield, Wellesley, WPI, Wheaton, Mount Holyoke, Coast Guard, Clark, Smith, and Babson.
MIT
MIT opened up its season hosting the Batterman Relays. MIT started out strong with first, second, and third-place finishes in the men's 200 yard medley relay. Senior Brendon Chiu, juniors Bo Mattix and Thomas Norris, and sophomore Eric Dahlseng came in with a win at 1:34.64. Tech continued its top three finishes in relays throughout the day. With the 3×500 yard freestyle relay, both men and women teams took the three top places.
WHEATON COLLEGE
Wheaton College opened up its season at Brandeis University where the Lady Lyons took twelve first-place finishes and the men took home nine first-place finishes, earning both teams wins respectively. Freshman Jonathan Dunnett came in first in the 200-IM with a time of 2:05.89 and second for the 100-yard butterfly at 55.57. For diving, senior Ben Oliveri won the one-meter dive with a final score of 164.85 points as well as the three-meter dive with 269.35 points. The team then traveled to MIT this past weekend to compete at the Batterman Relays.
WPI
WPI brought in a large freshman class this season containing 15 freshman men as well as 10 first year women. In their season opener, they defeated Division II team Bentley with a 173-122 win for the men's team. Alex Powers, Andrew Bauer, Tim Petri, and Nick Houghton all won individual events. While on the women's side, Veronica Nikolaki, Emily Martin, and Jenny Day won their individuals to contribute to the 183-108 win over Bentley. On the board, Nikolaki won the one-meter dive with a 267.37 as well as the three-meter with a score of 248.55.
BABSON COLLEGE
Babson College began its season with a win on the men's side and a defeat for the women against UMass-Dartmouth. The men tallied up nine wins out of eleven individual events, in a 131-72 victory. The women's team won three events as well as six second-place finishes.
CLARK UNIVERSITY
Clark University started out the season with a non-league dual meet against Gordon College. The ladies had an impressive win, 187-87. The Clark men came out with a close win against Gordon. Junior Lukas Leung took in first-place finishes that assisted with the Cougars win. Leung finished first in the 100-yard freestyle with a time of 51.62 in addition to the 50-yard freestyle, coming in at 23.00.
COAST GUARD
The Coast Guard Bears began their season on November 1 against Springfield at the University of Rhode Island. Both the men and women teams added seven new freshmen to their teams.
MOUNT HOLYOKE
The Mount Holyoke Lyons as well as the Smith Pioneers both began their season on November 1 at Smith College for the Smith Relays. The Lyons brought in a large freshman class consisting of 10 women, while the Pioneers' first year class contains 7 women.
SPRINGFIELD COLLEGE
Springfield College opened its season with a win against Holy Cross with a 167-128 on the women's side as well as a 161-137 victory for the men. Even with a small freshman class, first year Kassandra Lamb showed up ready to race in her first collegiate meet. Lamb brought in two wins that day, one the 100-yard breaststroke (1:10.00) and another in the 500-yard freestyle (5:19.41). Lamb continued her success finishing third in the 200-yard freestyle (1:59.36). Even with the loss of National Champion Kellie Pennington, a 2014 graduate, this team still has great potential as shown from the strength of their freshman class.
In addition, the men's team brought in 12 first years, showing great swims at the first meet. Freshman Kent Parsons brought in a win in the 500-yard freestyle (5:03.65) while senior Hayden Cassidy touched in first for the 50-yard freestyle at 22.98 followed by freshman Jimmy Stinehart at 23.15. On the diving board, Jack Lewis and Liam Barnes brought in points for the win as they qualified for NCAA Championships. Lewis, last years' NEWMAC Diver of the year won with a 315.00 on the one-meter board while Barnes won the three-meter with 287.26.
WELLESLEY
Wellesley began its season on November 1 at WPI at the New England Invitational. Teams also competing at the NE Invite included: WPI, Keene State, Assumption, Wesleyan University, RPI, Wheaton College, Tufts University Men, Wellesley, and Roger Williams. Wheaton College will travel to Coast Guard on November 8 while Springfield will travel to MIT.
Kelley Baylis is a sophomore swimmer on the Wheaton College women's swim team, who is currently the school record holder in the 50 and 100 back. Prior to joining the Lyons, Baylis trained with the Wilton Y Wahoos in Connecticut.