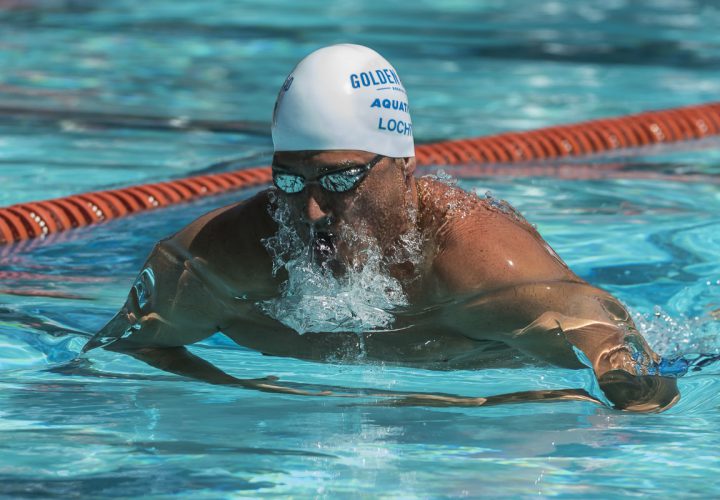 Photo Courtesy: Peter H. Bick/U.S. Masters Swimming
Speedo Sectional Series is proudly sponsored by Speedo. Visit SpeedoUsa.com for more information on our sponsor.
Today marked day two of the 2018 Speedo Sectionals Championship Series in Plantation, Fla. Heading into the third day of competition, South Florida leads the combined team scores with 895 points, followed by Azura Florida Aquatics (862) and Gator Swim Club (837.5).
Full results can be found on Meet Mobile – Southern Zone South Sectional Championships.
Gator Swim Club's Isabel Ivey began day two by dominating the women's 200 free, winning by nearly three seconds as the only swimmer under the two-minute barrier. The future Cal Bear stopped the clock in 1:59.74, followed by Boglarka Kapas (2:02.55) and Georgia Marris (2:03.53), who both are swimming unattached.
Twelve-time Olympic medalist Ryan Lochte cruised to first in the men's 200 free, touching the wall in 1:50.56. Fellow Gator Swim Club teammates Mitch D'Arrigo was second in 1:51.66 and Julian Hill took third in 1:53.79.
2017 World Championships qualifier for Venezuela Mercedes Toldeo won the women's 100 breast in 1:12.19. Not too long after her 200 free win, Ivey took second in 1:12.64 and Peddie Aquatics' Alexandra McDaid was third in 1:13.86.
Florida State's Julio Horrego touched first in the men's 100 breast with a final time of 1:03.69. Pipeline's Jared Pike swam a 1:04.09 for second and third went to Jack Szaranek (1:05.92).
Berkeley's Gabriela Donahue powered her way to the win in the women's 50 back with a time of 30.45. East Coast Aquatics' Megan Murphy swam to second in 30.84 and Bolles' Mary Kelley took third in 30.96.
Corey Main, swimming unattached, sprinted his way to first in the men's 50 back in 27.08. He was followed by Azura Florida Aquatics' Daniel Torres (27.28) and Flood Aquatics' Joshua Zuchowski (27.89).
Gator Swim Club's Talia Bates, who will stay in-state and compete for Florida starting in 2019, won the women's 100 fly in 1:01.10. South Florida's Kathleen Golding posted a time of 1:01.85 for second and Makos Aquatics' Alena Kraus finished a close third in 1:01.87.
Lochte got his second win of the night in the men's 100 fly, finishing in 53.77. Second place went to Gator Swim Club's Mason Wilby in 54.85 and Azura Florida Aquatics' Edson Lima took third in 56.38.
After taking second in the women's 200 free earlier this evening, Kapas found herself on top of the podium in the 400 IM after winning in 4:51.86. Swim Florida's Olivia McMurray dropped over 14 seconds from her prelims time to take second in 4:53.76 and Golding was third in 4:53.79.
Miguel Cancel, who will be another Florida Gator this fall, dropped nearly nine seconds from his morning swim to win the men's 400 IM in 4:31.95. South Florida's Rafael Rodriguez (4:37.85) and Loggerhead Aquatics' John Vandeusen (4:38.20) finished second and third, respectively.
East Coast Aquatics' relay team of Anna Auld (2:08.58), Paige Maceachern (2:12.00), Ashley Cozad (2:15.79) and Eriana Temperino (2:08.69) combined to win the women's 4×200 free relay, posting a final time of 8:45.06. Gator Swim Club finished a close second in 8:45.45 and Pine Crest was third in 8:48.52.
Azura Florida Aquatics' Jorge Depassier (1:56.82), Andres Lares (1:40.75), Steven Aimable (1:59.49) and Santiago Gomez (2:03.58) won the men's 4×200 free relay in 7:59.36, ahead of South Florida Aquatics (8:11.95) and Loggerhead Aquatics (8:13.86).
Prelims for the third day of competition will begin at 9:00 a.m. EST.