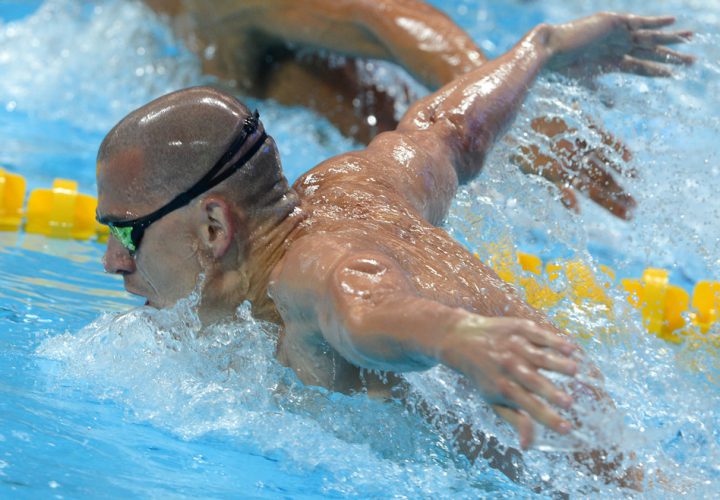 Photo Courtesy: R-Sport / MIA Rossiya Segodnya
Defending 200 butterfly European short course champion Laszlo Cseh posted the top time of the morning in 1:54.51, to open day three of the 2016 European Championships. That time took just over three tenths off his current world's third in the event, keeping him in that position.
Hungarian teammate Tamas Kenderesi touched just behind in 1:54.79, good for second this morning and the fourth best time in the world this year.
Viktor Bromer touched third, posting a 1:56.67.
CSEH Laszlo HUN 03 DEC 1985 0.71 25.03 54.58 1:24.50 1:54.51
KENDERESI Tamas HUN 13 DEC 1996 0.70 26.77 55.31 1:26.20 1:54.79
BROMER Viktor B. DEN 20 APR 1993 0.66 26.73 56.64 1:26.59 1:56.67
CARINI Giacomo ITA 02 JUL 1997 0.66 26.55 56.23 1:26.38 1:57.30
BICZO Bence HUN 19 JAN 1993 0.67 26.50 56.49 1:26.95 1:57.50
IVANOV Antani A BUL 17 JUL 1999 0.73 26.51 55.91 1:26.30 1:57.76
DIMITRIADIS Stefanos GRE 08 SEP 1989 0.80 26.33 55.89 1:26.50 1:57.99
PERALTA GALLEGO Carlos ESP 30 JAN 1994 0.62 26.63 56.91 1:27.75 1:58.28
ZBOGAR Robert SLO 06 MAR 1989 0.66 26.15 55.75 1:26.74 1:58.36
SWITKOWSKI Jan POL 23 JAN 1994 0.68 26.83 56.92 1:27.47 1:58.51
LIESS Nils SUI 24 AUG 1996 0.72 25.86 55.63 1:26.42 1:58.52
DRYMONAKOS Ioannis GRE 18 JAN 1984 0.73 26.75 56.45 1:27.39 1:58.57
QUINTANILHA Nuno Goncalo POR 28 MAY 1987 0.71 26.90 56.80 1:27.31 1:58.74
GIERKE Markus GER 23 OCT 1991 0.71 25.91 55.88 1:26.73 1:58.75
GRATZ Benjamin HUN 16 FEB 1996 0.72 27.05 56.86 1:27.80 1:58.87
JAKOBSSON Sindri Thor NOR 24 SEP 1991 0.71 26.42 56.46 1:26.92 1:58.93
CROENEN Louis BEL 03 JAN 1994 0.68 26.32 56.93 1:28.13 1:59.03
BJOERK Jesper SWE 05 DEC 1993 0.67 26.19 55.94 1:26.65 1:59.08
SKVORTSOV Nikolay RUS 28 MAR 1984 0.77 26.70 57.02 1:28.27 1:59.09
KUNERT Alexander GER 31 JAN 1996 0.65 26.93 57.33 1:28.32 1:59.10