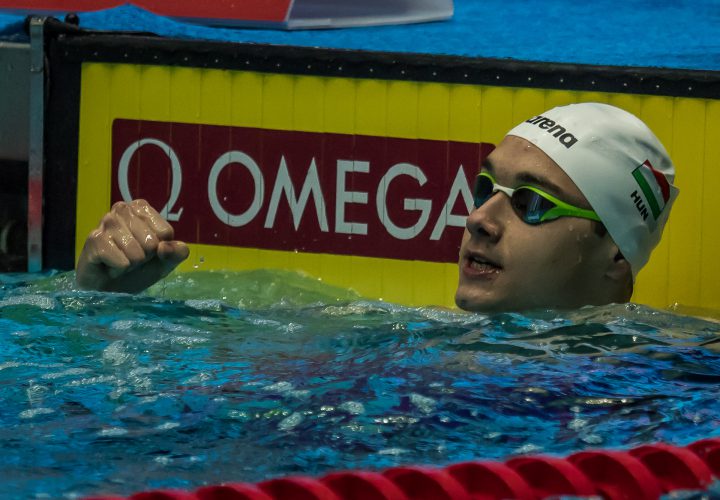 Photo Courtesy: Peter H. Bick
Hungary's Kristof Milak closed out the 2018 European Junior Championships with two gold medals (200 free and 100 fly). Daria Vaskina added another backstroke medal to her name, while Kliment Kolesnikov and Ajna Kesely collected additional medals.
2018 European Junior Championships, Day 5 Finals – Results
Men's 400 IM
Maksim Stupin of Russia led the men's 400 IM final throughout the entirety of the race, never relinquishing the lead. Stupin stopped the clock at a time of 4:16.79 for the gold, followed by Greece's Apostolos Papastamos and his time of 4:17.44.
Great Britain's Thomas Dean picked up the bronze medal with a time of 4:18.07.
Women's 100 Back
Daria Vaskina of Russia continued to reign over the women's sprint backstroke, posting the only sub-minute swim in the 100 to win the gold. Vaskina clocked a 59.90 for victory, nearing Polina Egorova's 2017 European Junior and championship record of 59.62.
Russian teammate Anastasia Avdeeva posted a second place finish of 1:00.39, while Italy's Giulia D'Innocenzo finished third with a time of 1:01.08.
Men's 100 Breast
Vladislav Gerasimenko of Russia powered to victory in the men's 100 breast, posting the fastest splits at each turn to finish with a 1:01.36.
Italy's Alessandro Fusco slipped from his first place seed to second with a time of 1:01.90.
Jan Kalusowski of Poland rounded out the top three with a 1:02.10.
Women's 100 Breast
Anastasia Makarova of Russia jumped to an early lead in the women's 100 breast, reaching the 50 meter mark with a top time of 32.37. But competition was close behind and Lithuania's Kotryna Teterevkova was quick to make her move. Teterevkova surged to a final split of 35.39 in the last 50 meters to win gold with a 1:08.03.
Makarova settled for second with a time of 1:08.46, while Germany's Anna Elendt posted a 1:08.68 for third.
Men's 200 Free
Hungary's Kristof Milak blasted through the last 50 meters of the 200 free, splitting a 26.89 to claim the gold with a 1:47.19.
Denis Loktev of Israel, however, held the lead throughout the majority of the race. Loktev could not match Milak's 26.89 split and slipped to second with a 1:47.95.
Sweden's Robin Hanson finished third overall with a time of 1:48.65.
Women's 200 IM
Russia's Anastasiia Sorokina controlled the women's 200 IM from start-to-finish, clocking a winning time of 2:14.38.
Roberta Circi of Italy delivered a second place finish of 2:16.27, while Hungary's Ajna Kesely collected her first bronze medal of the meet with a 2:16.39.
Men's 100 Fly
Kristof Milak added a second gold medal to his name for the day, posting a final time of 51.78.
Russia's Andrei Minakov grabbed second with a 52.38, just ahead of Italy's Federico Burdisso's 52.88.
Women's 50 Fly
Anastasiya Shkurdai of Belarus flew to victory in the women's 50 fly, clocking a time of 26.44. Her time neared the championship record of 26.22, posting in 2016.
Germany's Maya Tobehn took second overall with a 26.78, just ahead of Turkey's Aleyna Ozkan and her time of 26.83.
They were the only three athletes beneath the 27 second mark.
Men's 50 Free
Sweden's Bjoern Seeliger won out in the men's splash and dash, topping the competition with a time of 22.27.
Kliment Kolesnikov of Russia delivered a 22.61 for the silver, while Great Britain's Lewis Burras claimed the bronze with a 22.69.