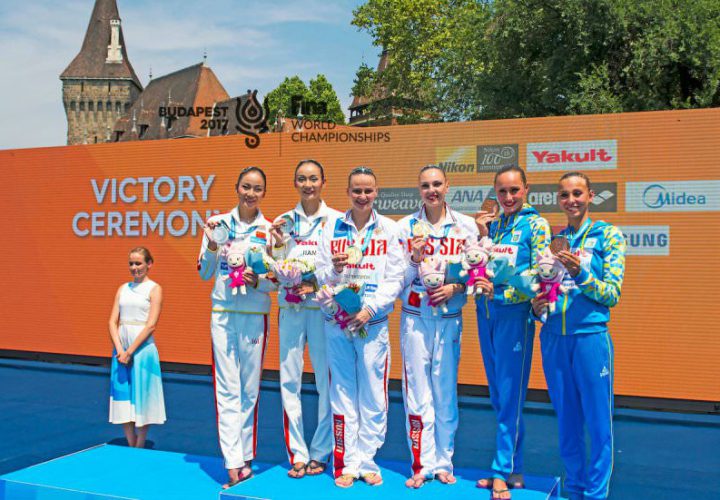 Photo Courtesy: deepbluemedia
Editorial Coverage provided by

Team Russia continued to add to their medal count with a fifth synchro gold at the 2017 FINA World Championships in Budapest.
The duet free final was highlighted by a dominating performance by Russia's Svetlana Kolesnichenko and Alexandra Patskevich. Russia has been a leader in this event since it's inception in 2007 and today's final was no different. The duo scored a total of 97.0000 points to improve upon their prelims score of 96.6333. Today's gold medal marks the fourth gold for Kolesnichenko, making her the most decorated synchro swimmer in Budapest.
Kolesnichenko explained to FINA and the associated press,
"We worked hard to gain this result: 10-hours training almost every day at maximum limit. This was totally worth it. I'm so pleased to be the four-time World Champion and the most titled synchro swimmer in Budapest. But I'm also happy, that the competitions are over for me. Now I'll cheer up for the Russian free team and free mixed duet."
Chinese sister Jiang Tingting and Jiang Wenwen finished second overall with a score of 95.3000, defending China's silver medal from the 2015 World Championships in Kazan.
Anna Voloshyna and Yelyzaveta Yakhno collected the bronze medal for Ukraine with a final score of 93.2667.