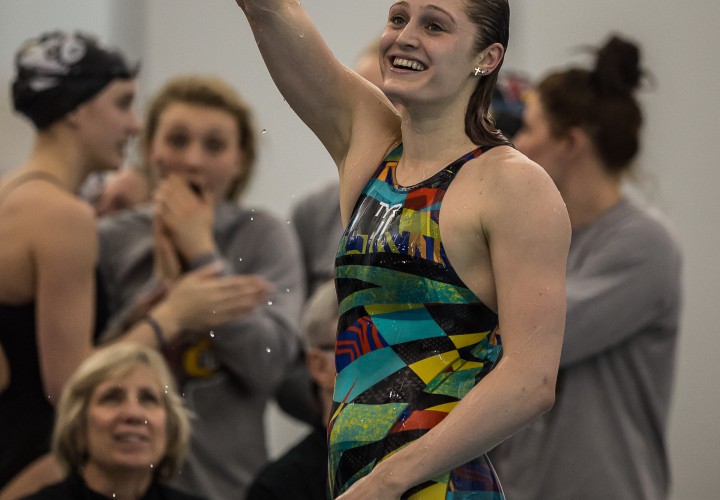 Photo Courtesy: Peter H. Bick
Louisville took on the Cincinnati Bearcats at home and came away with a strong victory with the men winning 226-74 and the women winning 212-87. Louisville's Kelsi Worrell stepped away from her usual events to set a new school record in the 100 back with a time of 52.69.
Louisville Press Release:
Senior Kelsi Worrell set a new school record, sweeping both backstroke events and seven Cardinals picked up multiple individual victories as the University of Louisville men's and women's swimming and diving teams swept Cincinnati Saturday morning at Ralph Wright Natatorium. The men defeated the Bearcats 226-74 while the women won 212-87.
The 2014 National Champion Kelsi Worrell set a new school record in the 100 backstroke while meeting two NCAA B-cut standards. Marah Pugh won three events while Devon Bibault and diver Andrea Acquista picked up two individual victories on the day. Trevor Carroll, Carlos Claverie, and diver Sean Piner each picked up two victories apiece to led the Cardinal men.
"There were a lot of highlights," said head coach Arthur Albiero. "We tried a couple of different things. It's still early in the season and we're trying to figure out our best lineup and relay combinations, so we're playing with some those a little bit. I think we solved a couple and there are still a couple of spots that we have to figure out. The goal for today was progression and I think we saw a lot of that in the execution, maybe not necessarily in times, but in how we executed some of the races. Times will show eventually. I like the energy our group had – it's a good challenge get up here at 9 a.m. and start racing, but that's the reality and we're prepared, no excuses, and I like the way we came out swinging on those relays. I give a lot of credit to our seniors and our captains, they did a great job of getting everybody ready."
The Cardinals kicked off the morning with the foursome of Kelsi Worrell (24.94), Andrea Cottrell (28.69), Mallory Comerford (24.31), and Andrea Kneppers (23.03) combined for 1:40.97 and the victory. The C-relay of Ashley Leclair, Lucy Kramer, Devon Bibault, and Grace Long went 1:46.90 for second. The men's 200 medley relay squad of Grigory Tarasevich (22.88), Carlos Claverie (25.34), Pedro Coutinho (21.50), and an anchor of 19.90 from Trevor Carroll finished first in a complete time of 1:29.62. The C-relay team of Nick Hasemann, Dexter Thomas, David Boland and Estefan Albiero went 1:32.70 for second.
In the grueling 1650 freestyle, Marah Pugh led the field with a finish of 17.11.9. Freshman Emily Moser took second in 17:23.07. On the men's side, Cincinnati's Chris Bready took first in 15:32.90 with Matthias Lindenbauer finishing second in 16:10.99.
Andrea Kneppers led the field in the women's 200 freestyle with a finish in 1:50.17. Abbie Houck was right behind Kneppers with a finish in 1:51.74. For the men, Carroll picked up his first individual victory of the day with a 1:38.72 finish in the 200 freestyle. Jonathan Zoucha finished in second with a time of 1:42.00.
Worrell set a new school record and a NCAA B-cut time with a finish of 52.69 in the 100 backstroke. Hannah Magnuson finished second in 56.75 while Leclair was right behind in 56.99. Grigory Tarasevich finished with a NCAA B-cut time of 48.35 to lead the field in the 100 backstroke. Aaron Greene took second in 49.15 while Nolan Tesone touched in 49.88 and Josh Quallen touched in 51.43.
Freshman Rachel Bradford-Feldman led a trio of Cardinals in the 100 breaststroke by finishing first in 1:04.26. Lucy Kramer finished in 1:04.83 while freshman Caitlin Ahern took third in 1:06.44. On the men's side, Carlos Claverie finished in 55.91 while teammate Dexter Thomas finished second in 57.32.
In the women's 200 butterfly, Devon Bibault captured first place with a finish of 2:05.79. Freshman Zach Harting picked up his first victory as a Cardinal with a finish of 1:51.35 in the 200 fly.
Cincinnati's Jackie Keire won the women's 50 free in 23.63 by beating out freshman Mallory Comerford who finished in 23.68. Alex Sellers took third in the quick sprint of 24.23 and Andrea Cottrell took fourth in 24.33. On the men's side, Louisville took the top three spots with David Boland leading the way with a touch of 20.83. Pedro Coutinho finished in 21.11 while Nick Hasemann took third in 21.35.
In diving action, Sean Piner led the field with 319.95 points in the 1m diving event. Daniel Fecteau finished second in 263.03 while newcomer Troy Holder finished fifth. Andrea Acquista led the field for the women in the 3m diving event with a total score of 311.10. Mady Ingmire took second with a score of 250.58.
UC's Keire took another victory as she took the 100 freestyle in 50.40, just beating out Louisville's Mallory Comferford, who finished in 50.72. Matthias Lindenbauer prevailed in the 100 freestyle as he finished in 45.63 with teammates Max Grodecki (46.45) and Christian Garkani (46.64) finishing in second and third, respectively.
Worrell picked up her second victory of the day with another NCAA B-cut time, this time in the 200 backstroke in 1:56.98. Freshman Alina Kendzior took second in 2:01.14. Aaron Greene was first in the men's 100 free in 1:46.79 and finished six seconds ahead of second place.
In the 200 breaststroke, Andrea Cottrell won with a time of 2:18.06 with Manuela Sampaio touching second in 2:21.96 with Lucy Kramer touching third in 2:22.39. On the men's side, Claverie picked up his second victory of the day with a finish of 2:00.98 to lead three Cardinals in the event. Dexter Thomas took second in 2:05.54 while Brennen Berger finished third in 2:08.50.
Keire picked up her third victory of the day for the Bearcats with a first place finish in the 500 freestyle in 4:58.50. Louisville's Marah Pugh was the first Cardinal finisher with a time of 5:00.48. Trevor Carroll prevailed in the 500 freestyle for his second individual victory of the day. His finish of 4:33.27 beat Cincy's Chris Bready by a second.
In the 100 fly, Hannah Magnuson and Devon Bibault tied for first with a time of 56.96. Rachel Bradford-Feldman was less than a second behind with a time of 57.09 for third place. Pedro Coutinho picked up the victory on the men's side with a NCAA B-cut time of 48.25.
Marah Pugh triumphed in the 400 IM with a first place finish of 4:29.00, her second victory of the meet. Nolan Tesone used a NCAA B-cut time of 3:52.62 to win the men's 400 IM.
The Cardinals wrapped up the meet with victories on both sides of the 200 freestyle relay. The foursome of Kneppers, Magnuson, Pugh, and Leclair finished first in 1:35.59 for the women while the team of Carroll, Greene, Hasemann, and Tesone finished first in 1:22.98.
Sean Piner picked up a victory in the 3m diving event with a score of 336.50 to sweep both springboard events of the meet. Daniel Fecteau finished second with a score of 293.93 and Troy Holder finished fifth. Andrea Acquista picked up the victory in the 1m event with a score of 264.60 to sweep both diving events. Mady Ingmire finished third with a score of 251.48.
The Cardinals return to competitive action on Thursday when they host Tennessee at 2 p.m. at Ralph Wright Natatorium.
Cincinnati Press Release:
The Bearcats turned around to swim again on Saturday morning, with both genders falling at former conference foe Louisville. Keire had an outstanding morning following her pair of victories on Friday night. The junior won the 50 free in 23.63, edging Louisville's Mallory Comerford by one-half second. Keire won another narrow win over Comerford in the 100, touching in 50.40, just ahead of Comerford's 50.72. In her final event of the weekend, Keire took the 500 free with a time of 4:58.50.
Bready scored the lone victory of the day for the men, winning the mile in 15:32.89. He was more than 30 seconds ahead of Louisville's Matthias Lindenbauer.
Up Next
The Bearcats return to the friendly confines of the Keating Aquatics Center when they host IUPUI on Friday, Oct. 30. It serves as the program's annual alumni meet. Fans are invited to Experience UC swimming and diving all season long with complimentary admission.