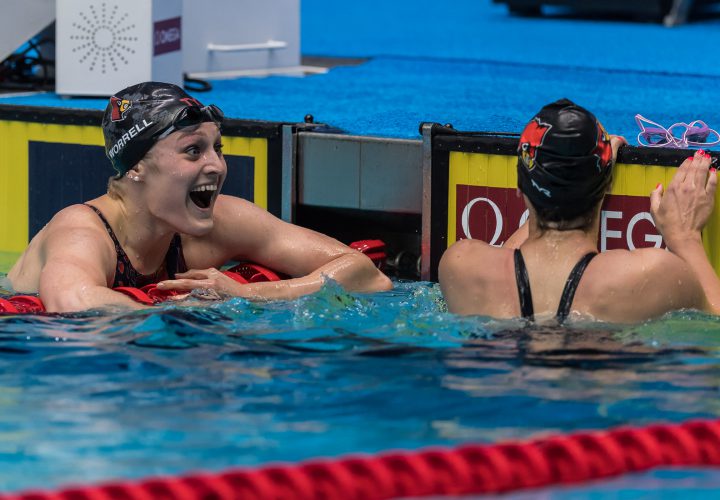 Photo Courtesy: Peter H. Bick
Editorial content for the 2017 USA Swimming Nationals is sponsored by TritonWear. Visit TritonWear.com for more information on our sponsor. For full Swimming World coverage, check event coverage page.
Louisville has been off to a hot start at the 2017 Phillips 66 USA Swimming National Championships thanks to Mallory Comerford. Kelsi Worrell continued that momentum for the Cardinals Wednesday morning with a 25.78 in the 50 butterfly heats. Her time was slightly off Dara Torres' American Record from 2009 at 25.50. Worrell is the top seed by a large margin over Amanda Kendall (26.33) and Annie Ochitwa (26.49).
Kendyl Stewart (26.50), Hellen Moffitt (26.57), Maddie Murphy (26.60), Alyssa Marsh (26.69) and Aly Tetzloff (26.74) will also swim in the A-final.
There are no guaranteed World Championships spots up for grabs in the 50 stroke events. You can read the qualification terms here. Worrell now sits tied for fourth in the world with Belgium's Kimberly Buys. Worrell is behind Sweden's Sarah Sjostrom (24.76), Japan's Rikako Ikee (25.74) and Canada's Penny Oleksiak (25.76). Worrell is already on the team for the 4×100 free relay so if she wins the 50 fly tonight, she could elect to swim it in Budapest.