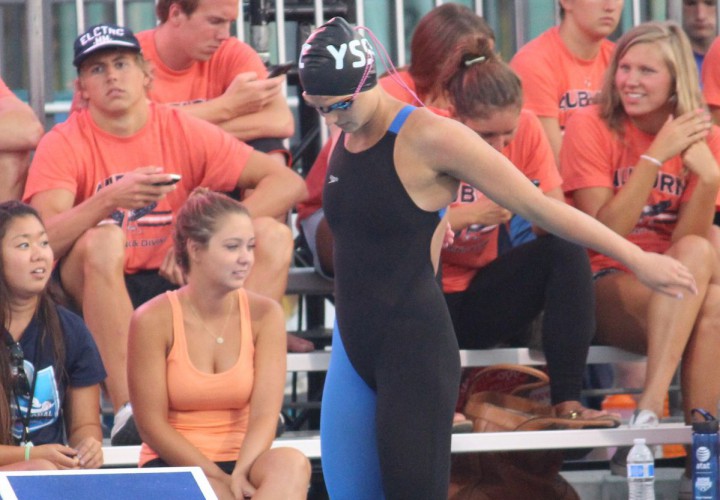 Photo Courtesy: Griffin Scott
GREENSBORO – Katrina Konopka and Alyssa Arwood each set individual national records, while the Middle Tyger women (200 medley), York women (800 free) and Sarasota men (800 free) established new relay records to highlight the second to last day of racing at the YMCA Short Course Nationals at Greensboro Aquatic Center.
Middle Tyger got the meet off to a record-breaking start as the foursome of Ali Galyer, Savanna Faulconer, Jessi Snover and Katrina Konopka shot down the national record in the women's 200 medley relay with a 1:40.99. That took three tenths off their own record of 1:41.29, set at last year's meet. York's Kacey Oberlander, Meghan Small, Courtney Harnish and Emily Ilgenfritz nearly broke the old record as well with a 1:41.97. Phoenixville claimed third in finals as Emma Seiberlich, Maddie Cooke, Morgan Hansen and Olivia Giampietro touched in 1:42.29.
In the men's medley relay, Somerset Valley's Brad Zdroik, Winston Chu, Joseph Delbuono and Samuel Hendrix cruised to victory in 1:31.33, with Somerset Hill's Jamie Finnegan, Matthew Critchley, Sebastian Lutz and David Hua in second at 1:31.92. Cheshire's Matthew Traub, Matthew Dagenais, David May and Curtis Maher picked up third in 1:32.23.
York's Courtney Harnish, who already won the 1000 free and 200 free at the meet, made it a trifecta after posting the top time in the 500 free tonight. Harnish touched in 4:40.11, comfortably ahead of teammate Leah Braswell (4:43.71) and Sarasota's Sophie Cattermole (4:46.15).
Thanks to a final split of 25.00, Countryside's Grant House chased down several other swimmers to win the men's 500 free in 4:23.57. York's Zach Snyder, who led by more than a second with a 50 to go, touched second in 4:24.04, slightly off his prelim performance of 4:23.88. Sarasota's Drew Clark placed third in 4:24.95.
After setting a new YMCA record in the women's 100 breast this morning with a 1:01.18, Western North Carolina's Alyssa Arwood couldn't quite duplicate that speed in finals but still had plenty left in the tank to take the win in 1:01.40. Arwood's prelim effort broke Leah Pronschinske's 2010 record of 1:01.43. Middle Tyger's Savanna Faulconer took second in 1:02.00, followed by Boyertown's Emily Glinecke in 1:02.75.
Door County's Max McHugh topped the men's 100 breast final in 54.89, taking over a second off his prelim time of 55.97. Tri City's Davion Conley moved up from fourth to second with a 55.43, while Eau Claire's Paul DeLakis placed third in 55.75.
After throwing down a split of 22.12 earlier in the night on the 200 medley relay, Middle Tyger's Katrina Konopka crushed her own YMCA record in the 50 free with a 22.19 in finals. She set the previous record of 22.46 last year. Wilton's Ky-lee Perry tied the old record with a 22.46 for second, while Northwest's Rachel Brown also broke 23 with a 22.82 for third.
Somerset Hills' Sebastian Lutz just missed breaking 20 in the men's 50 free twice today, posting a 20.00 in prelims and then winning finals in 20.08. Lutz had a decent cushion over runner-up Brad Zdroik of Somerset Valley, who came in at 20.32. Hilliard's Kalvin Koethke got to the wall third in 20.41.
Thanks to two sub-1:46 splits from Meghan Small and Courtney Harnish, York's foursome of Small, Emily Ilgenfritz, Leah Braswell and Harnish cleared the YMCA national record in the 800 free relay with a 7:10.06. That cut .32 off York's own record of 7:10.38 from last year. Middle Tyger's Ali Galyer, Maegan Rudolph, Meredith Whisenhunt and Katrina Konopka placed second in 7:16.23, followed by Sarasota's Sophie Cattermole, Ellie Berdusco, Spence Atkins and Madison Jean in 7:19.19.
Both 800 free relay records went down tonight as Sarasota's Carter Page, Austin Katz, Daniel Erlenmeyer and Drew Clark just snuck in under Triangle Area's 6:37.11 from last year with a 6:37.01. Countryside's Grant House, Kevin George, Matt Slabe and Jacob Peloquin took a chunk off their seed time with a second place effort of 6:38.80. Westport/Weston's Bryce Keblish, North Woods, Tommy Gannon and John Whiteside rounded out the top three in 6:43.07.
Middle Tyger continues to lead the women's meet with 357 points, with York creeping closer at 324 points. Sarasota sits in third with 258 points. Sarasota extended its lead in the men's team rankings with 358 points, way ahead of Somerset Valley (184 points) and Countryside Ralph Stolle (175 points).