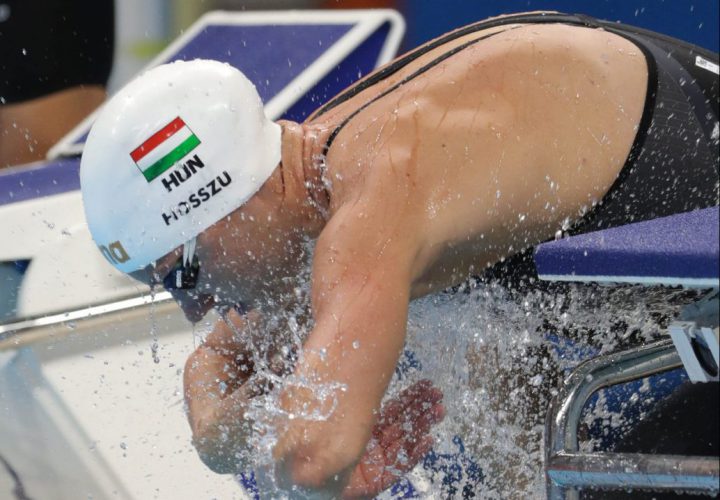 Photo Courtesy: Erich Schlegel, USA TODAY Sports

Editorial Coverage Sponsored By FINIS
In this morning's 200 IM prelims world record holder Katinka Hosszu of Hungary set herself up for another gold medal, posting the Olympic record with a 2:07.45 to lead prelims.
Siobhan-Marie O'Connor of Great Britain finished third at the World Championships. This morning she was impressive, shooting forward to a 2:08.44, her best time this year and good for second overall.
American Melanie Margalis worked to stay near O'Connor and touched in 2:09.62. Her teammate Maya DiRado had a fabulous backstroke leg. The 400 IM silver medalist finished in 2:10.24 for the fourth spot tonight.
Japan's Miho Teramura swam a 2:10.34 for fifth. Australia's Alicia Coutts tried to stick with DiRado over the back half and finished sixth overall with a 2:10.52.
Former Olympic record holder Ye Shiwen of China recovered from a poor 400 IM to qualify seventh in 2:10.56. Canada's Sydney Pickrem (2:11.06), and Hungary's Zsuzsanna Jakabos (2:11.69) followed.
Korea' Seoyeong Kim was fifth at the Asian Games. In 2:11.75 she will head to semifinals in tenth. Runa Imai of Japan (2:11.78), Hannah Miley of Great Britain (2:11.84), Alexandra Wenk of Germany (2:12.46) and Canad's Erika Seltenreich-Hodgson were 11th through 14th.
Mireia Belmonte Garcia of Spain (2:12.58) and Russia's Viktoriia Andreeva (2:13.01) secured the final two spots in semifinals.