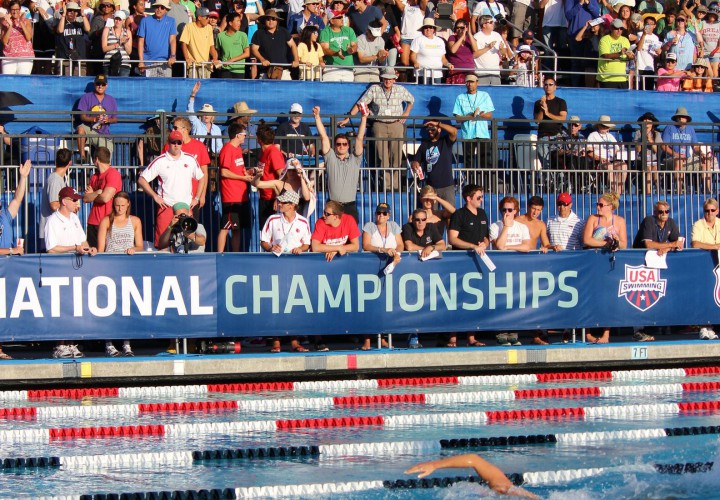 Photo by Griffin Scott
Editorial coverage for U.S. Senior Nationals proudly sponsored by Master Spas!
IRVINE, California, August 9. Katie Ledecky had the fans on their feet during a world-record attempt, but settled for a U.S. Open mark in the 400 free this morning.  Meanwhile, the world rankings took some serious hits throughout the day as the U.S. continues to fire off big warning shots at the rest of the world.
Scheduled Events
Women's 400 free
Men's 400 free
Women's 100 breast
Men's 100 breast
Women's 100 back
Men's 100 back
Women's 400 free
Earlier this summer, when she blasted the world records in the 800 and 1500 freestyle events at The Woodlands Senior Invite, NCAP's Katie Ledecky also managed to turn in a world-leading time of 4:03.09 in the 400-meter freestyle.  This morning, Ledecky stunned the crowd with a U.S. Open and meet record as she challenged both the world and American records in the event with a 3:59.89.  That time just missed Federica Pellegrini's world record of 3:59.15 and Ledecky's American record of 3:59.82, the top two times in history.  Ledecky is the only person to ever break 4:00 twice.
Comparative Splits
Ledecky U.S. Open record:

28.25, 58.25 (30.00), 1:28.40 (30.15), 1:58.59 (30.19), 2:29.35 (30.76), 2:59.79 (30.44), 3:30.20 (30.41), 3:59.89 (29.69)

Pellegrini:

28.45, 58.66 (30.31), 1:28.97 (30.31), 1:59.42 (30.45), 2:29.66 (30.24), 2:59.93 (30.27), 3:29.79 (29.86), 3:59.15 (29.36)

Ledecky American record:

28.05, 58.12 (30.07), 1:28.25 (30.13), 1:58.74 (30.49), 2:28.85 (30.11), 2:59.29 (30.44), 3:29.94 (30.65), 3:59.82 (29.88)
Her time crushed the 4:02.20 U.S. Open record set by Katie Hoff in 2008 as well as Hoff's 4:02.32 meet record from that year as well.  Ledecky's effort also became the first time under 4:00 on American soil. Since she already is on the Pan Pacific team with her swims from earlier this week, Ledecky may just go for it as she really has nothing to lose in the finale.
Cavalier's Leah Smith raced her way to a distant second in prelims with a 4:06.90.  That time bettered her 18th-ranked season best of 4:06.93 from the Potomac Valley Championships, but did not leapfrog Lotte Friis' 4:06.83 from Santa Clara. NBAC's Cierra Runge took third in 4:07.58.
Badger's Lindsay Vrooman (4:07.82), BlueFish's Elizabeth Beisel (4:08.07), NBAC's Becca Mann (4:09.89), NBAC's Gillian Ryan (4:10.93) and Aggie's Sarah Henry (4:10.93) also made the finale.
In a stunner, NBAC's Allison Schmitt had her worst swim of the meet with a 35th-place 4:17.82 as her chances to make the National Team ended this morning.
Men's 400 free
Tonight should be a barn-burner with five swimmers putting up 3:49s this morning.  NBAC's Matt McLean, already a winner with the 200 free title, cruised to the top seed in 3:49.32 this morning.  Badger's Ryan Feeley took second in 3:49.40.
Club Wolverine's Connor Jaeger, who could be a favorite in the finale, checked in with a 3:49.63 for third, while The Woodlands' Michael McBroom posted a fourth-place 3:49.68.
Club Wolverine's Michael Klueh (3:49.99) and Sean Ryan (3:50.17) made it three Wolverines in the finale with fifth and sixth-place times.
Reed Malone (3:50.45) and Metroplex's John Lewis (3:51.15) will also vie for the national title tonight.
Also, just for fun, Ledecky would have finished 58th in the men's heats with her time from the women's event.
Women's 100 breast
Women's 200-meter breaststroke victory Micah Lawrence is having a dream meet so far.  After dropping the hammer in the final 50 meters to win the 200, Lawrence smoked a 1:06.97 this morning for the top seed.  That's a personal best, under her 1:07.27 from 2013 nationals, and vaulted her to ninth in the world rankings.  She's behind only Jessica Hardy (1:06.86) in terms of American swims.
Hardy, meanwhile, cruised in to second in 1:07.23.  She's looking for her fifth long course national title in the event, having previously won it in 2011.  Two-time defending champion Breeja Larson raced her way to third in 1:07.39 with SwimMAC's Emma Reaney also under 1:08 with a fourth-seeded 1:07.47.
Newburgh's Lilly King (1:08.12), SwimMAC's Katie Meili (1:08.18), Tennessee's Molly Hannis (1:08.32) and Saint Petersburg's Melanie Margalis (1:08.53) comprised the rest of the A final.
Men's 100 breast
Tucson Ford's Kevin Cordes turned up the heat this morning with a time of 59.83.  That effort jumped him to seventh in the world rankings, and put him in position to give Mark Gangloff's U.S. Open record of 59.01 a run tonight if not Eric Shanteau's American record of 58.96.
GPAC's Brendan McHugh, the surprise 50 breast winner who set the U.S. Open mark in the sprint prelims, continued to have the meet of his life with a 1:00.31 for second.  That put him 11th in the world rankings, just behind Marco Koch's 1:00.08 for the top 10.
Badger's Cody Miller and Club Wolverine's Zach Hayden posted matching 1:00.71s for third overall, while Ohio State's DJ MacDonald took home the fifth seed with a 1:00.77.
Tennessee's Brad Craig (1:00.85), PASA's BJ Johnson (1:01.12) and Bulldogs' Nic Fink (1:01.21) also picked up spots in the championship heat.
Women's 100 back
California backstroke showed its power this morning with three of the top-four qualifiers heading into the finale.  Missy Franklin, the American record holder with a 58.33, led qualifying in 1:00.38.  That pushed her up to 17th in the world rankings, but those rankings will likely have a huge revision after tonight.
Rachel Bootsma charged to the second seed with a time of 1:00.96, while teammate Elizabeth Pelton placed fourth in 1:01.28.  The only non-Bear in the top four is Olivia Smoliga of Bulldogs with a 1:01.04.  Fresno's Cheyenne Coffman snared fifth in 1:01.38.
SwimMAC's Kathleen Baker (1:01.72), Club Wolverine's Ali Deloof (1:01.72) and Aquakids' Clara Smiddy (1:01.75) also earned their way into the big final. Notably, Stanford's Maya DiRado posted a lifetime best of 1:01.76 from out of the heat four to take ninth overall.
Men's 100 back
Every single year, the male backstrokers from America just shock the rest of the world with its ridiculous depth in the stroke.  This morning was no different as several top five times went in the books.
Tucson Ford's Matt Grevers, who did not slip on his start like he did in the 50 back last night, clocked a 53.11 for the top seed.  That moved him to fourth in the world behind Xu Jiayu (52.34), Ryosuke Irie (52.57) and Kosuke Hagino (53.08).
NYAC's David Plummer, the 50 back victor, finished second in 53.12 to tie Chris Walker-Hebborn for fifth in the world, while California's Ryan Murphy blasted his way to third in 53.20.  That jumped him to seventh in the world rankings.
Michael Phelps, who likely secured his spot on the Pan Pacific roster last night with a second-place time in the 100 fly pending official invitation to the squad, earned fourth this morning with a 53.76.  That bettered his 53.88 from the Bulldog Grand Slam and has him still in the top 15 in the world.
California's Jacob Pebley (53.89), SwimMAC's Nick Thoman (54.28), Stanford's Eugene Godsoe (54.42) and Badger's James Wells (54.97) all cleared 55 seconds to make the championship heat.  Notably, Ryan Lochte elected to scratch the event to focus on the 200 IM.
Twitter Coverage
For up to the minute coverage, follow us on Twitter @SwimmingWorld: