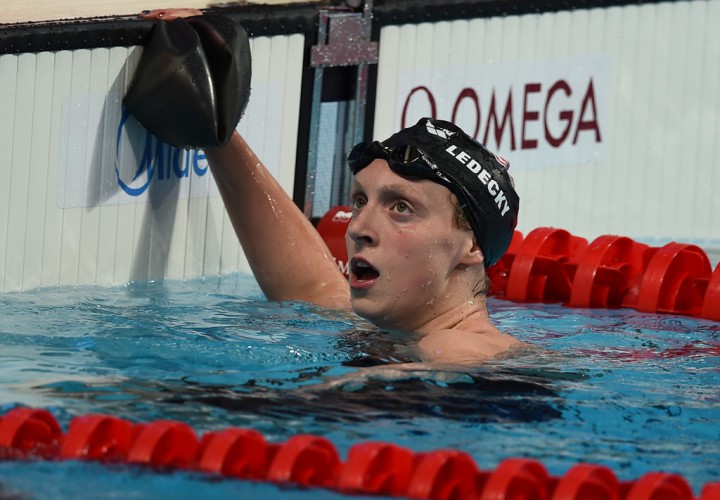 Photo Courtesy: R-Sport / MIA Rossiya Segodnya
Coverage of the 2015 FINA World Championships is sponsored by Wylas Timing. Visit our coverage page for more.
Katie Ledecky led the women's 800-meter free in prelims posting a final time of 8:19.42 to claim the first-place seed coming back for finals. While she was 8.21 seconds off her world best of 8:11.21 for 2015 there is hardly a doubt that Ledecky will return to finals determined to hit the 8:11 mark.
Australia's Jessica Ashwood claimed the second-place seed with a time of 8:22.17, only slightly behind her 2015 world best time of 8:21.33 from the NSW State Championships.
Denmark's Lotte Friis improved upon her world best time of 8:25.07, turning in a time of 8:23.12 to situate herself in the middle of the pool with Ledecky and Ashwood for finals.
New Zealand's Lauren Boyle finished close behind Friis, posting an 8:23.66. Boyle will look to improve upon her world best time of 8:23.57 in finals.
Jaz Carlin of Great Britain posted a time of 8:23.83 for the fifth place seed. Carlin will need to improve upon her prelims time to maintain her spot as third in the world rankings (8:21.58) while also trying to bypass Friis and Boyle.
Sharon van Rouwendaal turned in a final time of 8:24.83 to improve upon her world ranking of 8:26.18 from the Romanian Nationals. Rouwendaal's new time moves her up to eighth in the rankings while also earning her the sixth-place seed for finals.
Germany's Sarah Kohler grabbed the seventh-place seed with a finishing time of 8:26.16, shaving .07 seconds off her 2015 world best of 8:28.23.
Boglarka Kapas of Hungary claimed the final spot with a time of 8:26.96, just slightly off her world best of 8:23.71 which she set earlier this year at the Trofeu Sette Colli in Rome.
SCHEDULED EVENTS
Men's 50 Free
Women's 50 Fly
Men's 100 Fly
Women's 200 Back
Men's 4×200 Free Relay
Women's 800 Free