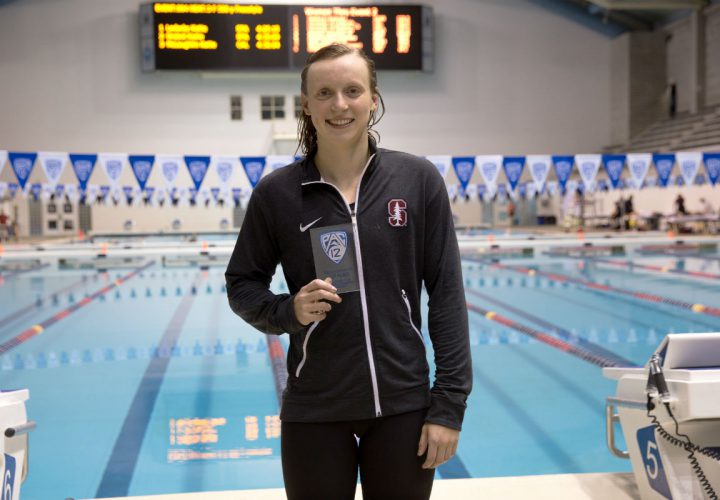 Photo Courtesy: Chuckarelei / Pac-12
The Pac-12 Network announced its "12Best" June 18 via Twitter and a live webcast. Katie Ledecky, two-time Pac-12 individual Champion and five-time NCAA Champion, earned runner-up honors for Pac-12 Student-Athlete of the Year.
The Pac-12 Conference has more NCAA titles than any other conference in the NCAA. The conference hit their historic 500th win when the Washington women's crew team won their respective championship in May.
Stanford women's swimming & diving made their contribution this season, winning the 2017 Pac-12 Championships. The meet featured a handful of incredible swims including American Records by Ally Howe and the 400 freestyle relay.
But few athletes have made the impact on collegiate swimming that Katie Ledecky has, and she has only been competing for one season. At her debut Pac-12 Championships, she set American records in the 500 free and 400 IM, and took second to Simone Manuel in the 200 freestyle.
Despite her efforts, Ledecky earned runner-up status in this year's race for the Pac-12 Student-Athlete of the Year.
.@katieledecky checks in at No. 2 on our #12Best student-athletes of 2016-17!

WATCH: https://t.co/YfMNDWtSGW pic.twitter.com/y05xd7ETXM

— Pac-12 Network (@Pac12Network) June 19, 2017
The Pac-12 Network gave Kelsey Plum, of Washington Women's Basketball, top honors. Plum is the All-time leading scorer in NCAA women's basketball history with 3,527 points. Plum was the first overall pick in the 2017 WNBA Draft by the San Antonio Stars.
She's the ?

The one. The only. @Kelseyplum10!#12Bestpic.twitter.com/FIRbqTK8XE

— Pac-12 Network (@Pac12Network) June 19, 2017
Ledecky was the only swimmer to make the list of the Pac-12 "12Best" Athletes for 2017. Stanford earned three spots, tallying the most on the list. Washington and USC each had two athletes earn "12Best" honors. Plum and Ledecky led the way for five women (including one beach volleyball pair) making the list. 
2017 Pac-12 12Best:
1. Kelsey Plum – Washington Basketball
2. Katie Ledecky – Stanford Swimming 
3. Edward Cheserek – Oregon Cross Country/Track
4. MyKayla Skinner – Utah Gymnastics
5. Lonzo Ball – UCLA Basketball
6. Christian McCaffrey – Stanford Football
7. Dillon Brooks – Oregon Basketball
8. Kelly Claes/Sara Hughes – USC Beach Volleyball
9. Inky Ajanaku – Stanford Volleyball
10. Adoree' Jackson – USC Football
11. Sydney Wiese – Oregon State Basketball
12. John Ross – Washington Football