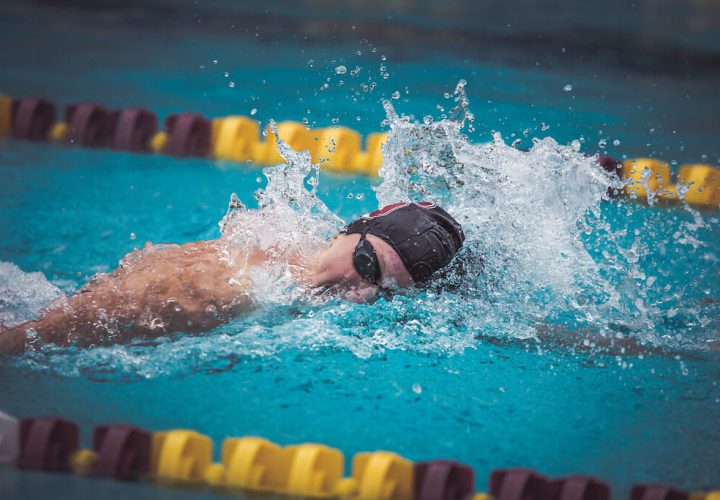 Photo Courtesy: Matt Rubel of Rubel Photography
Katie Ledecky trailed Stanford teammate Ella Eastin at the 300-yard mark as the two went head-to-head in the 400 IM at the women's Pac-12 championships, but then Ledecky unleashed her freestyle. Ledecky split a ridiculous 52.67 on the way home and pulled into the wall in 3:57.68.
That beat the previous American record of 3:57.89 set by Caitlin Leverenz at the 2012 NCAA championships. Ledecky also improved to second all-time in the event, behind only Katinka Hosszu's NCAA and U.S. Open record of 3:56.54, also set at the 2012 NCAA championships.
Watch the finish of Ledecky's race here:
Eastin ended up finishing second in 4:00.96, just off the 4:00.36 she swam at the Ohio State Invite in November that had ranked first in the nation this season before Ledecky's outburst.
Stanford completed the sweep with Allie Szekely, who touched in 4:02.34. That time ranks fourth in the country this season, behind Ledecky, Eastin and Texas' Madisyn Cox, who swam a 4:01.15 earlier in the evening.
Event 8  Women 400 Yard IM
=========================================================================
    Name                 Year School            Prelims     Finals Points 
=========================================================================
                            === A - Final ===                            
 
  1 Ledecky, Katie         FR STAN-PC           4:01.92    3:57.68   32  
       26.03    29.15    30.89    29.44
       34.74    34.76    26.91    25.76
  2 Eastin, Ella           SO STAN-PC           4:03.13    4:00.96   28  
       25.99    29.30    30.06    29.92
       34.39    34.57    28.47    28.26
  3 Szekely, Allie         FR STAN-PC           4:02.70    4:02.34   27  
       25.86    29.36    29.95    29.27
       34.92    35.39    28.92    28.67
  4 Cox, Hannah            FR ARIZ-AZ           4:10.11    4:07.96   26  
       26.32    30.31    31.46    30.67
       35.87    36.64    28.69    28.00
  5 Li, Celina             SR CAL-PC            4:09.29    4:09.49   25  
       26.02    29.66    31.03    31.48
       35.54    36.84    29.72    29.20
  6 Stevens, Leah          SO STAN-PC           4:09.21    4:10.00   24  
       27.07    31.02    31.66    31.24
       35.99    35.89    28.60    28.53
  7 Schanz, Emma           SO UCLA-CA           4:11.75    4:12.10   23  
       27.92    31.68    31.75    30.75
       35.32    35.36    29.96    29.36
  8 Ross, Marlies          SO ASU-AZ            4:12.03    4:12.67   22  
       26.57    31.12    32.27    31.61
       34.98    35.86    30.86    29.40