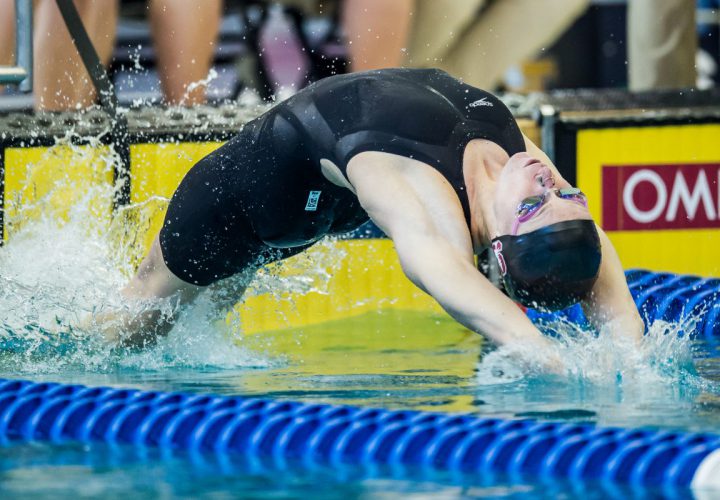 Photo Courtesy: Peter H. Bick
By David Rieder.
For all Katie Ledecky has accomplished so far in the sport of swimming, she pulled off one feat Friday night she had never accomplished before: breaking an American record in a non-freestyle event.
In the 400 IM final at the women's Pac-12 championships, Ledecky was in third place at the 300-yard mark, eight tenths behind teammate and defending NCAA champion Ella Eastin. Her split of 3:05.01 was more than two-and-a-half seconds off of American record pace (3:02.48).
But then Ledecky unleashed her freestyle. She split 52.67 over the final 100 yards and touched the wall in 3:57.68, taking down Caitlin Leverenz's five-year-old American record of 3:57.89 and also moving past names such as Maya DiRado and Elizabeth Beisel—the last two Olympic silver medalists in the event—on the all-time list.
And yet somehow, 80 minutes later, Ledecky's performance was not even the most impressive effort of the night.
That honor belonged to Ally Howe, the Stanford junior who took down an American record that had lasted 15 years. Back then, current Stanford head coach Greg Meehan was an assistant coach at UCLA, and he remembers that night in Austin, Texas, when Natalie Coughlin became the first woman in history to crack the 50-second barrier in the 100 back, touching in 49.97.
"It was a little bit of an emotional moment," Meehan said of Howe's swim, "because I remember being in Austin in 2002 and watching Natalie do that double and go 50.0 and 49.9 in her 100 fly and 100 back. She was so far ahead, especially on the last 25."
Coughlin's 100 fly record of 50.01 lasted 13 years before Kelsi Worrell took it down at the 2015 NCAA championships. But the 100 back mark survived assault after assault, most recently from Rachel Bootsma and Courtney Bartholomew.
Bootsma won three NCAA titles in the 100 back during her career at Cal, posting times of 50.13 in 2013, 50.03 in 2015 and 50.28 in 2016. As for Bartholomew, she came about as close as one could come to the 50-second barrier when she swam a 50.01 at the Georgia Invite in late 2014. But both finished up their college eligibility last March with Coughlin's record still intact.
Another record scare came Friday morning at Pac-12s when Stanford's Janet Hu blasted a 50.29 to improve to fourth on the all-time list in the event. But Hu's chances at cutting more than three tenths at night from that already-impressive swim seemed remote, considering she would be competing in the 100 back final less than an hour after her 100 fly final.
Hu had lane four for the 100 back final, and one lane over was Howe, whose prelims time of 50.47 had been a lifetime best by a quarter-second. In her first two years at Stanford, Howe had gone from a supporting relay contributor as a freshman to a surprising third-place finisher in the 100 back at the 2016 NCAA championships, but she had still flown very much under the radar on a team full of Olympians and NCAA champions.
But Friday night, Howe had her breakout moment. When she blasted out an 11.66 split on the first 25, Meehan could immediately sense that a special swim was brewing in lane five.
"Once she got her feet on the wall that fast on the first 25, we knew something pretty fast was going to happen," he said. "I didn't know if it was going to be 49.6, but it certainly looked like she was setting herself up to have a great swim."
Howe pulled away from 100 back Olympic silver medalist Kathleen Baker on the final two lengths and touched the wall in 49.69. It took a moment to register, but just like that, a 15-year-old record—the last of the seven short course yards American records Coughlin once owned—was gone.
Howe's teammates raced to embrace her behind the blocks as she climbed out of the pool, in awe of the time but not all that surprised at who pulled it off.
"Honestly, that's been my favorite race of the meet," Ella Eastin said. "Getting to watch it was incredible. And I knew that she could do it the whole time. She's a speed demon, and when she wants something, she goes after it."
Two hours later, an exhausted yet appreciative Meehan reflected on the moment.
"To see that record go down now, 15 years later, one, it says a lot about how great Natalie was, being the greatest NCAA swimmer for sure of her era, and I think it says a lot about the sport getting faster," Meehan said. "Ally just happened to be the one, and we're super excited for her and super proud of her."
At the NCAA championships next month, the spotlight will shift to Howe for the first time as she will enter seeded more than a half-second ahead of anyone else in the 100 back. Perhaps the record-breaking swim will have opened the floodgates for more athletes to join Howe and Coughlin in the sub-50-second range, but Meehan wouldn't be surprised if his junior has another gear left in her.
"Just knowing that we kept her up a little bit relative to where she was last year, we hope that she's got some more in the tank, but it really doesn't matter. Right now, we're just going to celebrate what she accomplished," he said.
All commentaries are the opinion of the author and do not necessarily reflect the views of Swimming World Magazine nor its staff.