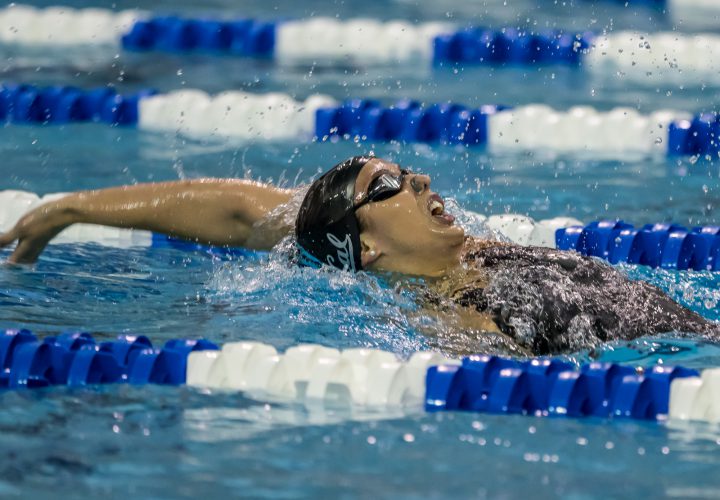 Kathleen Baker.
Photo Courtesy: Peter H. Bick
The 2018 Speedo Grand Challenge in Irvine, California, concluded Sunday night with some fast swims from some of the big names in the sport.
Kathleen Baker won the 100-meter backstroke in 1:00.20, breaking the meet record in the event and topping a packed field that included runner-up Katinka Hosszu (1:01.46), Amy Bilquist (1:01.48) and Louise Hansson (1:01.77).
Ryan Murphy won the 100 back in a meet-record 53.29, edging Ryosuke Irie (53.31).
Thirteen-year-old Claire Tuggle continued to have a strong meet, winning the 800 free in 8:42.72.
Jorge Caneta (2:29.61) won the 200 breast ahead of Riley Scott (2:31.37). Will Licon won the 200 breast in 2:11.42, begin the field by six seconds.
Jordan Wilimovsky won the 1,500 free in 15:11.70.
Katie McLaughlin won the 200 butterfly in 2:11.22. Andrew Seliskar won the men's event in 1:58.64.
In the 7-12 age division, Lily Neumann won the 50 free in 27.23, a meet record. Daniel Verdolaga won the boys event in 27.48. Asia Kozan won the 200 IM (2:26.98). Verdolaga won the boys event in 2:26.30. Kozan won the 50 fly (29.58) in a meet record. Verdolaga won the boys event in 29.07.