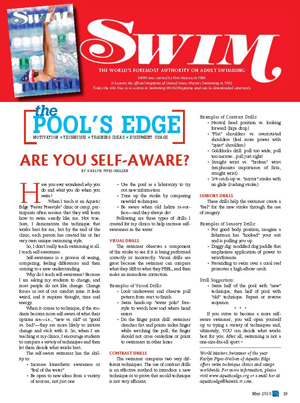 PHOENIX, Arizona, May 6. KARLYN Pipes-Neilsen, our resident Masters swimming extraordinaire, supplies our readers with some drills and techniques that can help them become more self-aware in the water. This article appears in the May issue of Swimming World Magazine.
Click here for a preview of the other multimedia items available in the May issue.
This issue is truly interactive with nearly 100 links for Premium Subscribers to get the rest of the story, results or even visit the web sites of Swimming World Magazine's advertisers.
Become a Premium Member Today to take advantage of these great digital versions of Swimming World Magazine.
Video Preview of May Issue

May 2010 Issue
Contents of The May issue:

8 OH, SO CLOSE! by Jason Marsteller
Stanford and Georgia were the pre-meet favorites to win this year's women's NCAA Division I Swimming and Diving Championships, but Florida had other ideas and captured its second-ever team title by a mere two-and-a-half points.
12 NO. 10 IN '10 by John Lohn
The university of Texas had won its ninth men's team trophy back in 2002, after several close finishes, the Longhorns finally achieved their historic double-digit crown, moving them within one championship for the most all-time in men's NCAA Division I action.
17 BUCKEYE BLISS by Emily Sampl
The Ohio State University Buckeyes captured their second straight and 26th team title overall at the U.S. Collegiate Synchronized Swimming Championships.
DEPARTMENTS:
6 A VOICE for the SPORT
43 FOR THE RECORD
50 CALENDAR
54 PARTING SHOT
In the Swimming Technique portion of the magazine you will find the following:


24 Q&A WITH COACH DAN FLACK, THE BAYLOR SCHOOL by Michael J. Stott
27 HOW THEY TRAIN: Spencer Rowe by Michael J. Stott
28 SO YOU WANT TO WIN A CHAMPIONSHIP? by Michael J. Stott
Bottom line: be prepared, understand what winning means and swim fast!
In the SWIM portion of the magazine you will find the following:

19 THE POOL'S EDGE: Are You Self-Aware? by Karlyn Pipes-Neilsen
Self-awareness is a process of seeing, comparing, feeling differences and then coming to a new understanding.
20 DRYSIDE TRAINING: Exercises for Better Backstroke by J.R. Rosania
22 WORKOUT CARD: Training with Gator Swim Club Masters by Nancy Hennessy
In the Junior Swimmer portion of the magazine you will find the following:
30 NATIONAL AGE GROUP RECORD SETTERS: Eagle Swimming Association
(Texas) 11-12 Boys 200 Yard Freestyle Relay
31 AMERICAN RELAY by Judy Jacob
32 SPEEDO CHAMPIONSHIP SERIES SECTIONALS by Judy Jacob
36 HIGH SCHOOL ROUNDUP: More Records Take a Tumble by Sarah Eckersley
38 SUPERNOVA II by Jason Marsteller
Led by seven-gold-medal winner Rachel Naurath, Nova of Virginia repeated as combined team champions and won its third straight women's title at the NCSA Junior Nationals.
40 GOLDMINDS: The "W" Word by Wayne Goldsmith
The word is "winning" and it's time to start thinking, talking and doing the things necessary to prepare yourself for that ultimate achievement.
Free Shipping in the USA