Photo Courtesy: Eric Huynh
It's been almost five years since Masters swimmer Karlyn Pipes has broken a record. The drought is over as last month Pipes returned from Europe with cache of six new FINA Masters world and five USMS records for the 55-59 age group.
Pipes competed in the Open Dutch Masters Short Course Meters (SCM) Championships held in Maastricht, Netherlands January 19th-22nd and started the meet off by posting a 1:08.33 in 100-meter backstroke, bettering USA's Leslie Livingston's world and national best of 1:10.08 set in 2016.
USA's Laura Val, 65, one of the best Masters swimmers in the world, lost a few marks. "Laura's records are really tough, so I knew I needed to give it my best and see what I could do." Pipes rose to the challenge a posted a speedy 1:00.66 in the 100-meter free shaving a half of a second off the previous mark of 1:01.28. Pipes then added another record in the 100-meter fly with a time of 1:08.15 eclipsing Val's global and national mark of 1:09.23 established in 2009.
In the 100-meter medley, Pipes swam a 1:09.08 taking a second and a half off of Australia's Jenny Whitely's 1:10.66 set 2013. The time was over three seconds faster than Val's USMS standard of 1:12.90 done in 2009.
For her fifth world record of the meet, Pipes swam a 2:29.22 200-meter backstroke to slice over four seconds off Canadian Lynn Marshall's world record time of 2:33.67 set in 2016. Pipes also took over ten seconds off the USMS record of 2:39.94 established by Bonnie Bilich in 2016.
One week later at the French National Team Championships in Cholet, France on January 28th, Pipes added a final record-breaking swim in 200-meter medley with a time of 2:31.04 slicing nearly three seconds off Marsall's time of 2:34.01.
"I was very happy with my swims. Surprised, even," Pipes explained. "I let go of expectations, enjoyed myself and felt a deep sense of appreciation for just being there. I also made a lot of new friends. And the records? They were icing on the cake."
Learn More About Karlyn Pipes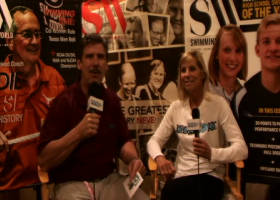 Check out Pipes book – The Do Over on Amazon