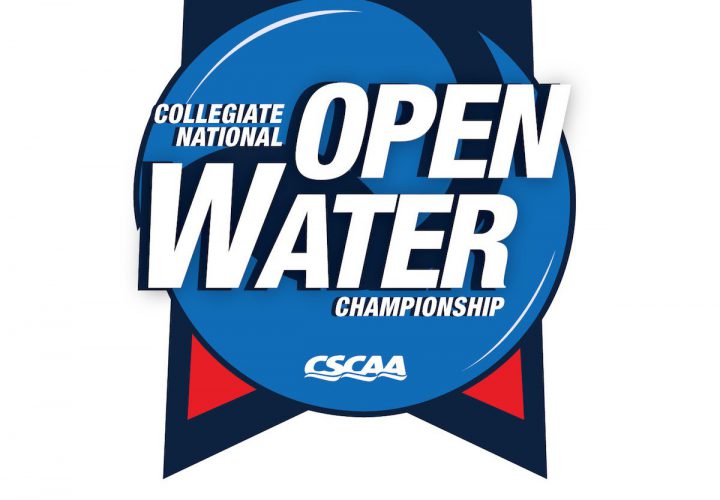 The University of Kansas is set to host the 2017 College Swimming Coaches Association of America (CSCAA) National Collegiate Open Water Championship at Lone Star Lake on September 16. Both genders will race 5,000 meters with the women's race beginning at 8:30 a.m. and the men's competition starting at 10:30.
This year's event will include 54 females (start list) and 42 males (start list), compared to 35 and 33 entries, respectively from last year.
The host team swept the women's event in last year's inaugural meet, as Haley Bishop and Libby Walker tied for first and freshman Jenny Nusbaum took the bronze. All three Jayhawks will return in this year's race. They will be joined by teammate Lauryn Parrish this time around.
UNC Asheville, Northern Michigan, George Washington, Missouri, St. Louis, Rice, Emmanuel, Albion, Southern Illinois and Richmond also have enough entrants to compete in the team event.
On the men's side, last year's team Champions from the University of Cincinnati do not have any entrants in this year's event.
Emmanuel's Stanislas Raczynski, last year's individual Champion, will look to lead the Lions in the team scoring. He will be racing with teammates Santiago Aguilar, Mathieu Danjou, Rafael Mendes and Alex Sobers.
Carson-Newman earned runner-up team honors last season, and will be led by Marcelo Figueredo in their 2017 campaign. Casey Charles, Caleb Howell, Josh Winn, Carson Knox and Josh Terrell will round out the Eagles' roster.
They will be challenged by St. Louis, Albion, Northern Michigan, George Washington and Texas A&M.
The top three finishers from each team, using cross country scoring, contribute to their team's scores. The top three teams are honored by the CSCAA, as are the top eight individual finishers.
Find a course map for the race by clicking here. The official meet page for the event, via the University of Kansas, can be found here.